In 2014 the cultural spotlight that is 'European Capital of Culture' turns to Riga, the capital of Latvia – one of the three Baltic states and a recent addition to our destination offering.
Riga has a rich history as a city of culture in any case, with art galleries, theatres and an opera house all taking pride of place in the city center. For 2014 the city has invested in the reconstruction of parks, squares and gardens as well as renovating various cultural landmarks.
Visitors to Riga next year will be able to see the fruits of all this work as well as enjoy an even richer than normal program of cultural events across the disciplines of music, theatre, dance, cinema, literature and art.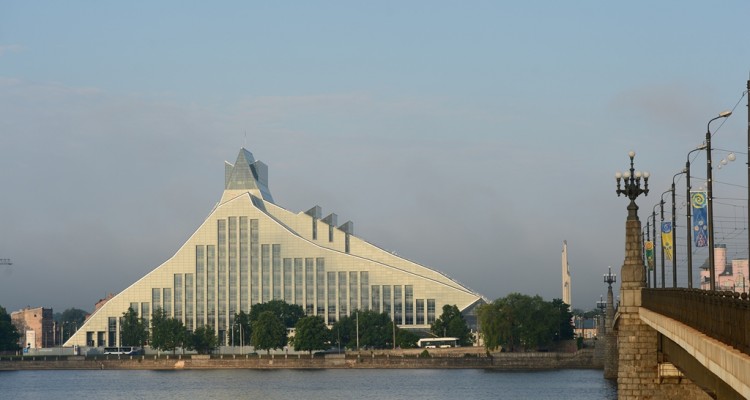 Also new for 2014 is the striking new building of the Latvian National Library (pictured above). Designed by renowned architect of Latvian origin, Gunnar Birkerts. Called the Castle of Light and it will mark the official opening celebration of Riga's year as European Capital of Culture with a symbolic transferring of books in a human chain from the old building of the library to the new one.
Spring 2014 Highlights
There are many regular annual events that will take on an added significance this year. Here's our shortlist of highlight events taking place this coming spring. For full events listings the official Riga2014 web site will be an indispensable guide.
International Baltic Ballet Festival
7 April – 15 May
Featuring world-class performances from classical to avant-garde, the annual ballet festival is extended this year to more than twice its normal duration.
Explore the KGB House
30 April – 30 September
The one-time HQ of the KGB in Riga, now a museum that the city is rehabilitating into a historical and cultural landmark.
Night at the Museum
17 May
Like many cities Riga has a 'Museum Night' when many museums throw open their doors and offer free entry, late into the night.
Riga festival
26 April – 22 June
The enigmatically named Riga Festival is a classical music festival that includes dance and visual art shows.
Riga Opera Festival
3 June – 15 June
The Latvian National Opera was founed in 1998 and their annual festival is a highlight of the cultural calendar. This year is a special one as it is the bicentenary of Richard Wagner (who spent two years as director of the local opera) and there will be productions of all four operas of The Ring of the Nibelung cycle.
Planning a trip to Riga? We'd love to put together a Riga travel package just for you. Get in touch to find out more!

Charlie is head of marketing at JayWay Travel. A long-term Prague resident, his interests are cooking, eating out, cycling, skiing and of course, travel.