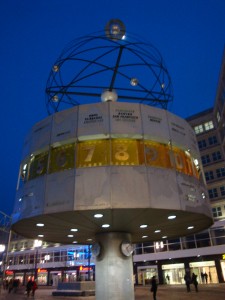 We've just added Berlin to the destinations on offer here at JayWay Travel and one of the most common combinations of itinerary is Prague and Berlin (and often Budapest too. Check our Prague to Budapest post).
As the crow flies, the two capitals are 280km apart and you can travel the distance a number of ways:
Plane
There are regular direct flights between Prague and Berlin operated twice daily by Czech Airlines (CSA), all other airlines (German Wings and Lufthansa) require a change somewhere else in Germany. As the only airline operating the route directly CSA are somewhat pricey (even out of peak season, expect to pay at least $450). If you're travelling in a group, this gets expensive fast, with no discounts for multiple passengers! Flights with changes are cheaper but take at least an hour longer. The flight time is one hour, though you'll need to factor in the time to get to and from the airports at either end, as well as getting to the airport at least an hour before check-in. Total journey time is close to four hours for a direct flight.
Train
For city-centre to city-centre convenience the train is hard to beat, though if you've got lots of luggage, you'll need to factor in the hassle of getting to and from the train station. Trains start at Berlin's Hauptbahnhof and arrive at Prague's Hlavni Nadrazi (main station). Journey time isn't much worse than taking a plane, all told, at 5 minutes short of 5 hours, and you get to stretch out and watch the scenery. You can buy tickets online or we can take care of buying them for you. Buying in advance is usually cheaper than buying on the day.
Automobile (rental)
You could hire a car and drive yourself, though dropping a rental off in another country usually incurs a fairly hefty fee. If you're round-tripping and returning the car where you picked it up, you avoid this charge but pay attention to mileage allowances as driving across Europe can eat those up, unless it's unlimited. Fuel is also a lot more expensive than you might be used to if you're visiting from the US ($7 a gallon!). Don't forget to add in the cost of parking too.
Door-to-door Transfer
Alternatively we can arrange a private transfer service, with an appropriately sized car or minivan, between the two cities. You get the convenience of door-to-door service as well as save money when you're in a group. As well as being hassle free we can also give you the option of a stop en route in Dresden, a beautiful city in South East Germany, for a bonus bit of sightseeing. On a good run the journey time is around 4 hours.
And back again?
Getting to Berlin from Prague is exactly the same in reverse. Whichever direction or mode you want to travel, we can include it as part of a tailored JayWay Travel tour package.
Planning a trip to Central Europe? We'd love to put together a Central Europe travel package just for you. Get in touch to find out more!