Last updated September 25, 2021
Albania has been open to tourists from the whole world, including the US, since June 15th 2020. While we had guests visiting the country last summer, we expect even more travelers this year as infection numbers are very low and vaccination numbers are rising quite quickly.
Entry Requirements
Until Sept 5th 2021, there is no general requirement for travelers returning to Albania to self-quarantine or provide evidence of PCR test/vaccination. From September 6th 2021, proof of full vaccination against covid-19 (with any US-approved vaccine), or a negative PCR test (up to 72 hrs old) or antigen test (up to 48 hrs old) are required for entry.
Commercial flights returned to Albania on June 15, 2020 and U.S. citizens who are returning to the United States are currently only being allowed to transit one Schengen country on their journey home.
Albania's land borders are now open for travel, but some neighboring countries have travel restrictions in place impacting U.S. citizens. If you want to travel to a neighboring country, please visit the website of the U.S. embassy located in that country for more information on specific restrictions on U.S. citizens
PCR Testing for Returning Home
If you need to get tested for your journey home, whether it is required by the airline or for re-entry into the U.S. we will help you schedule that at the most convenient location possible, at the appropriate time. For re-entry to the US you need to have a negative result from a Covid-19 viral test up to 3 days before departure (not counting the day of departure, so for a flight at 1pm on a Friday, you could board with a negative test that was taken any time on the prior Tuesday or after.) Since May 12 2021, the CDC have approved Antigen tests for travel. Antigen tests are quicker (results in 30 minutes, not 24 hours) and cheaper (around 1/3 the price or less) than PCR tests and often more readily available. If you are flying direct back to the US, the only test you'll need is an Antigen test. If you are transferring in another country on the way back to the US other requirements may apply. We advise to check with the airline in this case.
General COVID-19 measures to be aware of
maintain physical distance
maintain hand hygiene and disinfection (we will provide a personal bottle of hand sanitiser to you upon arrival)
wearing protective masks is mandatory in all indoor spaces throughout the country (we will provide one disposable mask per day of your vacation)
Curfews and Movement Restrictions
There is a daily curfew from 11:00pm to 6:00am. Public movement is restricted during these hours except for work reasons, health care emergencies, or urgent needs.
Bars & Restaurants
Bars and restaurants are serving customers indoors and outdoors. Working hours are from 6:00am to 11:00pm except delivery services.
Sightseeing
Cultural sites and museums are working normally, some with limited number of visitors. If you are interested in any specific sites, please let your local JayWay contact know and they will confirm the current situation a few days in advance, and help with making reservations if advised.
Shops and Beauty Services
All shops and beauty services are open with regular working hours. Shops have limitations on number of visitors depending on their size. As for beauty services (hairdressers, nail appointments, etc.) appointments must be made.
Public Transport
Wearing protective masks is mandatory throughout the country in public transportation.
Estimate for next change in measures
It is likely that from July 1st all the restrictions will be lifted, permanently.
Updates from JayWay Staff and Partners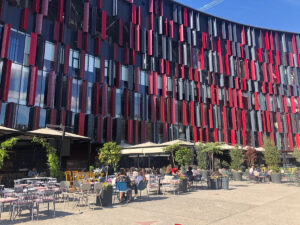 From Lorina, based in Tirana
Spring is here, trees and flowers in Tirana are blooming and it feels good to be able to see elderly couples with their grandkids having ice cream. Teenagers meet up and play music in the parks. Sounds unbelievable but normality is back and it feels great.
Although very much conscious about the situation, luckily enough being a small country in population and size, it was much easier to control the virus and as of now about ¼ of the population has been vaccinated. It is why restriction are not so harsh and we hope will be totally lifted by July 1st, 2021. In reality the curfew isn't strictly observed or policed either.
Useful Links