Last updated October 14, 2021
Bosnia and Herzegovina has opened its doors to all visitors and tourists from EU countries and members of the Schengen region.
Entry Requirements
All travellers entering Bosnia & Herzegovina must present one of the following:
A negative viral test result: PCR test or rapid antigen test not older than 48 hours if you are coming from European countries (counting from the time of taking the test to arriving at the border crossing point) and if coming from other countries no longer than 72 hours before you cross the border
A certificate of vaccination (any vaccine) for persons whose final dose of the COVID-19 vaccine is more than 14 days prior to crossing the border.
A medical certificate confirming that the traveler has recovered from COVID-19 in the past 14 – 180 days.
PCR Testing for Returning Home
If you need to get tested for your journey home, whether it is required by the airline or for re-entry into the U.S. we will help you schedule that at the most convenient location possible, at the appropriate time. For re-entry to the US you need to have a negative result from a Covid-19 viral test up to 3 days before departure (not counting the day of departure, so for a flight at 1pm on a Friday, you could board with a negative test that was taken any time on the prior Tuesday or after.) Since May 12 2021, the CDC have approved Antigen tests for travel. Antigen tests are quicker (results in 30 minutes, not 24 hours) and cheaper (around 1/3 the price or less) than PCR tests and often more readily available. If you are flying direct back to the US, the only test you'll need is an Antigen test. If you are transferring in another country on the way back to the US other requirements may apply. We advise to check with the airline in this case.
General COVID-19 measures to be aware of
maintain physical distance
maintain hand hygiene and disinfection (we will provide a personal bottle of hand sanitiser to you upon arrival)
wearing protective masks is mandatory in all closed spaces throughout the country (we will provide one disposable mask per day of your vacation)
Curfews and Movement Restrictions
There is no curfew in place.
Cafes & Restaurants
Cafes and restaurants are full open with no restrictions from 7:00 PM to 11:00 AM. Don't miss the opportunity to try the traditional cuisine and enjoy the charms of Bosnian coffee!
Sightseeing
Cultural sites and museums are working normally, some with limited number of visitors. If you are interested in any specific sites, please let your local JayWay contact know and they will confirm the current situation a few days in advance, and help with making reservations if advised.
Shops and Beauty Services
All shops and beauty services are open with regular working hours. Shops have limitations on number of visitors depending on their size. As for beauty services (hairdressers, nail appointments, etc.) appointments must be made.
Public Transport
Wearing protective masks is mandatory throughout the country in public transportation.
Updates from JayWay Partners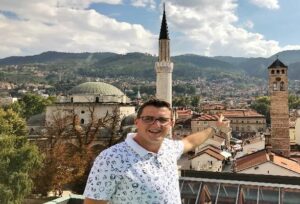 From Edin, based in Sarajevo
In the city of Sarajevo, the partial lockdown has been lifted and mass vaccination is at its peak. Everything is joyfully returning to how it was before the pandemic and we truly feel it in the air that better times are coming for us all. We are already beginning to see tourists in the city which is a very positive sign for our agency. BiH has opened its borders to all tourist which is why we believe in the near future the situation will only continue to get better.

In the city on the river Neretva (Mostar), which is the most beautiful river in BiH, after a long time, is finally feeling a positive atmosphere again. Tourists are coming in increasing numbers, which makes all employees in tourism very excited. As announced this year, the competition Red Bull Cliff Diving will be held, all those who will be in Mostar during the month of August should not miss the opportunity to watch this thrilling competition.
Useful Links