Last updated November 27, 2021
Georgia was open to US tourists briefly in 2020 and reopened again in January 2021. While we had guests visiting the country last summer, we expect even more trips this year as infection numbers are falling and vaccination numbers rising quite quickly.
Entry Requirements
Both vaccinated and unvaccinated travelers must complete an application form prior to arrival with contact details and travel history.
Proof of Vaccination
Foreign citizens arriving by air may be unconditionally admitted to Georgia if they present a COVID-19 vaccine certificate confirming receipt of two full doses of the vaccine
Or a Negative PCR Test
All unvaccinated passengers must present a negative PCR test result conducted 72 hours or less before arrival in Georgia. Get a follow-up PCR test at their own expense on the third day after arrival in Georgia.
Antigen or PCR Testing for Returning Home
If you need to get tested for your journey home, whether it is required by the airline or for re-entry into the U.S. we will help you schedule that at the most convenient location possible, at the appropriate time. For re-entry to the US you need to have a negative result from a Covid-19 viral test up to 3 days before departure (not counting the day of departure, so for a flight at 1pm on a Friday, you could board with a negative test that was taken any time on the prior Tuesday or after.) Since May 12 2021, the CDC have approved Antigen tests for travel. Antigen tests are quicker (results in 30 minutes, not 24 hours), cheaper (around 1/3 the price or less) than PCR tests, and more readily available. As Georgia does not have any direct flights to the US you will need to consider the testing requirement of the airline you are flying with, and the requirements of the country you are transferring through as these can vary, and may mean a PCR test is essential after all.
General COVID-19 measures to be aware of
maintain physical distance
maintain hand hygiene and disinfection (we will provide a personal bottle of hand sanitiser to you upon arrival)
wearing protective masks is mandatory in enclosed public spaces and outdoors (we will provide one disposable mask per day of your vacation)
Bars & Restaurants
Indoor and outdoor dining are allowed till 10 pm. Reservations are recommended if there is a specific restaurant you want to eat at.
Sightseeing
Most cultural sites and museums are working normally, from 10 am to 6:30 pm, Tourist sites and national parks are open from May 26. Some sites are operating with a limited number of visitors. If you are interested in any specific sites, please let your local JayWay contact know. They will confirm the current situation a few days in advance and help make reservations if advised.
Shops and Beauty Services
All shops and beauty services are open with regular working hours. Shops have limitations on number of visitors depending on their size. As for beauty services (hairdressers, nail appointments, etc.) appointments must be made.
Public Transport
Public transportation will not work from August 14th to September 4th.
Updates from JayWay Staff and Partners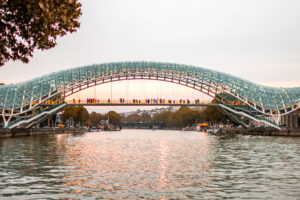 From Gio in Tbilisi
Summer is coming and with warmer days the city is feeling alive again. People started spending more time outdoors and slowly getting back to normal life. The government is gradually lifting up restrictions and locals together with travelers can enjoy the upcoming summer almost as usual. From May 17th, cafes and restaurants are allowed to host people in their open-air spaces on weekends once more, and the curfew was moved from 9 PM to 11 PM, so people will have an opportunity to enjoy a lovely evening and have more time to explore Tbilisi. Vaccination in Georgia is picking up the pace, which will give us more freedom in the near future!