Last updated November 26, 2021
Yes, Greece is open to American tourists
Greece has officially opened to tourism since May 14th 2021, this year the US is included in the list of travellers who are allowed entry without the requirement of self-quarantine. In Summer 2020 Greece demonstrated its commitment to ensuring a safe travel experience for its visitors despite the challenges of the global pandemic with the implementation of strict health protocols and safety regulations.
At the World Travel Awards 2020, Greece was recognized as the "World's Leading Tourist Board" for successfully opening Greece to tourism during the pandemic. The Greek government is set to ensure a smooth tourism season for Greece in 2021. 
On Friday September 10th, 2021, Greece's Tourism Minister stataed that the country intends to remain open to US tourists till the end of the season.
Entry Requirements
Greece is open based on either testing, vaccination, or proof of recent recovery from Covid-19.
The following entry guidelines have been developed by the Greek Ministry of Tourism in order to ensure a safe vacation experience for all.
A PLF (Passenger Locator Form)
All travelers entering Greece must complete a PLF (Passenger Locator Form) 24 hours prior to entering the country and leaving the country, stating all the information regarding their point of departure, the duration of their previous stays in other countries and the address of their stay in Greece for the first 24 hours at least.
A unique QR code will be required to be presented upon arrival. One PLF is required to be submitted per family.
We recommend that you download the Visit Greece app on Android or iPhone, which can be used to complete the application or alternatively through the travel.gov.gr website.
US citizens entering Greece must present one of the following:
A negative PCR certificate from a testing laboratory for a Covid-19 test taken no later than 72 hours prior to arrival in Greece. This is mandatory for all tourists over the age of 5 years old.
Travellers who have completed their vaccination (14 days prior to crossing the border, depending on the doses required) and hold a vaccination certificate are not required to present a negative PCR test.
Acceptable vaccines: Pfizer BioNtech, Moderna, Astra Zeneca/Oxford, Novavax, Johnson + Johnson/Janssen, Sinovac Biotech, Gamaleya (Sputnik), Cansino Biologics, Sinopharm.
Proof of a negative test is not required for the traveler that has recovered from COVID in the past 9 months. This can be proved through a certificate of recovery issued by a public authority or a certified laboratory.
Getting to Greece by Air
Non-EU citizens are strongly advised to choose direct flights to Greece. In any other case, travelers should abide by the stop-over country requirements.
The Greek authorities have added Azerbaijan, Armenia, Jordan, Moldova, Brunei and Kosovo to Greece's "safe list", which already includes all EU & Schengen Area countries and: Albania, Australia, Northern Macedonia, Bosnia-Herzegovina, United Arab Emirates, United States of America, United Kingdom, Japan, Israel, Canada, Belarus, Lebanon, Bahrain, New Zealand, South Korea, Qatar, China, Kuwait, Ukraine, Rwanda, Russia, Saudi Arabia, Serbia, Singapore, Thailand, and Montenegro.
Random Health Screening upon Arrival
All travelers arriving in Greece are subject to undergoing random health screening, regardless of what certification they hold, drawn from a targeted sampling system (EVA system). If selected, the RAPID antigen test is mandatory. If the traveler tests positive for SARS-Cov-2, following a sampling test, mandatory isolation will apply.
The travelers and their travel companions will be accommodated in quarantine hotels where they will undergo further PCR testing to confirm the initial diagnosis. Guests will stay in seclusion hotels for at least 10 days. The expenses of the accommodation in quarantine hotels are covered by the Greek state.
Antigen or PCR Testing for Returning Home
If you need to get tested for your journey home, whether it is required by the airline or for re-entry into the U.S. we will help you schedule that at the most convenient location possible, at the appropriate time. For re-entry to the US you need to have a negative result from a Covid-19 viral test up to 3 days before departure (not counting the day of departure, so for a flight at 1pm on a Friday, you could board with a negative test that was taken any time on the prior Tuesday or after.) Since May 12 2021, the CDC have approved Antigen tests for travel. Antigen tests are quicker (results in 30 minutes, not 24 hours) and cheaper (around 1/3 the price or less) than PCR tests and often more readily available. If you are flying direct back to the US, the only test you'll need is an Antigen test. If you are transferring in another country on the way back to the US other requirements may apply. We advise to check with the airline in this case.
General COVID-19 measures to be aware of
maintain physical distance
maintain hand hygiene and disinfection (we will provide a personal bottle of hand sanitizer to you upon arrival)
wearing protective masks is mandatory in all indoor and outdoor spaces throughout the country (we will provide one disposable mask per day of your vacation). This does not apply to individuals for whom wearing a face mask is not recommended on account of their documented medical condition, e.g. respiratory problems, and children under the age of four.
Curfews and Movement Restrictions
All curfew restrictions have been lifted since Monday 28 June.
Bars & Restaurants
Bars and restaurants are only serving seated-only customers on outdoor terraces. Customers waiting for a table must wear a face mask. Up to ten (10) individuals are seated per table. Access to closed spaces, as of Monday, September 13 to March 31, 2022 is as follows:
Only those who are fully vaccinated or have proof of recovery (at least six months) will have access to closed spaces including cafés, bars, and restaurants. Verification will take place at the entrance of the establishment via the Covid Free app.
An exception applies to restaurants, bars, and cafes operating in indoor hotel spaces and serving hotel guests only.
Please note walk-ins are possible but we advise making reservations due to limited outdoor capacities. We are happy to make recommendations and help with reservations.
Sightseeing
Outdoor cultural sites and museums are working with restrictions and a limited number of visitors. Visitors must keep a 1.5 m physical distance from each other, one person is allowed per 10 m2 of space and visitors enter in groups of up to three individuals, with the exception of families (spouses / partners and children). As of September 13, museums and archaeological sites can be accessed by anyone with a negative rapid test taken 48 hours ahead of visit or a Covid-19 vaccination certificate. Verification on admission via the Covid Free app.
If you are interested in any specific sites, please let your local JayWay contact know and they will confirm the current situation a few days in advance, and help with making reservations if advised.
Cinemas, Theaters, Museums and Sports Venues
As of September 13, indoor sports areas will be open only to the vaccinated or those with proof of recovery. Verification on admission via the Covid Free app. Indoor arts and entertainment venues including museums, cinemas, theaters, and archaeological sites, can be accessed by anyone with a negative rapid test taken 48 hours ahead of visit or a Covid-19 vaccination certificate. Verification on admission via the Covid Free app. These establishments can choose to operate as vaccinated-only (at 100 percent capacity) or mixed spaces (at reduced capacity).
Indoor gyms and sports facilities are open to all provided they have taken an antigen test 48 hours ahead of session or hold a vaccination certificate. Verification on admission via the Covid Free app. They can request of their members to be fully vaccinated or to provide proof of recovery.
Travel to the Greek islands by Ferry
Residents and foreign visitors (all over the age of 5 years old) are allowed to travel to the Greek islands by ferry only if they present one of the following:
a vaccination certificate (stating that 14 days have passed since full vaccination for Covid-19)
Those who recovered from Covid-19 can present a certificate issued two months after their recovery (valid for 9 months).
a negative PCR test performed less than 72 hours
a negative rapid antigen test taken 24 hours prior to travel
Young people aged 12 (with date of birth before June 30, 2009) to 18 may present a self-test to board a domestic flight. They must fill out the self-test declaration form
– Minors up to 12 years old (with date of birth after July 1, 2009) can travel on a domestic flight without presenting a test.
Returning from the Greek islands to the mainland (e.g. Athens)
Passengers returning to the mainland (e.g. back to Athens) from an island are recommended to conduct a self-test (the recommendation is for all passengers over the age of 12). Negative self-test results must be filled out on the self-test declaration form on the self-testing.gov.gr platform found here
Shops and Beauty Services
All shops and beauty services are open with regular working hours. Shops have limitations on number of visitors depending on their size. As for beauty services (hairdressers, nail appointments, etc.) appointments must be made.
Live Cultural Events and Shows in Outdoor areas
Live cultural events and shows have resumes outdoor operations on May 28. All events must take place at open-air venues with seated-only spectators, and venues can operate at 50 percent capacity. There will be no breaks during the shows in order to avoid overcrowding.
Public Transport
Wearing protective masks is mandatory throughout the country in public transportation. Public transport runs at 65% capacity.
Estimate for next change in measures
From September 13 the following new measures will apply:
Unvaccinated travelers who will be traveling by plane, boat, bus, or train will be required to take one rapid (antigen) test 48 hours ahead of travel, (self-tests for children aged 5-12) at a private health center and upload result on gov.gr. Verification will be conducted at check-in and via the Covid Free app.
On-the-ground updates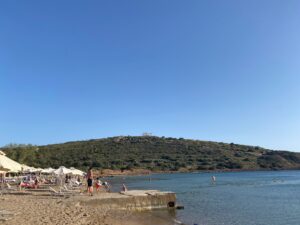 Today Greece is celebrating the official opening of the tourism season. An important day for the tourism industry and the whole nation as from today Greeks are allowed to enjoy free movement between regions as well as the ability to leave one's house without having to send a compulsory SMS, the curfew has been extended to 00:30 and museums have re-opened. Since early November, Greece has been under a strict lockdown and this sense of freedom is particularly sweet.
Outdoor dining is now open – the locals and visitors alike are invited to enjoy the simple, yet necessary pleasures of life, the ability to see friends and family, to interact with others, and to enjoy life. The sun is shining bright and spring has sprung, you can hear birds singing and nature rejoicing this special moment. The beauty lies in the little things and you can feel that sense of excitement all around you, as the locals express their appreciation of doing what they love – which can be as simple as enjoying a cup of coffee with friends.
The Greek government has recently announced a Blue Freedom plan which prioritizes the vaccination on all the islands to be completed by end of June. Over 13% of the population has been fully vaccinated. Mask wearing remains compulsory.

Elena, based in Athens, May 14, 2021
Useful Links
Protocol for Arrivals in and Departures from Greece