Last updated June 19, 2021
Italy has officially opened to American tourists from May 16, 2021, with one catch. You must arrive on a special direct Covid-Tested flight, operated only by Delta for now. Travelers arriving on these flights do not need to quarantine and can move about the country freely. Italy, the most popular tourist destination in Europe for Americans, has been closed off since early 2020 so this small scale reopening presents a once-in-a-lifetime opportunity to reconnect with this most engaging of destinations.
Entry Requirements
As of mid-May the only way for American leisure travelers to arrive in Italy is via direct "Covid-Tested" flights, between JFK and Milan/Rome and Atlanta and Rome operated by Delta in conjunction with Alitalia, American Airlines, and United. The testing procedure is as follows:
Covid-19 Negative PCR test (at your own expense) within 72 hours of departure
Negative Antigen Rapid Test at the airport in the US
Negative Antigen Rapid Test at the airport in Italy on arrival
Being vaccinated does not give any exemption from the test requirement, but it does make it far less likely you'll test positive at any point.
Passenger Locator Form
All travelers to Italy are required to fill in an online Passenger Locator Form, which should be completed before boarding.
PCR Testing for Returning Home
If you need to get tested for your journey home, whether it is required by the airline or for re-entry into the U.S. we will help you schedule that at the most convenient location possible, at the appropriate time. For re-entry to the US you need to have a negative result from a Covid-19 viral test up to 3 days before departure (not counting the day of departure, so for a flight at 1pm on a Friday, you could board with a negative test that was taken any time on the prior Tuesday or after.) Since May 12 2021, the CDC have approved Antigen tests for travel. Antigen tests are quicker (results in 30 minutes, not 24 hours) and cheaper (around 1/3 the price or less) than PCR tests and often more readily available. If you are flying direct back to the US, the only test you'll need is an Antigen test. If you are transferring in another country on the way back to the US other requirements may apply. We advise to check with the airline in this case.
General COVID-19 measures to be aware of
maintain physical distance
maintain hand hygiene and disinfection (we will provide a personal bottle of hand sanitiser to you upon arrival)
wearing protective masks is mandatory in all indoor and outdoor spaces throughout the country (we will provide one disposable mask per day of your vacation). This does not apply to individuals for whom wearing a face mask is not recommended on account of their documented medical condition, e.g. respiratory problems, and children under the age of six.
Regional Restrictions
Italy has a color-coded system of restrictions. The country's 20 regions are designated either white (no restrictions), yellow (some restrictions), orange (more severe restrictions), and red (most restrictive). As of mid June, all Italy's regions are "white" except Aosta, Calabria, Campania, Tuscany, Sicily, Basilicata and Marche, which are "yellow".
Curfews and Movement Restrictions
There is a curfew in place, from Midnight to 5 AM in all yellow areas listed above.
Bars & Restaurants
Bars and restaurants are open for lunch and dinner but a maximum of 6 people can eat together at the same table in the yellow regions listed above. Everywhere else there are no such restrictions. Only in the white regions it is possible to dine inside, everywhere else restaurants and bars can only have outside tables.
Please note walk-ins are possible but we advise making reservations if you want to dine outside due to limited outdoor capacities. We are happy to make recommendations and help with reservations.
Sightseeing
Cultural sites and museums are working normally, some with reduced working hours, with limited number of visitors. If you are interested in any specific sites, please let your local JayWay contact know and they will confirm the current situation a few days in advance, and help with making reservations if advised. Large group tours aren't operating, but small group tours (up to 12) are.
Shops and Beauty Services
All shops and beauty services are open with regular working hours. Shops have limitations on number of visitors depending on their size.
Public Transport
Wearing protective masks is mandatory throughout the country in public transportation.
Schedule for next changes in measures
Curfew will be lifted completely from June 21st
From July 1st all pools, thermal baths and spa can reopen
Updates from JayWay's Locals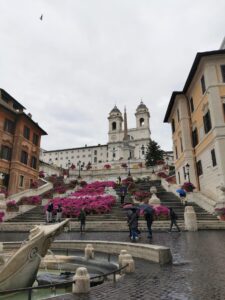 From Giorgia in Rome
Life in Rome is as always, lots of traffic, many locals in the city center, specially in the weekends, but no tourists yet (and no huge groups and crowds), except for tourism life is normal. We wear masks everywhere but we can have lunch and dinner outside, visit museums and parks, have coffee, aperitivo and so on. Curfew is still at 10 PM so nights are quite calm and silent. I'm especially enjoying having Aperitivo without having to leave the bar at 5.45 PM (before April bars could open only till 6 PM) 😀 Rome is ready to welcome you again, lifting restrictions and vaccinating as many people as possible per day, lines are shorter, squares are emptier, the Trevi Fountain is missing its coins and the Colosseum isn't seeing that many feet walking on its steps and cobblestones. This is the absolute perfect time to come visit Rome, with all the restrictions and attention necessary, we are ready to welcome you back 🙂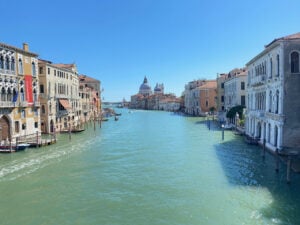 From Elisa in Venice
Venice seems to finally get back to normality. Bars and restaurants are reopening, and it's great to sit outside and enjoy some food and drinks with friends in the sunshine. The streets are not empty anymore, but at the same time there aren't the usual crowds that would populate Venice in this season, so it is great to stroll through the city and enjoy its magic. The traffic on the canals is still pretty quiet, and boat rides are a great way to relax and admire the city stress-free.
More and more people are getting vaccinated, and rumours are much more restrictions will be lifted in the next few weeks; we all are very hopeful now and can't wait to enjoy our city at the fullest this summer!
Useful Links
U.S. Embassy in Italy's Covid-19 Info Page
Covid-Tested Flights Passenger Locator Form
Popular Italy Itineraries