Last updated October 23, 2021
Yes, Poland is open to American tourists
Poland reopened to travelers from the US on June 19, 2021, ending a period of over a year during which American travelers were unable to visit the country. Canadians can also travel to Poland under the same entry requirements.
Entry Requirements
If arriving from the US, a certificate of full vaccination with any of the Covid-19 vaccines approved for use in the US is required, otherwise a mandatory quarantine of at least 7 days applies. If arriving from another EU country, it is sufficient to have a less than 48 hour old negative Antigen or PCR test certificate (or be fully vaccinated).
Antigen or PCR Testing for Returning Home
If you need to get tested for your journey home, whether it is required by the airline or for re-entry into the U.S. we will help you schedule that at the most convenient location possible, at the appropriate time. For re-entry to the US you need to have a negative result from a Covid-19 viral test up to 3 days before departure (not counting the day of departure, so for a flight at 1pm on a Friday, you could board with a negative test that was taken any time on the prior Tuesday or after.) Since May 12 2021, the CDC have approved Antigen tests for travel. Antigen tests are quicker (results in 30 minutes, not 24 hours) and cheaper (around 1/3 the price or less) than PCR tests and often more readily available. If you are flying direct back to the US, the only test you'll need is an Antigen test. If you are transferring in another country on the way back to the US other requirements may apply. We advise to check with the airline in this case.
General COVID-19 measures to be aware of
maintain physical distance (1.5 meters)
maintain hand hygiene and disinfection (we will provide a personal bottle of hand sanitiser to you upon arrival)
wearing protective masks is mandatory in all closed spaces throughout the country (we will provide one disposable mask per day of your vacation)
Curfews and Movement Restrictions
There is no curfew in place.
Restaurants
There are no restrictions for outdoor dining. Dining establishments operate indoor under a strict sanitary regime at no more than 50% occupancy.
Please note walk-ins are possible but we advise making reservations due to limited capacities. We are happy to make recommendations and help with reservations.
Sightseeing
Museums and art galleries are open and can operate under a strict sanitary regime. Theatres, operas, and philharmonics have resumed indoor activities. They operate under a strict sanitary regime at no more than 50% occupancy. A limit of 1 person per 15 m2 is in effect. Some sites may be operating at reduced capacities and should be booked ahead. If there is a site you are particularly interested in visiting, please let us know ahead of time so we can check for you.
Shops and Beauty Services
All shops and beauty services are open with regular working hours. Shops have limitations on number of visitors depending on their size. As for beauty services (hairdressers, nail appointments, etc.) appointments must be made.
Public Transport
Masks are mandatory on public transport. All means of public transport across Poland may only make up to 75% of seats available to passengers
Updates from JayWay's Locals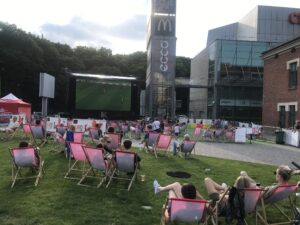 From Igor, based in Krakow
Krakow's back! Rapidly accelerating vaccination process combined with a comfortably quick change to summer weather results in returning of the views that were sorely missed for the better part of 2020 – streets full of happy people enjoying all that the tourist capital of Poland has to offer. At this point almost everything is open to the public (besides discos – those are coming back at the end of June), including but not limited to: museums & art galleries, cinemas, theaters, operas, philharmonics, congresses, shopping malls, hotels (including hotel restaurants), hairdressing salons, gyms.
Estimate for next change in measures
From June 26 Poland increases the limits – more viewers in cinemas and theaters, and discos are going to be open. More people will be able to stay in hotels, restaurants and gyms. The rules will apply until the end of the holidays, with the possibility of modification.
The limits do not apply to people fully vaccinated against COVID-19.
Useful Links
US Embassy in Poland's Covid-19 Info Page
Polish Government's Restrictions Info