Last updated November 27, 2021
Yes, Romania is open to American tourists
Thanks to the improved epidemiological situation in the country, Romania opened to tourism from the US on 1 June 2021.
Entry Requirements
Romania is open to US citizens based on either vaccination, or proof of recent recovery from Covid-19:
a) persons vaccinated against the SARS-CoV-2 virus and for whom 10 days have passed since the full vaccination scheme until their entry to Romania;
b) persons who have been confirmed positive for SARS-CoV-2 virus infection in the last 90 days prior to entry into the country, as proven by medical documents (positive RT-PCR test at the date of diagnosis, hospital discharge ticket or test that prove the presence of IgG antibodies performed no later than 14 days prior to entry into the country) or by checking the Corona-forms database and for which at least 14 days have passed from the date of confirmation to the date of entry into the country;
Children of 3 years old and younger are not required to present the negative result of an RT-PCR test for SARS-CoV-2 virus infection;
Children over 3 years of age and under 16 years of age are required to show a negative RT-PCR test for SARS-CoV-2 virus infection, performed no more than 72 hours before boarding (for those who travel by public transport) or entry into the national territory (for those traveling by their own means)
As there are no direct flights between the US and Romania, it will be necessary to change planes somewhere else in Europe along the way. This may mean testing requirements are in place. We advise you to check with your airline a week before departure to confirm.
PCR Testing for Returning Home
If you need to get tested for your journey home, whether it is required by the airline or for re-entry into the U.S. we will help you schedule that at the most convenient location possible, at the appropriate time. For re-entry to the US you need to have a negative result from a Covid-19 viral test up to 3 days before departure (not counting the day of departure, so for a flight at 1pm on a Friday, you could board with a negative test that was taken any time on the prior Tuesday or after.) Since May 12 2021, the CDC have approved Antigen tests for travel. Antigen tests are quicker (results in 30 minutes, not 24 hours) and cheaper (around 1/3 the price or less) than PCR tests and often more readily available. If you are flying direct back to the US, the only test you'll need is an Antigen test. If you are transferring in another country on the way back to the US other requirements may apply. We advise to check with the airline in this case.
General COVID-19 measures to be aware of
maintain physical distance
maintain hand hygiene and disinfection (we will provide a personal bottle of hand sanitiser to you upon arrival)
all persons must wear a mask that covers their mouth and nose in all indoor and outdoor public spaces. (we will provide one disposable mask per day of your vacation)
Curfews and Movement Restrictions
There is no curfew in place for vaccinated people.
Bars & Restaurants
Restaurants are open and operating at 50% capacity, only for fully vaccinated people, and they close at 9PM. Bars and night clubs are closed. Non-EU vaccination certificates/cards are accepted.
Sightseeing
Cultural sites and museums are working normally, some with limited number of visitors. If you are interested in any specific sites, please let your local JayWay contact know and they will confirm the current situation a few days in advance, and help with making reservations if advised.
Shops and Beauty Services
All shops and beauty services are open with regular working hours and only for fully vaccinated people. Shops have limitations on number of visitors depending on their size. As for beauty services (hairdressers, nail appointments, etc.) appointments must be made.
Public Transport
Wearing protective masks is mandatory throughout the country in public transportation.
Updates from JayWay's Locals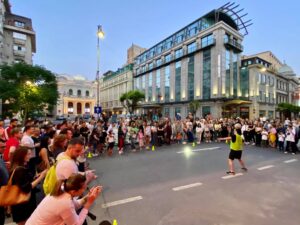 From Olivia, based in Bucharest

Life in Bucharest is once again great! We almost forgot how normal life was and I think people now have a better appreciation for everything. There's a sense of relief and joy to be able to walk around without wearing a mask and even though we've been doing this since mid May, I am still seeing many happy faces on the streets. Restaurants and bars have opened their indoor spaces too and starting with mid-May the curfew was finally lifted! In winter everything was closed at 6PM, in spring it was 10PM but now there are less and less restrictions. We locals are crazy about spending the evenings at the summer gardens spread all around Bucharest and it's great to sip a cocktail and relax without having to rush back home. Old Town, Victory Avenue and the parks are once again teeming with life late in the evening and all the small cafes, bistros and pubs are full of smiley faces, happy to be able to socialize freely. Currently more than 35% of Bucharest's population is vaccinated and at country level things are pretty similar in major towns. All in all, life is back to normal so this means tourists are welcome once again to visit Bucharest, enjoy the Danube Delta and the Black Sea Coast, marvel at the painted churches of Bucovina or explore Transylvania's medieval towns, mighty castles and picturesque mountains.
Useful Links