Last updated November 27, 2021
Yes, Serbia is open to American tourists
Serbia has been open to US tourists since June 2020. With mass vaccination taking place since early 2021, the country hopes to ease the restrictions even more and welcome tourists as it used to back in pre-covid times.
Entry Requirements
A negative PCR or Antigen test taken at most 48 hours before arrival in Serbia is required for travelers arriving from the US. Individuals who were fully vaccinated against Covid-19 in Serbia, or a list of other countries that currently doesn't include the US, are exempted from this requirement. If you were vaccinated in any other country (including the US), this exemption does not apply and you still need to provide a negative test result. Since July 31, 2021, Serbia accepts a certificate of recovery from Covid-19 in the last six months as an exemption from the testing requirement.
If arriving from another country (Croatia, Bosnia-Herzegovina, etc) then a negative PCR test taken in the preceding 48 hours is required (Antigen tests are not permissible), unless you have the aforementioned certificate of recovery from Covid-19.
Passenger Locator Form
All travelers entering Serbia should fill in the 'Foreigners Surveillance Registration' section of the form on this page.
PCR Testing for Returning Home
If you need to get tested for your journey home, whether it is required by the airline or for re-entry into the U.S. we will help you schedule that at the most convenient location possible, at the appropriate time. For re-entry to the US you need to have a negative result from a Covid-19 viral test up to 3 days before departure (not counting the day of departure, so for a flight at 1pm on a Friday, you could board with a negative test that was taken any time on the prior Tuesday or after.) Since May 12 2021, the CDC have approved Antigen tests for travel. Antigen tests are quicker (results in 30 minutes, not 24 hours) and cheaper (around 1/3 the price or less) than PCR tests and often more readily available. If you are flying direct back to the US, the only test you'll need is an Antigen test. If you are transferring in another country on the way back to the US other requirements may apply. We advise to check with the airline in this case.
General COVID-19 measures to be aware of
maintain physical distance
maintain hand hygiene and disinfection (we will provide a personal bottle of hand sanitiser to you upon arrival)
wearing protective masks is mandatory in all indoor spaces, and in outdoor spaces when a safe distance cannot be maintained (we will provide one disposable mask per day of your vacation)
Curfews and Movement Restrictions
There is no curfew in place.
Bars & Restaurants
Bars and restaurants are serving customers outdoors only. Working hours are from 6:00am to 10:00pm except delivery services.
Sightseeing
Cultural sites and museums are working normally, some with limited number of visitors. If you are interested in any specific sites, please let your local JayWay contact know and they will confirm the current situation a few days in advance, and help with making reservations if advised.
Shops and Beauty Services
All shops and beauty services are open with regular working hours. Shops have limitations on number of visitors depending on their size. As for beauty services (hairdressers, nail appointments, etc.) appointments must be made.
Public Transport
Wearing protective masks is mandatory throughout the country in public transportation.
Estimate for the Next Change in Measures
The next major change in restrictions will be June 21st.
Updates from JayWay Staff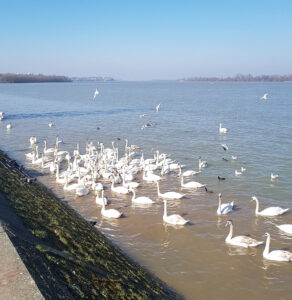 From Maša, based in Belgrade
Even though the spring in Belgrade has been unusually rainy, people are looking forward to the relaxation of the COVID measures by June 21st when things will be getting back to normal. Every bit of warmth and sunshine is used to grab a coffee by the rivers, take a walk, and meet with friends in cafes outside. Luckily, Serbia is one of the few countries that offers its population 4 different vaccines and by now about 40% of the population has been fully vaccinated so we are seeing a continued drop in the number of newly infected Covid patients. It has been said that as of the end of June celebrations like weddings and birthdays will be allowed again outside which is a major step compared to last year. Elderly people still walk around with masks, but the younger population is really relaxed and eager to celebrate spring and welcome tourists to our lovely city.
Useful Links
US Embassy in Serbia's Covid-19 Info Page
Serbian Health Ministry Passenger Locator Form (click the 'Foreigners Surveillance Registration' button)