Last updated October 26, 2021
Yes, Slovenia is open to American tourists
As of 14 June, 2021 Slovenia is open to non-essential (tourist) travel from the US, ending a period of over a year during which American travelers were unable to visit the country.
Entry Requirements 
All travelers entering Slovenia must have one of:
a) Proof of full vaccination with Pfizer, Moderna, Johnson&Johnson or Astra-Zeneca vaccines.
b) Proof of recovery from Covid-19 in the past 6 months (a positive PCR test at least 10 days old, and not older than six months, or a medical certificate of recovery from Covid-19 in the past six months.
c) Negative Antigen or PCR test taken in the past 48 hours.
You can optionally submit an online Passenger Locator Form via the Enter Slovenia web application, which should speed up border procedures.
Antigen or PCR Testing for Returning Home
If you need to get tested for your journey home, whether it is required by the airline or for re-entry into the U.S. we will help you schedule that at the most convenient location possible, at the appropriate time. For re-entry to the US you need to have a negative result from a Covid-19 viral test up to 3 days before departure (not counting the day of departure, so for a flight at 1pm on a Friday, you could board with a negative test that was taken any time on the prior Tuesday or after.) Since May 12 2021, the CDC have approved Antigen tests for travel. Antigen tests are quicker (results in 30 minutes, not 24 hours) and cheaper (around 1/3 the price or less) than PCR tests and often more readily available. If you are flying direct back to the US, the only test you'll need is an Antigen test. If you are transferring in another country on the way back to the US other requirements may apply. We advise to check with the airline in this case.
General COVID-19 measures to be aware of
maintain physical distance
maintain hand hygiene and disinfection (we will provide a personal bottle of hand sanitiser to you upon arrival)
wearing protective masks is mandatory in all indoor spaces, and outdoor public spaces when a distance of at least 1.5m cannot be maintained (we will provide one disposable mask per day of your vacation).
Curfews and Movement Restrictions
There is no curfew in place.
Restaurants
Restaurants may open from 5AM to 10PM. Up to four people are allowed per table. Diners should carry proof of their covid status (vaccination/recovery in last 6 months/negative test < 48 hrs old) in the event that a random check is made by government inspectors (the restaurant will not ask for this information).
Please note walk-ins are possible but we advise making reservations due to limited capacities. We are happy to make recommendations and help with reservations.
Hotels
You should be prepared to show proof of your covid status when checking in (vaccination/recovery in last 6 months/negative test < 48 hrs old).
Sightseeing
Cultural sites and museums are open but may be operating with limited visitor numbers. If you are interested in any specific sites, please let your local JayWay contact know and they will confirm the current situation a few days in advance, and help with making reservations if advised.
Shops and Beauty Services
All shops and beauty services are open with regular working hours. Shops have limitations on number of visitors depending on their size and patrons should observe distancing rules.
Live Cultural Events and Shows in Outdoor areas
Cultural and other events are limited to 75% of seating capacity.
Public Transport
Wearing protective masks is mandatory throughout the country in public transportation.
Updates from JayWay's Partners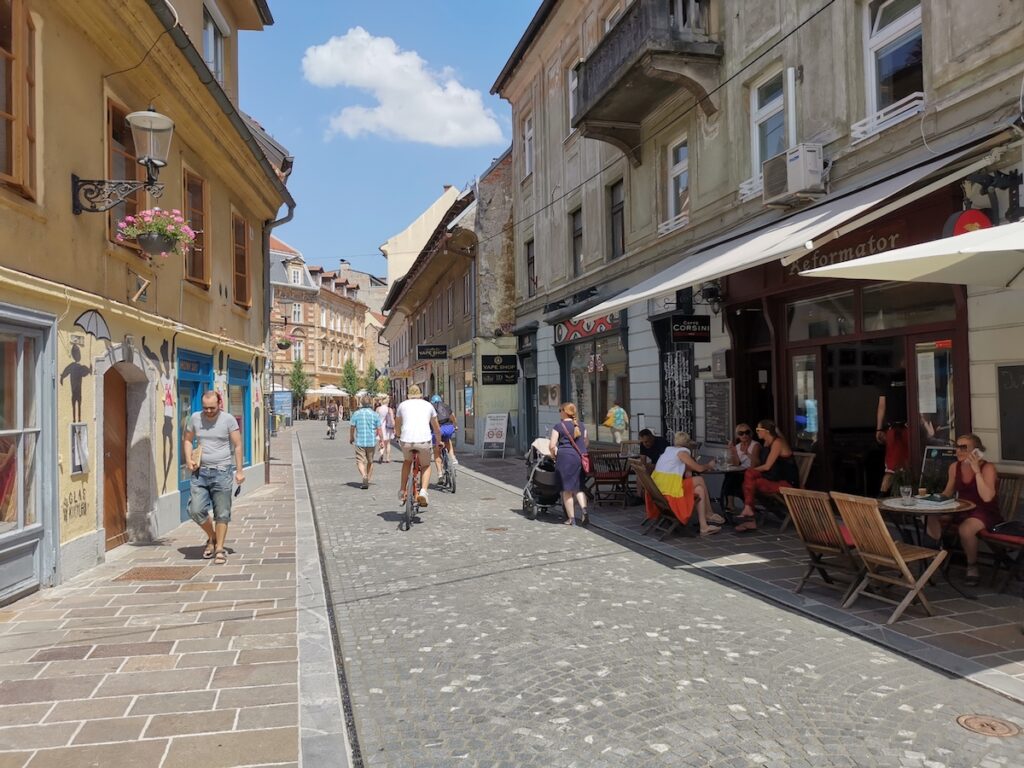 From Mitja in Ljubljana
Things are going back to normal – bars, restaurants are open with a lots of people socializing again – as well as in the parks and in the center of Ljubljana. You can again feel the normal atmosphere only shorter opening times (bars and restaurants have to close at 22:00 the latest) and closure of night clubs and discotheques reminds us that virus is still among us. Some measures still need to be respected – wearing masks inside, distance between tables, in the lines, hand desinfection… In general, all indoor activities can be done or visited only with one of three conditions – vaccination, recovery or negative test.
Estimate for next change in measures
There is no estimate at the moment for the next change in measures. At present nighclubs, bars and discos are not allowed to operate.
Useful Links
US Embassy in Slovenia's Covid-19 Info Page
Slovenian Government's List of Covid-Related Restrictions
Enter Slovenia Web Application (optional Passenger Locator Form)