Last updated October 15, 2021
Ukraine has been open to all international tourists including US tourists since Summer 2020. Ukraine is operating a colour-coded adaptive quarantine system on a regional (oblasts and Kyiv city) basis. Some oblasts and cities have imposed additional measures beyond their official "zone" and these measures may be imposed, and change, at short notice.
Entry Requirements
All U.S. citizens entering Ukraine must show:
– proof of medical insurance covering all expenses related to COVID-19 treatment while on the territory of Ukraine. You must purchase this coverage from a Ukrainian-government-approved insurance company. A policy purchased anywhere else will not be accepted. Ukrainian government approved health insurance coverage can be purchased online and typically costs no more than $20 for a two-week trip.
and one of
– a negative PCR or RAT (Rapid Antigen Test) test done 72 hours prior to entering Ukraine (Children under 12 years of age are exempt from the PCR test requirement),
or
– proof of full vaccination against Covid-19 at least two weeks prior to arrival in Ukraine.
From July 2, 2021, all foreign citizens, citizens of Ukraine, holders of a permanent or temporary residence permit, stateless persons who arrive from India, Great Britain, Russia or Portugal or have been on their territory for more than 7 days during 14 days, are required to undergo a rapid test to determine the antigen of the SARS-CoV-2 coronavirus at checkpoints (control points) across the state border.
PCR Testing for Returning Home
If you need to get tested for your journey home, whether it is required by the airline or for re-entry into the U.S. we will help you schedule that at the most convenient location possible, at the appropriate time. For re-entry to the US you need to have a negative result from a Covid-19 viral test up to 3 days before departure (not counting the day of departure, so for a flight at 1pm on a Friday, you could board with a negative test that was taken any time on the prior Tuesday or after.) Since May 12 2021, the CDC have approved Antigen tests for travel. Antigen tests are quicker (results in 30 minutes, not 24 hours) and cheaper (around 1/3 the price or less) than PCR tests and often more readily available. If you are flying direct back to the US, the only test you'll need is an Antigen test. If you are transferring in another country on the way back to the US other requirements may apply. We advise to check with the airline in this case.
General COVID-19 measures to be aware of
maintain physical distance
maintain hand hygiene and disinfection (we will provide a personal bottle of hand sanitiser to you upon arrival)
wearing masks is mandatory in public transportation and indoor public places. Individuals and establishments can be fined for not complying. Everyone should carry photo ID . (we will provide one disposable mask per day of your vacation)
Curfews and Movement Restrictions
There is no curfew in place.
Bars & Restaurants
Restaurants, cafes and bars must close between midnight and 7am (except for takeaway).
Sightseeing
Cultural sites and museums are working normally, some with limited number of visitors. If you are interested in any specific sites, please let your local JayWay contact know and they will confirm the current situation a few days in advance, and help with making reservations if advised.
Shops and Beauty Services
All shops and beauty services are open with regular working hours. Shops have limitations on number of visitors depending on their size. As for beauty services (hairdressers, nail appointments, etc.) appointments must be made.
Public Transport
Wearing protective masks is mandatory throughout the country in public transportation.
Estimate for next change in measures
The next changes in measures are expected to take place in late July, 2021.
Updates from JayWay Staff and Partners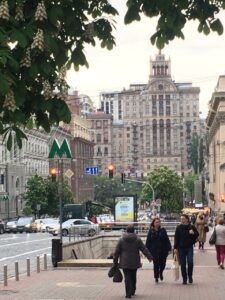 From Kateryna, based in Kyiv
Spring has finally arrived in Kyiv, and white and pink chestnuts, as well as other trees like apricot, lilac and magnolia blossom around the city. All city parks are full of blowballs and bluebells, and Kyiv center bloomed with tulips and narcissus in the flowerbeds. Kievans enjoy their long walks along the banks of the Dnipro river, as well as the city streets, having their coffees or lunches in small cafes and luxury restaurants that are finally open. Theatres and cinemas, museums and entertainment centres welcome their visitors again. Vaccination is in process, and the country is ready to welcome its tourists.
Useful Links