…as King's Landing in Game of Thrones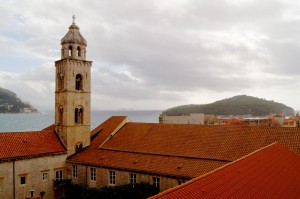 A visit to Dubrovnik could very easily have you treading in the footsteps of the Lannisters and Baratheons, the protagonists in HBO's epic drama series Game of Thrones.
For the first season of Game of Thrones, many of the exterior scenes set in King's Landing were shot on location in Mdina, the former capital of Malta but due to complications arising from a subcontractor damaging protected land, the production company have moved to using Dubrovnik in its place.
Dubrovnik couldn't be more perfect for the role, with its medieval walls and narrow stone-paved streets.
Dubrovnik doesn't just play the part of King's Landing however. Some of the season two's scenes set in Qarth were also shot on location in and around the city.
Here's a brief location list, courtesy of Game of Thrones fan site Winter is Coming.
St. Dominic Street in Dubrovnik – a scene with Gold Cloaks
Lokrum island olive groves and meadows – some outdoor scenes
Lokrum island Benedictine monastery – part of Qarth
Dubrovnik palaces – Qarth locations
The Knežev dvor and Sponza palaces
Lovrijenac (Fort of St. Lawrence)
Fort Bokar and the Minčeta tower
Shooting took place for season 3 already. Here's a short (4 minute) piece from dubrovnikTV.net with some interviews from the crew's last day there.
Planning a trip to Dubrovnik? We'd love to put together a Dubrovnik travel package just for you. Get in touch to find out more!

Charlie is head of marketing at JayWay Travel. A long-term Prague resident, his interests are cooking, eating out, cycling, skiing and of course, travel.