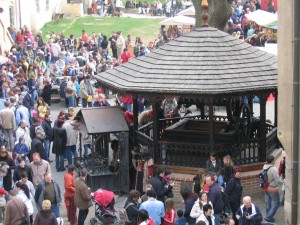 The Central Europe region (Germany, Czech Republic, Austria, Hungary & Poland) is a delight to visit around Easter time. In 2014 Easter is almost as late as it could be, with Easter Sunday landing on the 20th of April meaning the weather is likely to be warmer too (in 2013 Easter Sunday was March 31st and I was skiing on fresh powder in the Czech mountains!).
Jump to a section of this article
Differences and Similarities
Each country celebrates Easter a little differently but one thing you're likely to find in most places is Easter markets selling traditional hand-painted eggs, local crafts and cakes. In several countries these take the shape of classic Easter animals such as lambs and rabbits. Some countries have a mix of Christian and pagan traditions, with various levels of political correctness…
Pagan fertility rituals
Common to the Czech Republic, Slovakia and Hungary is the pagan fertility ritual of boys and men throwing water over girls and young women to ensure they will be healthy and bear many children. The Czechs take things a little further and accompany the water with (now just symbolic!) whipping of women with a 'pomlazka' (roughly translated: thing for making younger) made of intertwined twigs. Some parts of Slovakia keep that tradition too. In Slovakia the dousing with water aspect persists and in Hungary that has been replaced with a much more civilized sprinkling with perfume. Usually the boys are rewarded for their efforts with painted eggs and small edible treats. In Hungary it is common to give a shot of palinka (fruit brandy). Variations on this dependent on local customs play out throughout the region. In Poland the only tradition that remains is the water part but has turned into an all-day water fight!
Highlight events
Prague
Aside from the Easter markets you'll find on the main squares in the center one of our favorite easter activities is the 'Krivoklat Expres' a steam train that goes from Prague (not through the main station, but best picked up at Smichov) to the 12th century Krivoklat Castle where you'll find an Easter fair taking place. Seats should be reserved in advance, if you buy tickets on the train you'll find it hard to get a seat. The train runs there and back just once each on Easter Saturday and Sunday. Similar trains run (to various destinations, including a beer festival in July) until mid December.
Berlin
The perfect opportunity to get some culture if you're visiting Europe this Easter with the Festtage opera and concert festival. Like your entertainment a bit more fairground-like? You'll find rides of all kinds at Berlin's Frülingsfest – a Spring festival open every day apart from Good Friday.
Munich
Munich's own Frülingsfest takes a more traditionally Bavarian form – it has been described as a smaller version of Oktoberfest.
Vienna
The main Easter market in Vienna takes place in the grounds of the Schonnbrunn Palace, so you can get some sightseeing done at the same time! Shop for Easter-themed arts & craft items, observe local traditions and tuck into seasonal treats.
Budapest
Steam train buffs whose time in Prague doesn't coincide with the Easter weekend but instead find themselves in Budapest can seek salvation in the form of the Hungarian Nostalgic Railways services which run on Easter Saturday and Monday.
Krakow
As devout Catholics the Poles take Easter very seriously so this is more of a lowlight than a highlight in some respects – you can expect Krakow's bars and restaurants to be closed or empty on Good Friday. Easter Monday is the day for all-out water fights, as mentioned above and being a foreigner offers no protection from the water pistols and buckets of H2O.
Need an Easter Itinerary?
We can put together a custom Central Europe Easter itinerary for you to maximize your time and make sure you fit in everything you want to see. Just get in touch.

Charlie is head of marketing at JayWay Travel. A long-term Prague resident, his interests are cooking, eating out, cycling, skiing and of course, travel.