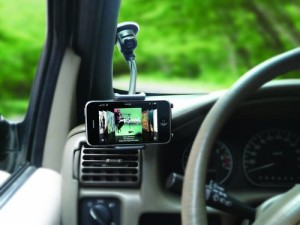 Updated July 2017
We frequently arrange rental cars for our guests to get around Croatia and Slovenia and we're often asked about GPS so here's the low-down:
Jump to a section of this article
Rent
Unless specified otherwise car rentals don't normally include GPS. One reason for this is that rental companies tend to charge up to $20/day for GPS rental, capping it at around $100. This fee gets you a standalone GPS unit and charging cable.
Buy
For not much more than $100 you could buy a basic GPS unit to keep (if bought locally, bought from the US it's much more expensive). Check that it comes preloaded with all the maps you'll need before buying though. If you already have a standalone GPS unit then you should look at buying the maps package for the countries you will be visiting.
Disadvantages of renting or buying
Unfamiliar interface – unless you're very lucky or just needed to buy a maps pack for your existing GPS, you're probably not used to the interface on the unit
Unresponsive screens – we're all used to super-responsive screens on our smartphones. GPS screens are anything but. They use a different technology (resistive, not capacitive) that's cheaper and frustrating to use.
Risk of theft, if you leave it in the car – as with any item left in a car, there's a risk of theft. If you rented the GPS then you're liable for the cost of replacement plus the damages incurred in the break-in, unless you have full excess cover
Lack of updates – most standalone GPS units never have their maps updated. There's every possibility that the GPS unit you rent or buy has maps up to 2-3 years old. Road layouts change and new roads are built.
Download
A far better alternative in our opinion is to download a GPS app for your smartphone. By pre-loading it with all the maps you need it will function offline (so no data connection is needed, unlike with Google Maps or Apple Maps turn-by-turn directions). You can buy it before you travel and get used to the interface. You could even get used to it in your own car by buying the map pack or version for your country. By buying before you travel you could preset all the places you want to go and places you're staying at as Favorites too, making navigating even quicker.
GPS apps are available for iPhone and Android from all the big names like TomTom and Navigon. Our favorite however is Sygic, which uses TomTom map data and includes map and app updates in the price.
To download Sygic, you need to purchase it from the App Store/Google Play, which you should do when connected to the Internet via Wifi as the Sygic app is very large indeed.
When choosing which Sygic app to buy from the iOS App Store, you have a choice of which map coverage you need. Note that the maps for all the countries covered aren't downloaded at the same time as the app – you have to launch the app and download the ones you need – the maps themselves take additional space and in order to conserve space on your phone, you should only install the necessary ones (this is where you start cursing the decision to buy the 16GB phone!)
The Sygic Europe app is the best value. It's only a few dollars more than the Central Europe edition and includes more of Croatia's neighbours to the east, as well as all of Western Europe.
You could also add on a one-month traffic subscription for a small extra payment which means you'll know about temporary road closures and roadworks.
For Android, you can download the app for free then buy an in-app purchase of the map pack you need.
Online
If you've got a (generous) data plan, or are using a local SIM (we offer a local SIM to our guests in place of a basic mobile phone to use while they travel) then you might prefer one of the online options. Waze works just fine throughout most of the countries we cover, including Croatia and Slovenia, as do Google Maps and Apple Maps.
Be equipped
If you're using your smartphone for GPS there are a couple of things to remember:
Power: Using GPS and having the screen on the whole time will run down your battery fast. Pack a car charger (all European rental cars have a standard 12V DC socket).
Position: You'll need to have the GPS visible (unless you're relying on a passenger to copilot and tell you what's coming up, or you're happy with just voice directions). If you don't already use your smartphone for directions in your car, get hold of a phone holder too, either a suction unit that goes on the windscreen or a clamp like device that attaches to the air vents. Just check it's wide enough for your phone first.
Planning a trip to Europe? We'd love to put together a Europe travel package just for you. Get in touch to find out more!

A native of New York, Jay has lived, studied and worked in Europe, traveling extensively throughout the region. His broad experiences range from budget to first class allowing him to understand and appreciate travel needs of clients.