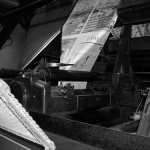 No new travel info here (sorry!), just a quick summary of the different ways you can keep updated we post a new piece on this blog.
Facebook – we post an announcement on our Facebook Page for each post
Twitter – as soon as a blog post goes live, it's autotweeted
RSS – you either know what this is or you don't. Click the Subscribe via RSS link over on the right.
Email – prefer to get your updates via good ol' fashioned email? Put your email address in the form on the right.
Image credit: Marion Doss via Creative Commons on Flickr.

Charlie is head of marketing at JayWay Travel. A long-term Prague resident, his interests are cooking, eating out, cycling, skiing and of course, travel.