One of the most intriguing destinations for European travel, Central Europe is very inviting for tourists looking for a combination of gorgeous cities, pristine nature, and delicious regional cuisine. But cities as far-flung as Vienna, Budapest and Tallinn are specifically inviting for cat lovers, as the phenomenon of cat cafes becomes increasingly popular. These are comfy places with live-in cats, offering customers a chance to spend quality time with friendly felines while sipping a drink and nibbling a tasty snack.
Curiously, cat cafes have a long history in Europe, going back to the summer of 1912, when the first such cafe opened in Vienna. According to Viennese legend, the cafe flourished for two years and boasted a young Vladimir Lenin among its regular clientele. World War I forced the cafe to close, but the tradition continued in various incarnations in numerous cities after the war. Cat cafes are making a comeback today, fuelled by a craze that hit Japan in the early 200s and are becoming popular with locals and tourists in Central Europe, so much so that some cities like Budapest and Prague have more than one. Despite hearing various warnings about the impossibility of herding cats, we've gathered together a list of cat cafes in Central Europe.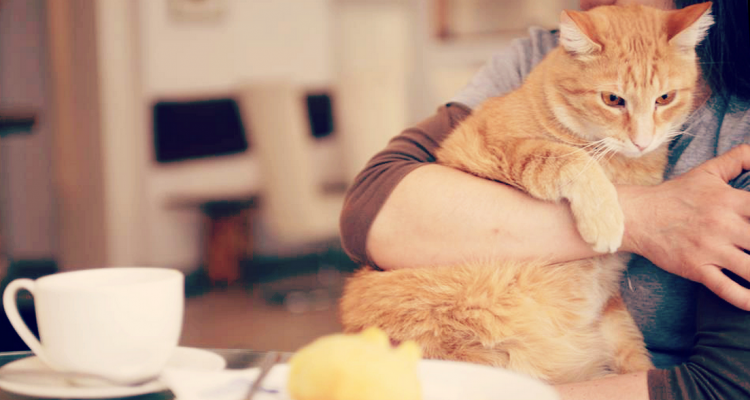 Berlin, Germany; Pee Pees Katzencafe
This cafe is beloved for its low-key ambience, delicious coffees and cakes, welcoming staff, and of course the friendly cats. The decor is casual, with low chairs and couches that are comfortable for customers and cats alike. The fresh baked goods are always different, so don't hesitate to ask for a recommendation. Located by a pleasant park in Neukolln, the cafe is easily reachable on the U-Bahn or S-Bahn. The closest stops are Berlin Neukolln and Hermanstrasse.
Budapest, Hungary; Cat Cafe & Gallery Budapest
Located just off Andrassy Avenue (Andrassy ut), one of the main streets on the Pest side of the city, Cat Cafe & Gallery Budapest is, as the name suggests, a combination of cafe and gallery, where the art is usually cat-focused. This unique space is the perfect time-out from a busy day of city exploration. The selection of fruit teas is especially tasty, and there are great coffees, beers, and even the famous Hungarian "palinka" brandy.
Also on the Pest side of Budapest but a little farther north, on Damjanich Street, you'll find this quaint cafe with an assortment of drinks and tasty treats, and a very pet-worthy cast of cats. More of a club than a cafe, here customers are encouraged to relax with the cats and while away an afternoon. For 1,590 Ft (about $5.50) you can enjoy a slice of cake and an all-you-can-drink package. This is a must-see destination for cat lovers in Budapest.
Munich, Germany; Cafe Katzentempel
A bright and warm cat cafe, Munich's Cafe Katzentempel has modern black tile floors and charming wooden tables and benches, alongside cat perches and plenty of nooks and crannies for our four-pawed friends to lounge. This is a great place to relax and read a book, even if you aren't actively playing with the cats, who roam about freely. You've never had so much fun with coffee and cats in public.
Prague, Czech Republic; Cat Cafe Social Point
Near to the Vltava river on the Old Town side of the city, this unique cat cafe and hangout is found at Gorazdova 20. Cat Cafe Social Point is a little different as it's a converted apartment, with a living room, an office room, a home theater and, of course, a cat room. In the kitchen you can enjoy coffee, tea, or light snacks. This is a nice place to meet new people and congregate with other cat lovers.
Prague, Czech Republic; Kavarna Kocici
The rapidly gentrifying Karlin neighborhood, but of course, has its very own cat café. Kavarna Kocici is a two-floor space with the much-larger basement the domain of the up-to 10 cats you'll find luxuriating there. Coffee and cakes are on offer to accompany your feline fun.
Tallinn, Estonia; Nurri Kassikohnvik
Tallinn's charming cat cafe is just outside the city center, at Tartu mnt 24. With high ceilings and plenty of natural light, this stylish hangout also has a full menu, with plenty of delicious home-made specialities. The food and drink would be an attraction enough, but the gorgeous cats and kittens that call this cafe home really make it special. Don't miss the "catwalk" where the cats can spy on you from above!
Conveniently located in the city center near Stephansplatz, Cafe Neko takes all the charm of an old Viennese cafe and adds a few modern twists, along with plenty of cute cats. The Japanese tea collection is deliciously impressive, and there's also a regular program of performances and events that always keep things interesting. This is definitely a unique version of the classic Vienna cafe experience.
With around a dozen cats on hand, Cat Cafe in Vilnius is almost more cat than cafe. But only almost. It's also a real cafe, with a very wide menu of hot and cold drinks, snacks, light bites and sandwiches, hot dishes, pasta, and desserts. There are also some great cocktails and delicious beers. It's a wonderful place to unwind with your favorite animals.
Planning a trip to Central Europe? We'd love to put together a Central Europe travel package just for you. Get in touch to find out more!

Stephan Delbos is an internationally published writer and editor. Born in the US, he has lived, worked and traveled in Europe for a decade. He's fond of oysters and arid martinis.