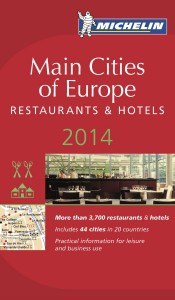 For some people visiting new countries doesn't just mean sampling traditional local cuisine, it's also a chance to visit some of the world's finest restaurants. The Michelin Guide has long been held as the ultimate arbiter of the best eateries on the planet (whether one agrees with that or not!) and the latest edition was published just last week, so here's a city-by-city round up of where you'll find Michelin-starred restaurants and Bib Gourmand awarded establishments on the JayWay map.
Stars or Bibs?
Michelin stars are awarded on a scale of one to three and are typically awards to fine dining establishments or places that capture the essence of a country's cuisine. For example there's a tiny sushi place in a Tokyo metro station that has 3 stars, 14 seats and a 3 month waiting list. Bib Gourmand is an award that Michelin added in 1997, which signifies a restaurant that offers good cuisine at a reasonable price, $40 for two courses and a glass of wine or dessert is the guideline.
You can search the Michelin Restaurants Guide online or view a simple list of all the starred and bibbed restaurants here.
Here's a summary of the Michelin starred and Bib Gourmand restaurants across all the destinations we cover.
Jump to a section of this article
Austria
Vienna, as you'd expect of the capital city, has the most Michelin stars in Austria, with 7 one-star restaurants, 4 of which are new this year, 2 two-stars and 12 Bib Gourmands and 5 of those are new this year. Salzburg has 3 one-stars, including Carpe Diem, and 3 Bib Gourmands.
Czech Republic
It's almost no change this time round for Prague, with La Degustation and Alcron keeping their single stars, and all but one of the Bib Gourmands staying on the list. Le Terroir inexplicably (other than maybe price, though that hasn't really changed) losing its Bib, leaving Prague with 5 Bib Gourmands including one of our faves, Sansho. It's unsurprising that many Prague restauranteurs will be feeling aggrieved at the Michelin inspectors largely ignoring them, on the other hand it will keep prices in check for another year for in-the-know Prague gourmets to enjoy their impressive food at pre-Michelin prices!
Finland
Helsinki's tally of one-star restaurants goes from 5 to 6 this year, with two new additions and one closure. On the Bib Gourmand front, two losses and two new additions keeps the total at 5.
Germany
Berlin has some ups and downs this year due to closures and Bib deletions, but ultimately coming out well with 5 two-stars (one new: FACIL in the Mandala Hotel) and 9 one-stars, of which three are new. On the Bib Gourmand front, two deletions and one addition give a total of 5.
Munich might be a third the size of Berlin but it more than holds its own on the star count. An unchanged 2 two-stars and 10 one-stars. of which 3 are new and just one deleted from last year, plus 5 Bib Gourmands indicate that spendy foodies will be spoilt for choice in the Bavarian capital.
Hungary
The food scene in Budapest has come on in leaps and bounds over the last few years, but Michelin isn't quite so sure, with just one new one-star, Borkonyha Winekitchen, which on our own visits was decent first time round then disappointing, taking the total to 3, and a mauling of the Bib Gourmands, with three deletions and a single addition, Déryné Bistro, leaving a total of just 2.
Poland
Slim pickings for the inspectors in the Polish capital it seems, with Warsaw's Atelier Amaro still the lone one-star establishment. A new Bib Gourmand award to Brasserie Warszawska looks well deserved, for a simple and relatively inexpensive but very appealing menu.
Do your homework!
Before booking any of these highly rated establishments and laying out your hard-earned cash for what is (apart from the Bib Gourmands) likely to be an expensive meal, we feel it is still worth checking user-contributed review sites and food blogs for real people's opinions.
Planning a trip to Central Europe? We'd love to put together a Central Europe travel package just for you. Get in touch to find out more!

Charlie is head of marketing at JayWay Travel. A long-term Prague resident, his interests are cooking, eating out, cycling, skiing and of course, travel.