Last week we soft-launched our new-look logo and website, designed for us by Prague-based design house, Evo Creative, who have shaped the corporate identity of JayWay Travel ever since our founding in 2006.
Jump to a section of this article
The new logo

The brief for the logo was to come up with something that encapsulates the idea of travel without using a plane or a suitcase and to communicate the sense of discovery and exploration that our guests enjoy on their European vacations with us. Opinion was divided internally on the typeface but feedback from a panel of regular JayWay guests led us to select the small-caps serif font you see here.
A typeface with a story to tell
The typeface is called Tusar and it has an interesting story to tell of its own. It is based on a typeface created in Prague in the early days of the first Czechoslovak Republic by Slavoboj Tusar, the brother of the country's first prime minister, Vlastimil Tusar. The original typeface was used in the printing of a single book, "Boulevard" by Richard Weiner, and subsequently deliberately destroyed. The typeface we use here, Tusar, was digitized by Czech type designer, František Štorm.
We're very pleased with the results and look forward to putting it in more and more places.
Name the mascot
We haven't settled on a name for the mascot yet so if you've got any ideas, do let us know. If we select your idea, you get a $100 JayWay Travel gift certificate.
New-look site design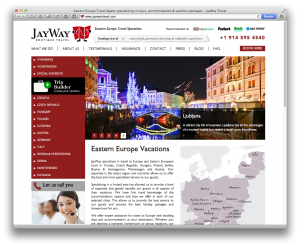 We last had the website redesigned in early 2011 and the logo redesign necessitated a shift in colour scheme to complement it. This redesign is much more of a subtle change than the last, with all the functionality remaining the same, and everything mostly in the same place (though regular visitors might notice the Trip Builder link has moved to the left-hand sidebar). This re-skinning means a less jarring transition for our guests and a shorter development time for us.
Boutique Travel

You might notice a small addition to our logo in the form of the word 'boutique'. When describing just what we do for people we found the term Boutique Travel best sums it up. We create tailor-made vacations for discerning clients who appreciate a personal touch.
New cities
The changes don't stop at the cosmetic level either, this year we're adding three new destinations, the capitals of the three Baltic countries: Riga in Latvia, Tallinn in Estonia and Vilnius in Lithuania. We're still working on the detail for these but keep an eye on our site for when these go live.
More to come…
Now the basis of the new-look site is finished, we will be adding new features over the coming months, as well as an online portal for clients to view and manage details of their trip.