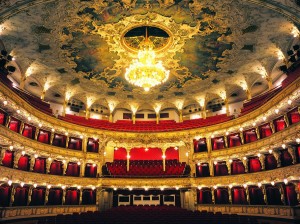 It's something that we may mean to do but rarely get the chance, because of expense or timing, but seeing an opera in one of Europe's grand opera houses is an experience well worth having. And in Prague you can have that experience for just a few dollars, so it's a great opportunity to push the bounds of your cultural experiences without it costing a pretty penny.
Prague has several opera venues: the
State Opera
, the N
ational Theatre and the Estates Theatre
. Between them there's usually an opera performance at least once every two days, apart from during the summer break (July and the first three weeks of August).
Opera on the cheap
The cheapest tickets for the State Opera House are just 100Kc ($5.50) and at the National Theatre, you can stand for just 50Kc. If you want to push the boat out, you can pay up to 1000Kc if you want the best seats in the house.
What's in the reportoire?
All the classics: Puccini's Madama Butterfly, Turandot, and Tosca,  Verdi's Aida, Othello and La Traviata, Bizet's Carmen and Mozart's Magic Flute.
Language barriers?
As it's sung predominantly in Italian (and is quite difficult to pick out the words anyway) you'll be pleased to know that there are 'surtitles' – a screen above the stage where the words are projected, in both English and Czech, so you can follow the on-stage drama with some degree of understanding.
Not just opera
There are also ballet performances, such as Swan Lake, if opera's not your thing.
What to wear
People here dress up for the theatre, classical concerts, opera and ballet. If you're travelling, we can understand the inclination to not pack something smart, and you won't get refused entry if you're in jeans but you will stand out. Dark pants (trousers to you Brits!) and a shirt is fine for guys. A dress or smart pants is good for girls.
Booking?
Some performances sell out, some don't, so you may be able to get tickets at the venue box office on the day. You can always book online though and the online booking systems for all the venues mentioned here are available in English.
Planning a trip to Prague? We'd love to put together a Prague travel package just for you. Get in touch to find out more!

Charlie is head of marketing at JayWay Travel. A long-term Prague resident, his interests are cooking, eating out, cycling, skiing and of course, travel.