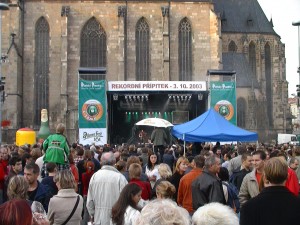 The world renowned Pilsner Urquell brewery in the town of Plzen (Pilsen), about 100km west of Prague, is holding it's annual beer festival in the brewery itself. Pilsner Fest 2010 takes place on the 27th and 28th of August. This makes it a great option for a day trip if you're vacationing in Prague.
The festivities begin at 4pm on Friday 27th, till around midnight and resume again at midday on Saturday 28th, till after midnight.
The Fest has been moved forward over the past couple of years – it used to be in early October but his late August timing should mean better weather and an all-round more enjoyable event.
As well as enjoying one of the world's best beers and quite arguably the original Pils, as well as the sister breweries' Gambrinus, and Radegast Birrell (non alcoholic) beers you will be entertained with live music from some of the biggest names on the Czech music scene, on two stages. Entry is free and the beers are around 30Kc.
There is one beer you can get for free – the one that is part of the record attempt for the world's largest toast, taking place at 7pm on Friday 27th. Your blogger was a proud record holder from the 2003 attempt at this record. They count how many beers are given out, stamping each person's hand to make sure nobody takes more than one. Sadly you don't get your name in the Guinness Book of Records but you may have the satisfaction of knowing you took part.
In addition to the beer there will be various outdoor food options, grilled meats and traditional Czech fare like potato pancakes, langoš. There's also the brewery restaurant, Na Spilce, with a full menu of Czech classics.
Further entertainment is provided courtesy of Gambrinus G-City (info only in Czech), with various inflatable attractions like an obstacle course, gladiator-style contests, sumo wrestling and water-football.
If you can, join one of the brewery tours to get a behind the scenes look at the current methods as well as a trip into the labyrinthine cellars beneath the brewery where you can sample some Pilsner Urquell that is brewed the traditional, pre modernisation way and only available to the public as part of the tour.
Getting There
Getting there from Prague is a snap. Trains run from Prague's main station to Plzen main station every hour, at 4 minutes past the hour. Trains take about 1hr 5 minutes to get to Plzen and the main station in Plzen is a short walk from the brewery. Travelling by train in a group is very cost effective – a group return ticket is the cheapest option.
You can take a bus, but the journey takes 1 hr 40 minutes from Prague's Florenc bus station and will be less comfortable than by train. Student Agency runs plusher buses with on-board wifi from Zlicin metro station, which being at the end of the metro means the journey takes just one hour. The downside to either bus option is further to go when you get to Plzen.
Use Idos.cz to get precise timetable information.
Getting Back
Getting back is a little less straightforward as the last train departs at 10:10pm, so unless you take that, you're either pulling an all nighter (first bus to Prague is at 3:30am, first train at 4:10am) in one of Plzen's numerous late night pubs or clubs or you need to find somewhere to sleep, which isn't too easy during Pilsner Fest!
Drink responsibly!
And have a great time at Pilsner Fest!
Planning a trip to the Czech Republic? We'd love to put together a Czech travel package just for you. Get in touch to find out more!