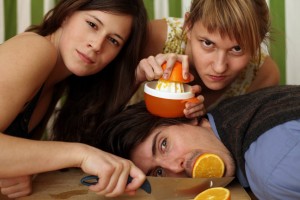 Prague's English language theatre, comedy and music festival begins this Friday (1st June) and features over 100 performers giving 42 different shows over 9 days, in 8 venues throughout Mala Strana.
If you're going to be in Prague while the festival is on we encourage you to pick a show and go see it. Tickets are just 150Kc each (and a bargain 50Kc for students). There's a wide variety of entertainment on offer for just a few Kc. One of our faves is local girl (via NYC) Gail Whitmore's Human Jukebox, back for 5 nights this year, up from 3 in the past 2 years – the best part, every night's different.
Our picks for eats in the neighbourhood:
Café Savoy – good all day, from breakfast to post show.
BarBar – very handy for most of the venues, open late
Luka Lu – Croatian food in Prague – reminds us of one our other destinations 😉
Bohemia Bagel – best for daytime, particularly if you have a weakness for bagels. Pretty good burger too.
Hergetova Cihelna – a bit further from several of the theatres (factor in a 5-8 minute walk) but you're getting superb food at fair prices with a killer view of Charles Bridge from the terrace.
Planning a trip to Prague? We'd love to put together a Prague travel package just for you. Get in touch to find out more!

Charlie is head of marketing at JayWay Travel. A long-term Prague resident, his interests are cooking, eating out, cycling, skiing and of course, travel.