Gordon Gekko told us "Lunch is for wimps" but a savvy money man like him surely would reconsider if he saw the good value that lunch menus offer in many Prague restaurants.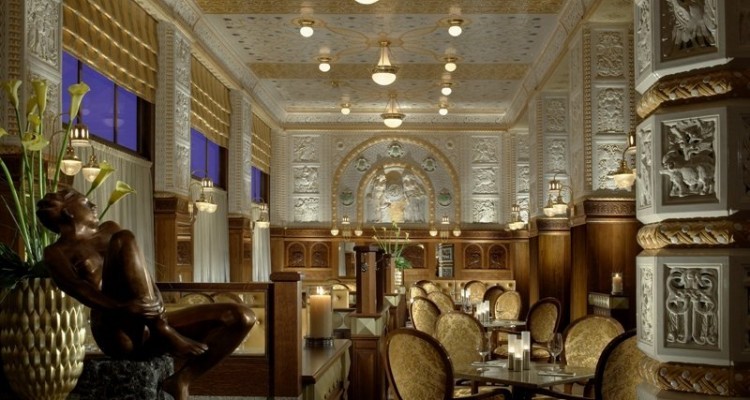 Above: Café Imperial's beautifully restored Art Deco interior gives your lunch a touch of grandeur  
Jump to a section of this article
Lunch culture
Czechs are reluctant to give up their customary sit-down lunchtime meal even though sandwich shops and fast food places proliferate to win over busy workers. In general Czechs don't eat at their desks, like many in the West are inclined to and typically eat smaller meals in the evening. As a result there's plenty of competition for those workers' "meal tickets", starting with local pubs but often even relatively up-scale restaurants want a piece of the action. All this means that there are plenty of opportunities to try some good food for way less than the evening prices. Here's our pick of a few places worth stopping by, serving up a choice of cuisines covering French, Italian and Czech.
A) La Gare
This French brasserie not far from Namesti Republiky is popular with local office workers and with $2 soups and $6-10 mains including lamb, beef or salmon. If you can manage a dessert then their made on the premises cakes are superb (Savoy cake being a personal favourite).
B) Pasta Fresca
One of our favourite pasta places in Prague with (as the name suggests) house-made fresh pasta. You won't find the lunch menu on their website, but you can expect to pay at least 30-40% less than the evening prices for a select few special menu items, with mains from $6-$8.
C) Café Imperial
With a celebrity head chef who is the Czech answer to Gordon Ramsay and on a mission to raise the bar of Czech cuisine, Café Imperial is worth a visit for more than just the beautifully restored art deco interior. Café Imperial's lunch menu usually features a soup and a choice of 3 dishes, which together should set you back a little over $10.
Planning a trip to Prague? We'd love to put together a Prague travel package just for you. Get in touch to find out more!

Charlie is head of marketing at JayWay Travel. A long-term Prague resident, his interests are cooking, eating out, cycling, skiing and of course, travel.