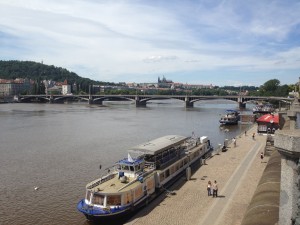 We often get questions from guests due to arrive in Prague over the next few days how the situation is after the flooding of early June.
Just under two weeks after the 'peak water', things are returning to normal in the Czech capital after what is described as a fifty-year flood (the 2002 flood which devastated some neighbourhoods and badly affected the Metro system and many buildings in the centre was a 100-year flood).
As early as Friday 7th the Metro was running as normal, stopping at all stations including those nearest the river. For a while Charles Bridge was closed (it has been open for a while now), its sole occupant being a crane crew to ensure any large objects floating down the river don't harm the centuries old landmark. The worst of the damage was sustained on a couple of islands, and embankments, with some restaurants seeing their terraces and in some cases their whole premises flooded. Of those La Terrassa, Mlynec and Obcanska Plovarna suffered the most. The historical centre of the city, on both sides of the river, was completely unaffected and aside from some road and embankment closures, you wouldn't know there had been a flood. The pleasure boats are back on the water too.
Planning a trip to Prague? We'd love to put together a Prague travel package just for you. Get in touch to find out more!