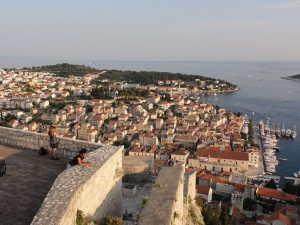 There's a feast of festivals on Hvar this summer, as there is every year.
First off the straightforwardly named Hvar Summer Festival 2013, which runs from late May to the middle of October and is an umbrella for a diverse programme of classical, folk music, theatre and choral performances. For dates, times and venue information take a look at the Hvar Tourist Office's Events Calendar, for each month there's an entry titled '52nd Hvar Summer Festival'.
For those inclined to more modern musical styles, Hvar certainly doesn't disappoint on that front, with the FOR Festival 21st to 23rd June and the Ultra Beach Music Festival on the 14th of July, both featuring live performances and DJ sets.
Planning a trip to Croatia? We'd love to put together a Croatia travel package just for you. Get in touch to find out more!
Image credit: Hvar Fortress by Michael Spencer via Creative Commons on Flickr