Updated January 2020
The Czech Republic is well known for having the highest per-capita consumption of beer in the world and is famous for inventing the Pilsner style of lager but there's more to Czech beer than the big four breweries.
Over the past few years a movement towards microbreweries and smaller breweries has been changing the beer landscape of Prague. Whilst production, the export market and sheer volume of sales is dominated by the big four, the smaller players are making decent progress in the city's pubs and restaurants.
The big four
When you think of Czech beer you probably think of:
Pilsner Urquell, owned by the Japanese Asahi group, along with sister breweries Gambrinus and Kozel which are widely available domestically and rarely exported
Budweiser Budvar (or Czechvar in North America, owing to a long-fought legal tussle with Anheuser Busch), owned by the Czech Government
Staropramen, owned by Molson Coors.
One other that you might not have heard of is Krusovice, owned by Heineken.
The vice-like hold that these breweries once had on Prague pubs has been broken by a resurgence in interest in the output of the country's smaller independent breweries.
Where to Go?
Most pubs and restaurants make it pretty clear what their main beer is by the signs hanging outside, but there are some where the offering changes regularly and there are so many that hanging signs would make it impractical. These places serve beers made by the growing ranks of microbreweries around the Czech Republic as well as from other countries.
Brewery Club
One of the best places to sample a variety of beers is Pivovarsky Klub (Brewery Club) near Florenc, just outside Prague 1 and opposite the international bus station and written up by the New York Times in 2007. As well as a menu of hearty Czech classics they have a rotating menu of six draught beers, usually featuring a regular beer from their own microbrewery on Jecna in Prague 2 and five others, typically a dark beer or two, a wheat beer and a fruit flavoured beer. If you're not convinced by one of these, the selection of 240+ different bottled domestic and imported beers that line the walls upstairs should give you enough to choose from. It's a non-smoking place too, which makes it all the more pleasant. Can be quite crowded but don't be shy, you can share a table here.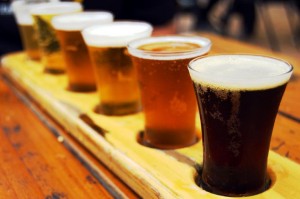 Prague Beer Museum
It's not really a museum but you can at least imbibe some culture here. With up to 30 different beers on tap there's plenty to pick from. As they have so many beers available you'll be pleased to know that they serve small (5 fluid ounces) glasses of most beers here, so you can try a fair few of them. The food's a bit limited as it is delivered from a local takeaway place so you might want to dine beforehand. A good spot for food nearby is Lokal, the Ambiente restaurant group's take on a classic Czech pub. They serve Pilsner Urquell but it's not like any Pilsner Urquell you've had at home – this is straight from the tank and unpasteurised – only places with a high enough turnover can get it like this delivered by tanker direct from the brewery.
Bad Times
Zlý Časy is definitely off the beaten track, though a short tram ride from the centre will get you here in ten minutes. 24 beers on tap and, during summer at least it's non-smoking inside. There's a garden too. Food is very much 'good with beer' stuff like ribs, sausages and schnitzels.
Dva Kohouti
Opened in late 2018 as a joint project between the Ambiente chain of restaurants and pubs and star of the Czech microbrewing scene Adam Matuska, Dva Kohouti is a large-scale microbrewery where your beer usually comes straight from the maturing tanks so it couldn't be fresher. The back to basics interior (they took over a light industrial space and pretty much left it as is) with plenty of benches outside is packed with locals, fans of Matuska's hoppy and potent creations. There's a very simple bar snacks menu but you can get food from the guest food truck or from Ambiente's Grils eatery across the courtyard.
Bad Flash Bars
With branches in two of Prague's collest neighborhoods (the original in uber-hipster Krymska Street in Vrsovice, and another in Karlin) Bad Flash, part of the same group as Zly Casy tap 12 local and international microbrews alongside many more in bottles. Don't go here hungry though.
Beer Geek
This basement paradise for beer geeks serves upwards of 20 different microbrews, predominately imports. If you want something to go with the beer, a simple menu of wings and sandwiches will fill that need.
Unětice Brewery
Technically outside Prague's city limits, the Unetice brewery is a success story that began in 2011. Abandoned like many other small breweries as inefficient under the communist regime, this village brewery dates from the 16th century and has been restored with love and care. You'll find Unetice's beers in a lot of small pubs and bars throughout Prague but it's always best to go to the source. The village of Unetice can be reached by direct bus from Dejvicka metro station or by commuter train from Prague's centrally located Masarykove Nadrazi station to Roztoky u Prahy, then an hour or so walk through 'Tiche Udoli" (Silent Valley), a pleasant woodland walk. The brewery's onsite restaurant serves serious Czech pub fare and the restaurant and the brewery courtyard is packed with day tripping families and cyclists at weekends. Locals like to finish off their village time with a stop for traditional Czech kolač (cake) at the cozy U Lasiku café a five minute walk from the brewery.
What to look for around town
If you're not up for a special journey to one of these pubs then around town some of the brewery signs to look out for are Bernard, Primator, Svijany, Ferdinand and Cerna Hora. All of these produce some very nice beers and will give you a better idea of just why the beer drinkers of the Czech Republic can consume so much of the stuff.
Planning a trip to the Czech Republic? We'd love to put together a Czech travel package just for you. Get in touch to find out more!

Charlie is head of marketing at JayWay Travel. A long-term Prague resident, his interests are cooking, eating out, cycling, skiing and of course, travel.