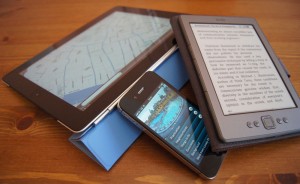 These days it's well worth bringing at least some of your shiny objects with you on vacation to make life easier. To make the most of your gadgets follow these 7 useful tips.
1. Avoid Hefty Roaming Charges 1 – by roaming smart
If you're packing your smartphone, make sure you switch off data roaming or your pocket-sized computer will bleed you dry with background tasks like checking email. Check with your mobile provider to see if they have any data roaming packages that might help. Or if your phone is unlocked, consider getting a local sim and enabling data on it.
2. Avoid Hefty Roaming Charges 2 – by being offline-ready
Lonely Planet's guidebook apps function without an internet connection (and you can still take advantage of your phone's GPS capability in the guide's built-in city map). If you want a more detailed map, then OffMaps for iPhone/iPad/iPod touch is a good solution, and works out cheaper if you just wanted a map rather than a whole guidebook.
3. Keep an eye on the pennies (and kunas and crowns and forints)
Download a currency app for your phone, my favourite for the iPhone is Currency (free – ad supported, $4.99 without ads). It caches the data it gets when its online so update it when you've got wifi and you're good to go.
4. Send useful files to your Kindle (or Kindle app)
With 'Send to Kindle' utilities available for Mac & Windows, there's no excuse. Send Word, Text, PDF or image files to your Kindle or Kindle app (and make sure to download them to the device) and you've got a handy place to store things like flight information or the JayWay Destination Info PDFs we send to all our guests.
5. Stay in touch with the folks back home
There are plenty of ways to stay in touch and let folks back home keep up with you on your travels these days, from checking in to places with the Facebook app and posting a pic to go with it or having a Skype video chat using your smartphone or tablet.
and an obvious but oft-overlooked one:
6. Don't forget to pack a plug adapter (or two)
Most electronic devices these days have 110-240v auto-switching power supplies (it's 220v in Europe) but you'll need a plug adapter to connect them to the grid.
7. Make sure your gadgets are insured
In all the destinations we cover crime is lower than most US cities, but there's always a risk from pickpockets or petty theft. Make sure your travel insurance policy (or possibly even your home contents insurance) covers your gadgets and that the excess isn't too, um, excessive.
Planning a trip to Europe? We'd love to put together a Europe travel package just for you. Get in touch to find out more!