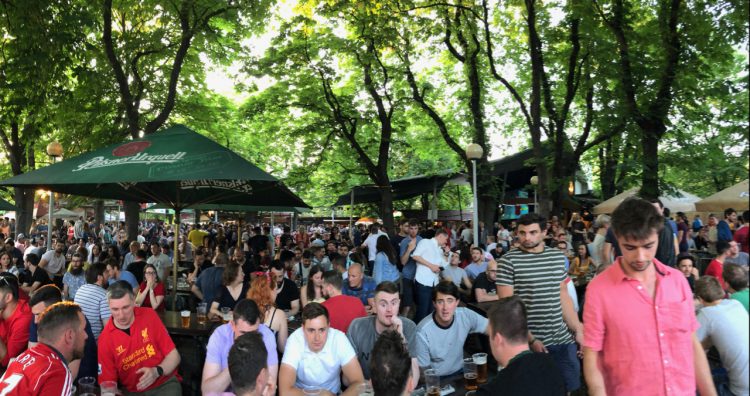 Team USA might not have made it to the Finals, but if you're traveling in Europe this summer there will be no escaping the excitement around Football's Greatest Show on Earth. Most of the Continent is mad for soccer (call it football when you're there, please) and there will be plenty of places across many of our destinations where you can watch the World Cup and soak up the local vibe. From June 14th to the 28th is the group stage, the most intensive period, with three matches a day. After that the schedule is less packed, but since it's the knockout stage, the pressure is on!
Of the countries we cover, Russia qualified as hosts while Croatia, Serbia, Germany and Poland went through the qualifying group stages.
But even if you're visiting a country that didn't qualify, there will often be places showing the game. In summer in Europe there will always be nationals of a country up for catching their team in action and even if not, locals may well be watching anyway.
With the games taking place so close to the Central Europe timezone, kickoffs are at quite sociable times, between 1pm and 9 pm.
We asked our colleagues across all our destinations to suggest the best places to catch the action, and we've assembled a thorough list of everything from sports bars to beer gardens to city squares that will become huge fan zones.
Jump to a section of this article
Belgrade
Serbia's last World Cup was in 2010, and they're glad to back, which you'll see in full effect if you go to watch one of the Serbia games!
Wurst Platz
It might be a bit difficult to find for tourists, but if you ask anyone on the street they will definitely know where this place is. This used to be called Sport Cafe and now it's Wurst Platz. It has giant TV screens and everyone goes there for the major matches. The food is really good and it's not expensive. The location is right across from the Republic Square so it's very central.
Passenger's Bar
This is another great place in the center, just below the Faculty of Math and Chemistry and the famous Students' Park. It's comfortable, with a great garden and a variety of beers and drinks. The food is good as well. It's best to reserve a seat up front!
Endorfin Bar
This bar is very cosmopolitan, a cozy place with good food and unique drinks. There are three big screens for the World Cup. It is a bit pricier and a bit posh, unlike the truly local bars. It's just a few blocks from Passenger's Bar in the direction of the Republic Square.
Obilicev venac Street
This place is located in the pedestrian zone just behind Knez Mihailova, which is the main street in the center. On this street there are more than 35 bars and cafes. All of them are great for watching matches and are usually full.
Berlin
With Germany the defending champions and favorites to triumph again, you can bet the locals will be fired up for their games!
Prater Beer Garden
A nice beer garden in a cool area with an open-air screen. Get there early because it fills up fast!
Kulturbrauerei
This is a beautiful, historic brewery which is now a complex of art galleries, cinema and clubs. Entrance is three euros and begins two hours before the game.
Fanmeile
With big screens by the Brandenburg Gate, this place is always very crowded and touristy but it has quite a good atmosphere.
Mercedes Welt
In case of bad weather, it's free to go into Mercedes World and watch the game on the big screen.
Bucharest
Most people take to the pubs & terraces in and around Bucharest's old town, here's a few of the best
Halftime
Located in the heart of the Old Town on Gabroveni Street, this place has a long standing tradition with soccer games.
Stadio Sports Bar
Central location, on 11 Ion Campineanu Str. (near University Square). This place is unique because it's built in a huge atrium and thus it's probably the best indoor location for football matches. There are projections on all surrounding walls and in the middle there's a "transmissions tower" covered with TV screens.
Beraria H
Located on Kiseleff 32, Beraria H is most likely the largest beerhouse in Europe and it has room for 2500+ people in the same time (indoor & outdoor). Located inside a former Soviet Pavilion and on the shore of Lake Herastrau, this is probably the dream of every football fan. With so many people, TV screens and projections, you actually feel like you're at the stadium, but with a beer in your hand.
The Romanians are nothing if not enthusiastic about televized sporting events, and there are also going to be some outdoor fan areas set up (video projectors in parks & squares) so there's really no excuse for missing a game!
Tineretului Park
A screen & terrace located the entrance next to Tineretului Metro Station.
Constitution Square
In front of Palace of Parliament.
University Square
In front of BCR Bank.
Ioan Cuza Park
Located on Pensionarilor Island.
Budapest
Budapest Park
This huge concert park offers tasty food and drinks and outdoor seating, though it's a little outside the center.
Erzsébet Square
Near the Aquarium, this is actually the most popular meeting point in the city.
Szabadság Square
Similar to Erzsébet Square, maybe a bit less crowded, but very popular as well.
Dubrovnik
After crashing out in the first round last time, the Croats will be looking to put up more of a fight in Russia. They'll have their work cut out for the, they're in the same group as mighty Argentina and giant-killers Iceland.
Karaka Irish Pub
With a perfect location in the heart of Old Town, this is a great place to watch live sports. It can be crowded so we recommend getting there at least an hour before the game.
Uvala Promenade
This street is full of bars that can be perfect for watching games. Some of the bars we recommend are: Mario (located at the beginning of the promenade), Promenada Bar, and Celtic Bar Belfast. This area is located outside of the city center so we suggest either taking a taxi or getting there by bus. Bus number 6 departs every 10 minutes from Pile Gate to Lapad's "Posta Lapad" station.
Krakow
Seeded 6th, the Polish should have a much easier time getting out of the group stage, with Colombia the only real threat in their group.
Irish Pub Pod Papugami
One of the oldest pubs in Krakow. Very centrally located, it has two big screens and seven tv sets.
Stara Zajezdnia
An old tram depot close to the Jewish Quarter, this is now Krakow's biggest beer hall. It's possible to sit outside as well.
Pergamin
Great atmosphere, tasty cocktails, and two tv projectors
Browar Lubicz
A sprawling brewery space with five rooms and many tv sets.
Kyiv (Kiev)
Traleibus
A cheap bar with several projector screens.
O'Brians
An Irish pub in the center where they're always playing sports games.
Ljubljana
Slovenians will not be taking part in the 2018 FIFA World Cup but they're big fans of football and on top of that the president of UEFA is from Slovenia. Therefore you shouldn't have problems finding somewhere to watch a game or – basically any bar that has TV and beer will be showing it.
As for sports bar, Hiša športa (which literally means 'House of Sport', and is in the centre of town) and Lepa Žoga (located close to park Tivoli and offers an escape from the most touristic parts) are probably the best options, but get easily full. Good locations are also Cutty Sark Pub and Lajbah (great place if you're into craft beer). But as said in Ljubljana you will probably have more problems finding a place that doesn't show the World Cup than other way around.
Munich
Olympiasee
This is an outdoor cinema in Olympic Park. Entry is 6 euros. They'll play all of Germany's group matches, plus the last 16 games of the tournament.
Loewenbrauekeller
Indoor and outdoor screens in one of Munich's nicest breweries.
Prague
Riegrovy Sady
A vast beer garden on the edge of a park in the residential Vinohrady neighborhood. With one large and two smaller screens, you can usually get a view. It can be standing room only for some of the more popular matches. Grilled meats on offer and several bars serving nice cold Czech lager to accompany the game.
Prague's many Sports Bars and Irish Bars
Prague's got a wealth of Irish bars and sports bars, right in the heart of the old town is the Lion and Ball and the Dubliner, in Mala Strana you'll find J.J. Murphy's and off Wenceslas Square, Rocky O'Reilly's. Food menus feature classic sports bar fare and drinks priced higher than locals like to pay but can be good for atmosphere. If you really want a taste of home, there are even two branches of Hooters.
Rome
Scholars Lounge Irish Pub
A cozy spot catering to foreigners.
La Fiaschetta
A very nice place with indoor screens.
Magnolia
A great bar right in the heart of the nightlife.
Alvaro al Circo Massimo
With indoor and outdoor screens, this place is quite big and very nice. It's also very close to the Colosseum and Lungotevere.
Shamrock Pub
An Irish pub with good food and a big projector screen.
Split
If you're in Split during the World Cup, visit any of the cafes on the Riva waterfront!
Tirana
Skanderbeg Square
There are several cafes and pubs on the square that will show World Cup games.
Blloku
Almost all of the bars in this hip neighborhood will show the games.
Hemingway Bar
A smaller, quieter choice.
Old Bazaar
All the bars in the Old Bazaar will be showing World Cup games. Take your pick!
Zagreb
The Main Square
Usually they put a big screen on the main square with a stage, so you can make an evening of it. The game is usually followed by a concert.

Charlie is head of marketing at JayWay Travel. A long-term Prague resident, his interests are cooking, eating out, cycling, skiing and of course, travel.