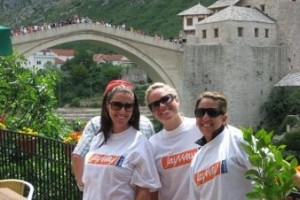 Our guests tell us in their post-trip feedback surveys that they have a great time on their JayWay Travel vacation. We love to hear this but in order to give potential guests a true taste of what it's like to travel with JayWay we are creating a section on our blog for Guest Trip Reports.
If you've traveled with JayWay (or you've got a vacation booked with us) then pay close attention:
We want your trip reports!
All qualifying(1) submissions will be rewarded with a $50 JayWay Travel Gift Certificate and every six months, the most popular(2) trip report that we publish on the blog will be rewarded with a donation of $250 to charity in your name, to the charity of your choice from our shortlist of local and international charities, to be announced soon.
1. What do we mean by "qualifying"?
Length – minimum 500 words, but feel free to write as much as you need.
Photographs – at least 1, but the more the better
Trip reports work best in the form of a journal, breaking your trip up into its various sections, and sharing with fellow travellers your favourite places.
2. Define popular?
The most popular post will be measured by the total number of social votes (such as Facebook Likes, Twitter mentions, Google +1s, StumbleUpon and Reddit shares) that a report has received at 30 days after publication.
Legal-type-stuff
We're not keen on overly long terms & conditions so we'll keep this simple:
Copyright: by submitting a trip report you give us a non-exclusive right to use the text and images you submit on our website, in print, email communications and on social media sites such as Facebook. If your report has already been published somewhere else on the web then we will need to check the copyright implications with that site.
Editorial control: we reserve the right to edit submissions for legibility, brevity, language and profanity. In the event that we edit the text of your trip report we will send a draft to you for approval before we publish.
How to submit:
You can send us the text and images of your report in almost any kind of electronic form: email with attachments, plain text files, Word or Pages files. Send your submissions directly to charles@jaywaytravel.com

A native of New York, Jay has lived, studied and worked in Europe, traveling extensively throughout the region. His broad experiences range from budget to first class allowing him to understand and appreciate travel needs of clients.