It's no secret that we love Wroclaw, Poland. This gorgeous little city has an atmosphere all its own, and everyone who has traveled here with us has returned with tales of local charm.
And now it seems the world has picked up on Poland's best-kept secret, because Wroclaw has been selected as the European Capital of Culture 2016. That means 2016 will be packed full of unique cultural events, from exhibitions to concerts, outdoor festivals to theater performances. It's the perfect time to visit the city, just as it's coming into its own on the world stage.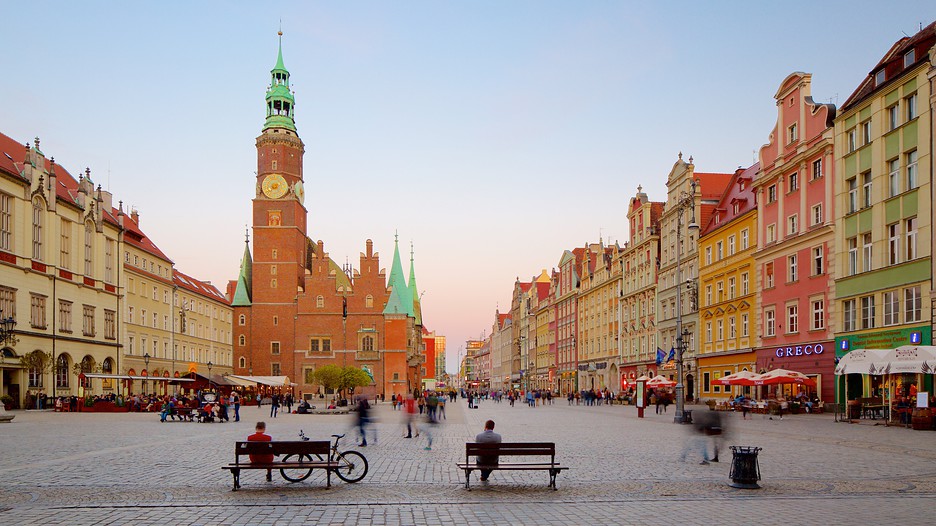 Just how big is this for Wroclaw? Rafal Dutkiewicz, Mayor of Wroclaw, says "I believe this may be the most important year in the post-war history of Wroclaw. We want Wroclaw to be a very open metropolis on the map of Europe and the world." That sounds great to us! Here'a sample of what you can expect next year in this wonderful city.
8 curators and 8 arts
Wroclaw's program for 2016 consists of eight arts: architecture, film, literature, music, visual arts, theater, performance, and opera. Each of these is overseen by one of Poland's most respected artists and performers.
Architecture
For the architecture portion of the program, curator Zbigniew Maćków has planned a series of exhibitions about Wroclaw architecture, as well as tours of the city's most famous buildings. There will also be a lecture series featuring some of Poland's most gifted architects.
Film
The film program will be especially impressive, including major festivals like the T-Mobile Nowe Horyzonty Festival and the American Film Festival. There will also be gala events like the European Film Awards, and of course many special screenings throughout the city.
Literature
Wroclaw isn't just the European Capital of Culture 2016, it's also UNESCO's World Capital of Books. One big literary event is the World Book Anthem, for which a poem by Polish poet Tadeusz Rozewicz will be translated into dozens of languages. The music will be composed by the winner of a competition for musicians and composers from Wroclaw and Lower Silesia. There will also be numerous readings and book performances in public spaces throughout the city.
Music
Dozens of choirs from around Europe will be coming to Wroclaw this year to perform incredible works alongside opera stars in the program "Singing Europe." The World Day of Jazz is also another excellent collection of performances to look forward to. There will also be numerous music festivals throughout the year, embracing all forms of music, from classical to hard rock.
Opera
A grand evening of opera is planned for Wroclaw Stadium later in the year, an event that will be attended by thousands of fans. The night will include pieces of the music from Carmen as well as other incredible Spanish-inspired compositions. A team of 500 performers, from choirs to ballet dancers from around Poland, will bring these spectacular works to life.
Performance
Throughout 2016, there will be a special performance in Wroclaw entitled "Bridges," involving events on 27 bridges in the city. This is one of four unique performance events that are planned for the year. "Awakening" will be the year's inauguration ceremony. "Flow" is about the construction, destruction and reconstruction of Wroclaw. "Heaven" is the closing performance of the ECC 2016. These are the biggest artistic events of the year.
Visual Arts
"Wroclaw from the Back Yard" is one of the most interesting visual arts projects happening this year. This will take viewers into the city's neglected corners and particularly its back yards, which will be given a more artistic look. Each of these spaces will be overseen by an artist who will work with local residents to create something truly special.
Theater
There are two major theater events taking place this year. The Theatre Olympiad is an international theater festival featuring the work of the world's greatest playwrights. Guests this year will include Tadashi Suzuki, Theodoros Terzopoulos, Robert Wilson, Eugenio Barba, Peter Brook and Romeo Castellucci, all of whom will present their own work, along with co-productions. "Voices of the Excluded" is a program that puts minorities to work with professional artists to create their own unique performances.
It's going to be an incredible year in Wroclaw. To find out more about the European Year of Culture 2016, see the city's website.
Planning a trip to Poland? We'd love to put together a Poland travel package just for you. Get in touch to find out more!

Stephan Delbos is an internationally published writer and editor. Born in the US, he has lived, worked and traveled in Europe for a decade. He's fond of oysters and arid martinis.