Every so often we receive a note from a guest that makes us feel so proud of our team that we just have to share it. Paul and his wife Linda nearly didn't get to go on their vacation to Croatia and Slovenia but stuck to their plans and wrote us this note when they got home. Never underestimate the restorative powers of a good vacation!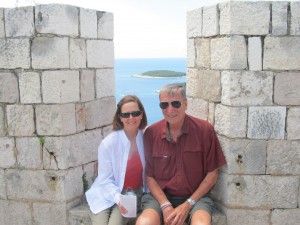 Hi Jay, Just a quick note to extend our appreciation for a fabulous trip to Slovenia and Croatia. Even though we have been all over the world, we did not know what to expect. Slovenia and Croatia are spectacular. Any travel service can excel with these two destinations.

Our trip was a little different. Floods in Bosnia, Linda in the hospital with a heart attack and I'm going crazy with Delta who canceled our trip home. Everyone wants a little adventure on their vacations but no one wants frustration. JayWay made all the
difference. No matter what the problem, Carmine, Ana or Antonia had the solution with a positive "Don't worry". Nothing escaped their attention to detail and impeccable customer service. As I kept looking at alternatives to cancel, Carmine encouraged me not to make a decision too soon. No matter what, he was prepared to accommodate our needs. A week before we left Linda's doctor cautioned us about going.

On the day before we left Atlanta I was not sure we would go. In the end we flew to Zagreb to start the most fantastic trip. We walked slowly, stopped for many glasses of wine, enjoyed at least one gelato every day, and climbed every fortress and many bell towers. Linda is stronger and more feisty than ever.

Your staff made all this possible. Thank you. And please thank them.
Paul and Linda
Planning a trip to Croatia? We'd love to put together a Croatia travel package just for you. Get in touch to find out more!