Coming to Central Dalmatia, be it from the north (Zagreb, the Plitvice Lakes), or the south (Dubrovnik, Korcula, Hvar), you'll most likely want to make an overnight stop and you'll have to decide between Split and Trogir. Approximately 45 minutes apart by car, these two destinations offer different city styles, sizes and possibilities. One thing they do have in common is places on the UNESCO World Heritage List. So here's a short guide to these two cities, including both their upsides and downsides.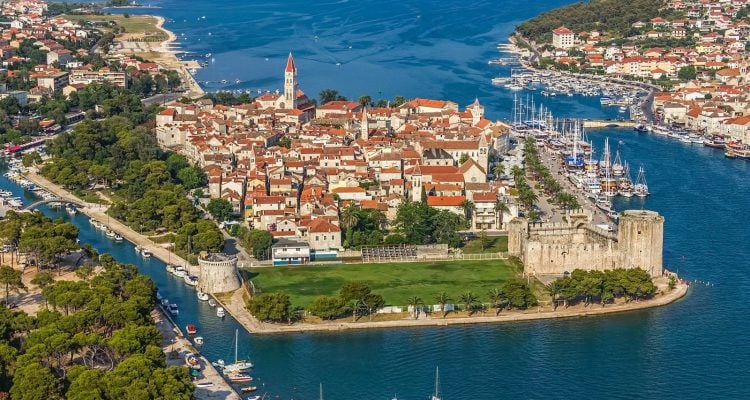 Trogir
Trogir is one of the smallest towns in Croatia; the Old Town, a historic center on a peninsula, can be criss-crossed in about 15 minutes. Of course, there are places to see, as well as good restaurants. The greatest advantage to being here is that, since it's so small, Trogir is generally quiet after 11 pm, and since there are no cars in the historic center, it's safe for small children and pets. To some, this will make it boring, but most people, including myself, find it charming. There are good restaurants in the Old Town and bars on the sea promenade, but they close quite early.  If you're tired of traffic, crowds and the big city feel you will find Trogir just the right size.
A free day in Trogir is usually spent going to the Plitvice Lakes, but if you have one more day, the best thing to do is to head for the
beaches of Ciovo Island
. There is a taxi boat right from the center. If you have a car, the national park of Krka, as well as the town of Sibenik, are close by and well worth a visit.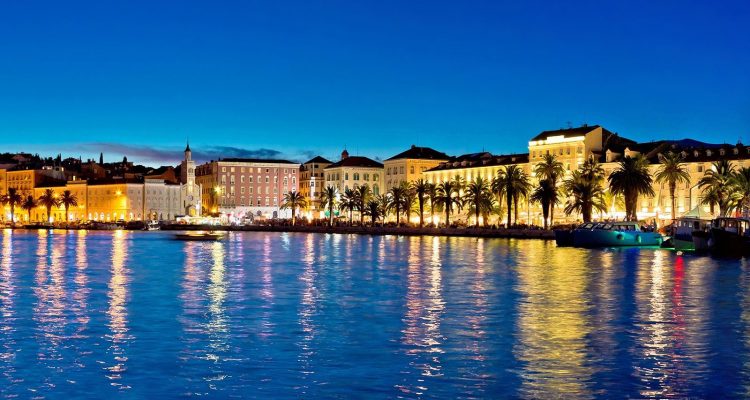 Split
Split is the biggest city in south Croatia and it's also the biggest and busiest ferry, catamaran and cruise ship harbor. There is no going to the islands (well, most of them) without going through Split. At the same time, 5 minutes from the harbor is Diocletian's Palace and the rest of Split's Old Town, including a big outdoor market. While some may call it crowded and noisy, I call it lively, vibrant and loud. Split is the right place to experience that Mediterranean feel of life outside, with all the colors, smells, sounds and of course, people. Lots of people.
While in Split, visitors usually opt for a day trip to the Plitvice Lakes, and if your itinerary allows for more days in the town, you can choose somewhat different experiences in and around Split: sailing, biking, zip lining or rafting. If you don't feel like getting out of town, there are plenty of things to do here as well: various museums and galleries for history and art lovers, lots of beaches for a relaxed day, and Marjan hill park for those who love hiking and swimming. Tennis courts, bike rentals, scooter rentals and water sports are all available on the beaches.
Apart from various restaurants, a huge number of coffee bars, wine bars, snack bars, and every other kind of bar, Split is home to many nightclubs and cocktail beach bars. Locals also like to utliize benches, parks and piers as places to hang out, and the Old Town is rarely quiet.
See both!
To sum up: for peace, quiet and chill you'll want Trogir. For having fun, action and adventure, you'll want Split. Either way, I strongly suggest visiting both if you have the chance. From late May to the end of September there's a regular coastal ferry service you can take run by Bura Line. The journey time is about an hour and a round trip ticket costs less than $10.
If you'd like to plan the perfect Croatian vacation, we can help make it happen. Just
get in touch
!

Lidija is our Split-based City Host. Born and raised there, she also enjoys spending time in Zagreb in the off-season, when the capital is a much more interesting place to be. In summer the lure of the the coast and Split's nearby islands is too strong to resist.