With a remarkable number of empires and civilizations passing through Anatolia throughout history, it's unsurprising that there are so many impressive ruins and historical sites in Turkey that span eras. There's something in Turkey for everyone, from century-old buildings that are still used today to ruins of entire formerly glorious cities to archaeological sites that are still yielding secrets. Here's a selection of 10 fascinating historical sites in Turkey.
Jump to a section of this article
1. Hagia Sophia
At the crossroads of two continents, Istanbul has been enchanting people for centuries on end with its cultural diversity and unique aromas. The city has no shortage of historic treasures to fascinate visitors with, but there's one site in particular that can inspire nothing but awe and admiration. This is no other than the magnificent Hagia Sophia, one of the most famous places in Turkey.
Turkey's most famous historic building is in the heart of Istanbul's Old City, and still can be controversial today. Originally built as a massive church by Emperor Justinian in the 6th century AD, it was transformed into a mosque when the Ottomans captured Constantinople in 1453. At the beginning of the republic era in the early 20th century, the Hagia Sophia became a museum, and its historical mosaics were restored, but in 2020, the building reverted back into a mosque. With so many layers of history in one building, it's no wonder that it tops the list of the best historical sites in Turkey.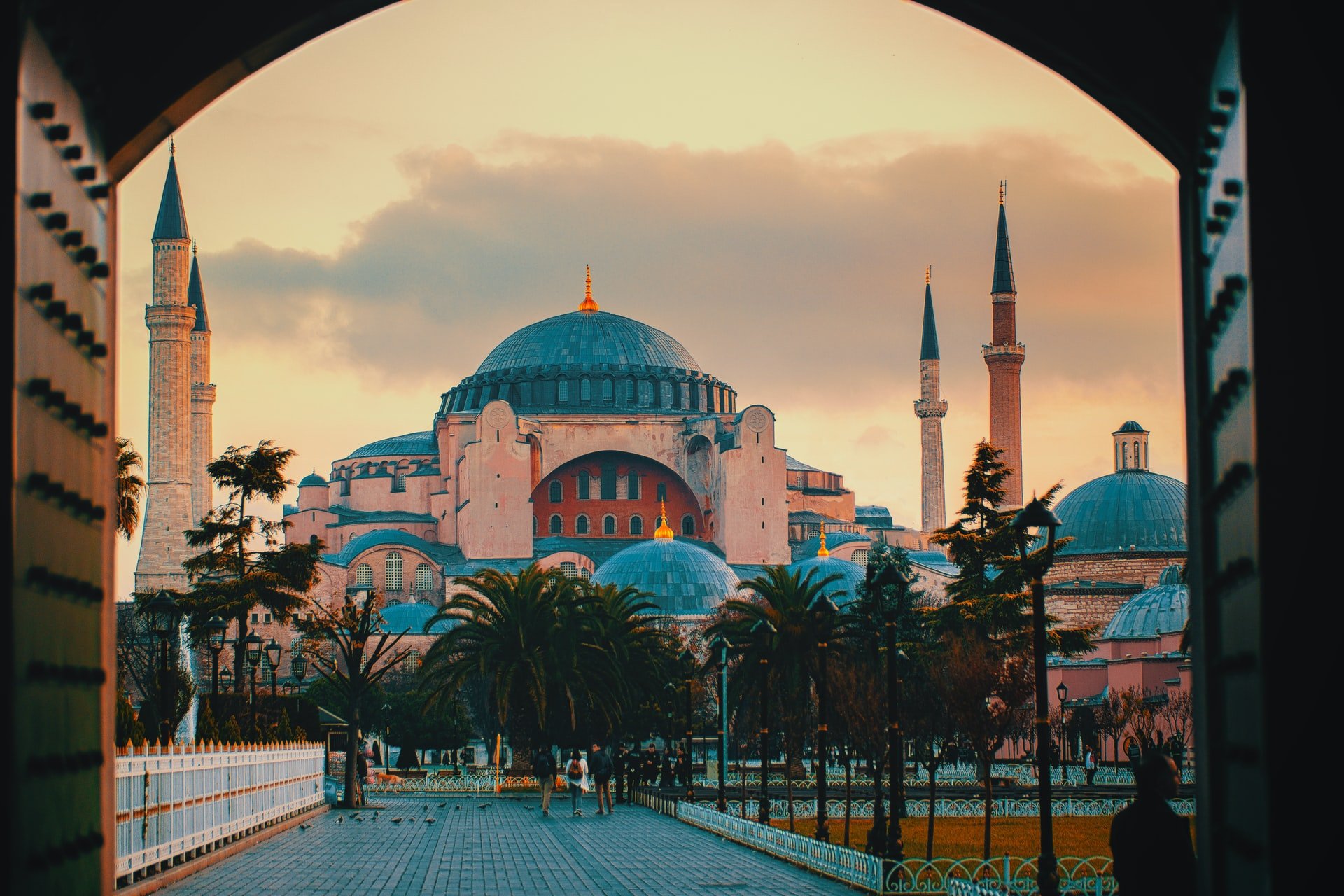 2. Ephesus
This sprawling site on the Aegean coast of Turkey has ruins from many eras, but the majority of them are from the Roman era. Most notable is the Library of Celsus, a striking structure close to the entrance of Ephesus, as well as the Theater of Ephesus. Many sites relevant to early Christianity are in or near Ephesus, including the House of the Virgin Mary.
The best place to stay if you want to visit Ephesus is Selcuk, a quaint town that's growing in the shadow of the world-renowned archaeological site of Ephesus, but is well worth a visit in its own right for its easy-going vibes. Alternatively, Ephesus can be easily seen and enjoyed on a day trip from Izmir, one of the most exciting coastal cities in Turkey.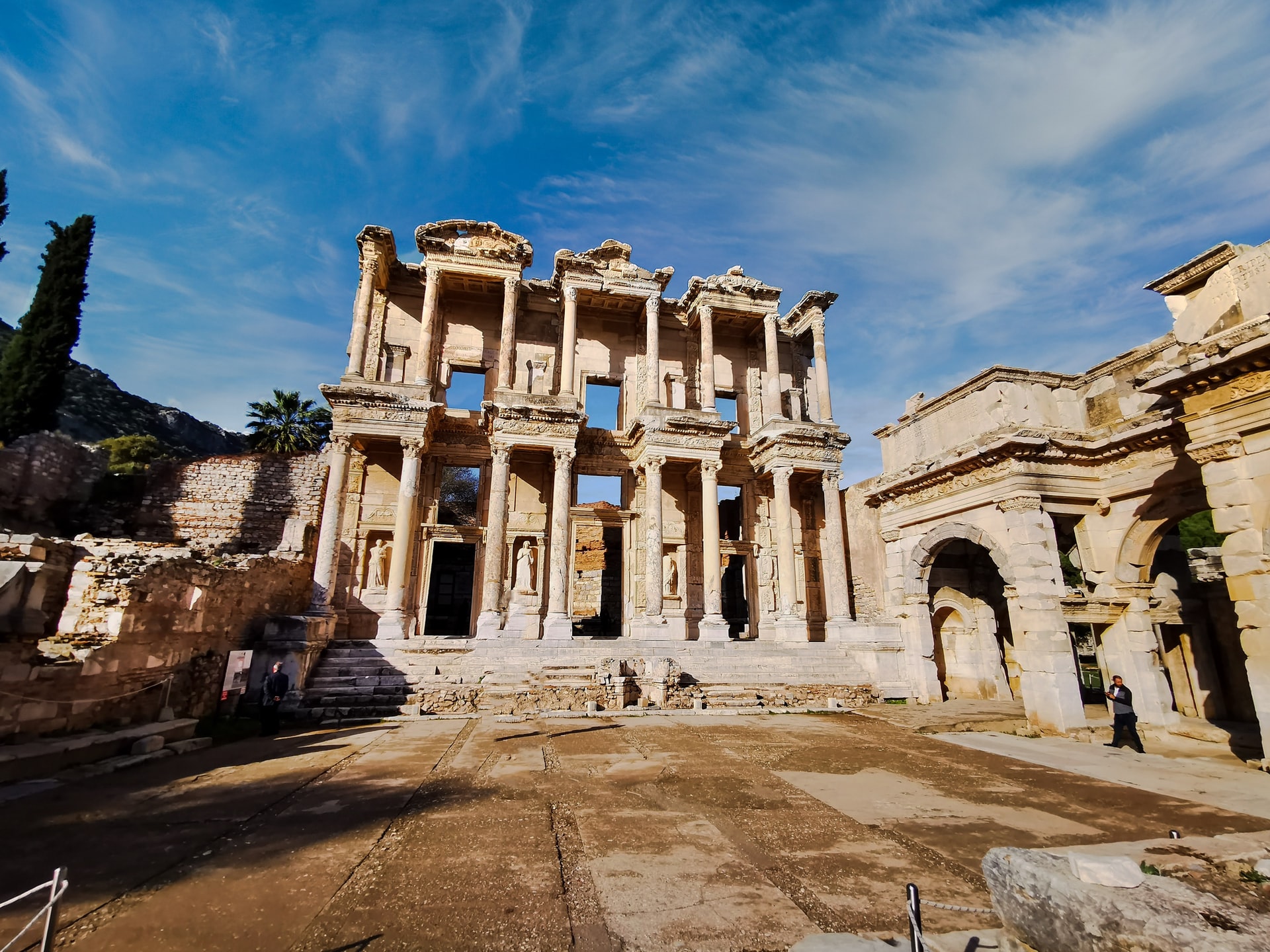 3. Patara
West of the city of Antalya, lies Kas, an unspoiled fishing village with turquoise waters set against a gorgeous setting of orange groves, flowers, and vegetable gardens.
Located just outside Kas along the Mediterranean coast, the ancient Lycian city of Patara is a well-preserved site with a Roman theater, temples, and other stunning remains. The monumental gate is particularly impressive, as is the restored main street of the city. The beach below Patara is the longest in Turkey and is only accessible through the ancient city.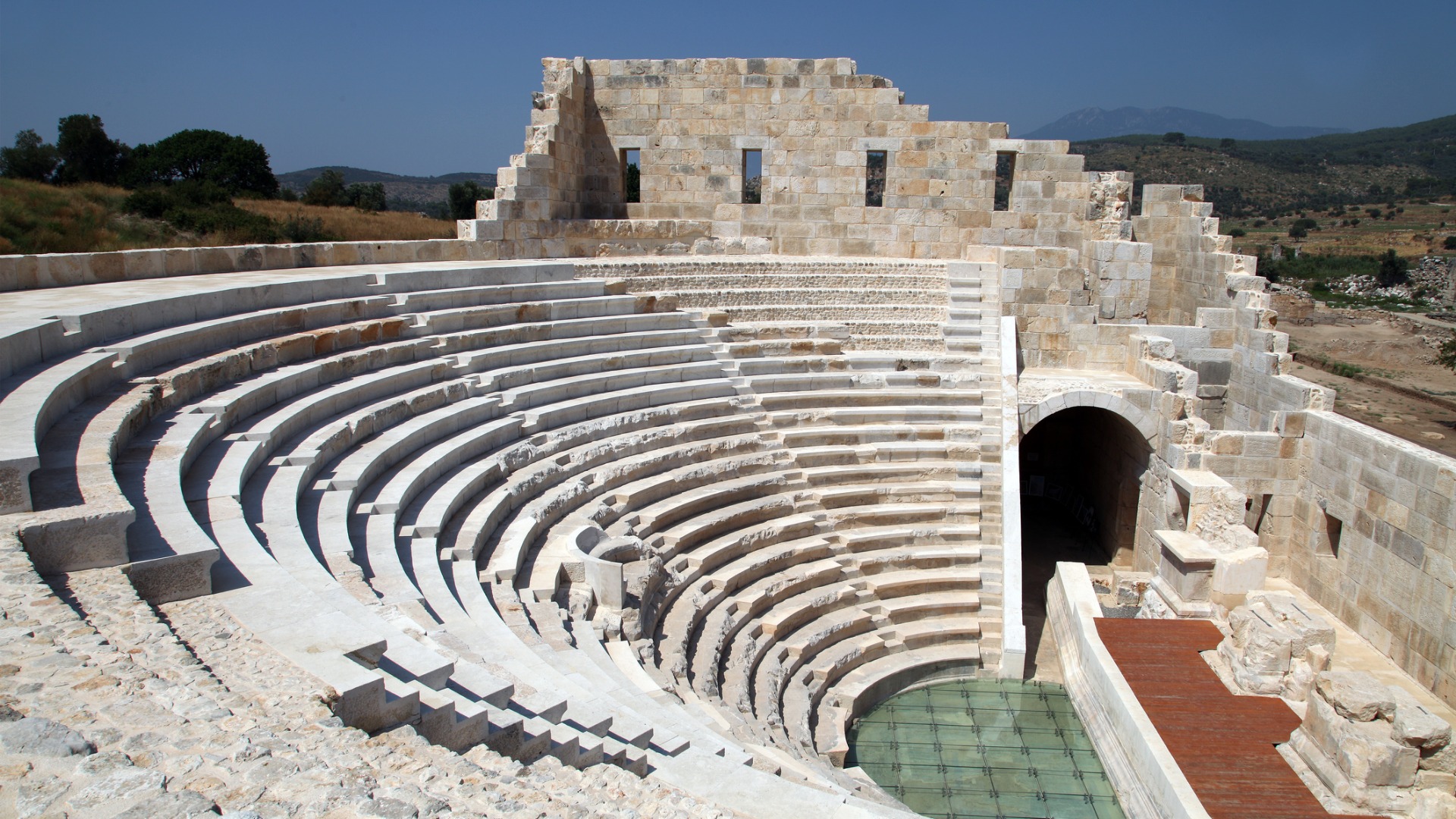 4. Mount Nemrut
One of Turkey's most mysterious sites is Mount Nemrut, located in the southeast of the country. On top of the mountain are massive statues and their separated heads, which are possibly part of an ancient tomb. Visits to Mt. Nemrut are best done at sunrise or sunset when the light catches the statues perfectly.
If you plan to visit Mount Nemrut, the closest place to stay is Adiyaman, a fairly unknown city hidden in the depths of Southeast Turkey. There are direct flights to Adiyaman from Istanbul.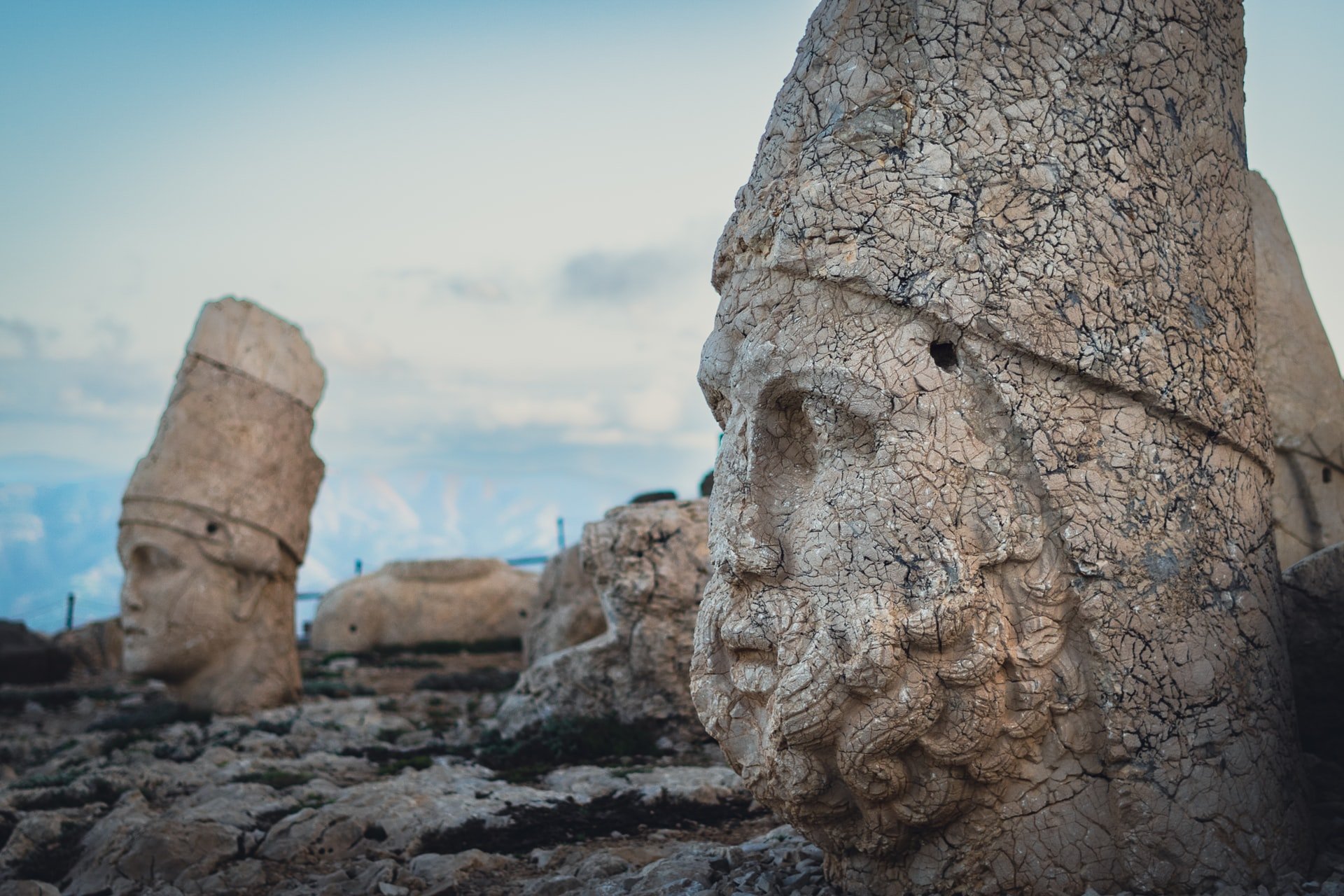 5. Ani
Perched just on the Armenian border, Ani is an ancient Armenian city that dates back to the 10th century AD. A sack by the Mongols and a devastating earthquake brought down the city centuries ago. Now, the churches and buildings stand like ghosts along the green plain, and visitors can explore the preserved ruins.
The nearest city to Ani is Kars, a city stranded in the beautiful vastness of snow-capped mountains and frozen lakes. You can get to Kars by plane from either Istanbul or Ankara.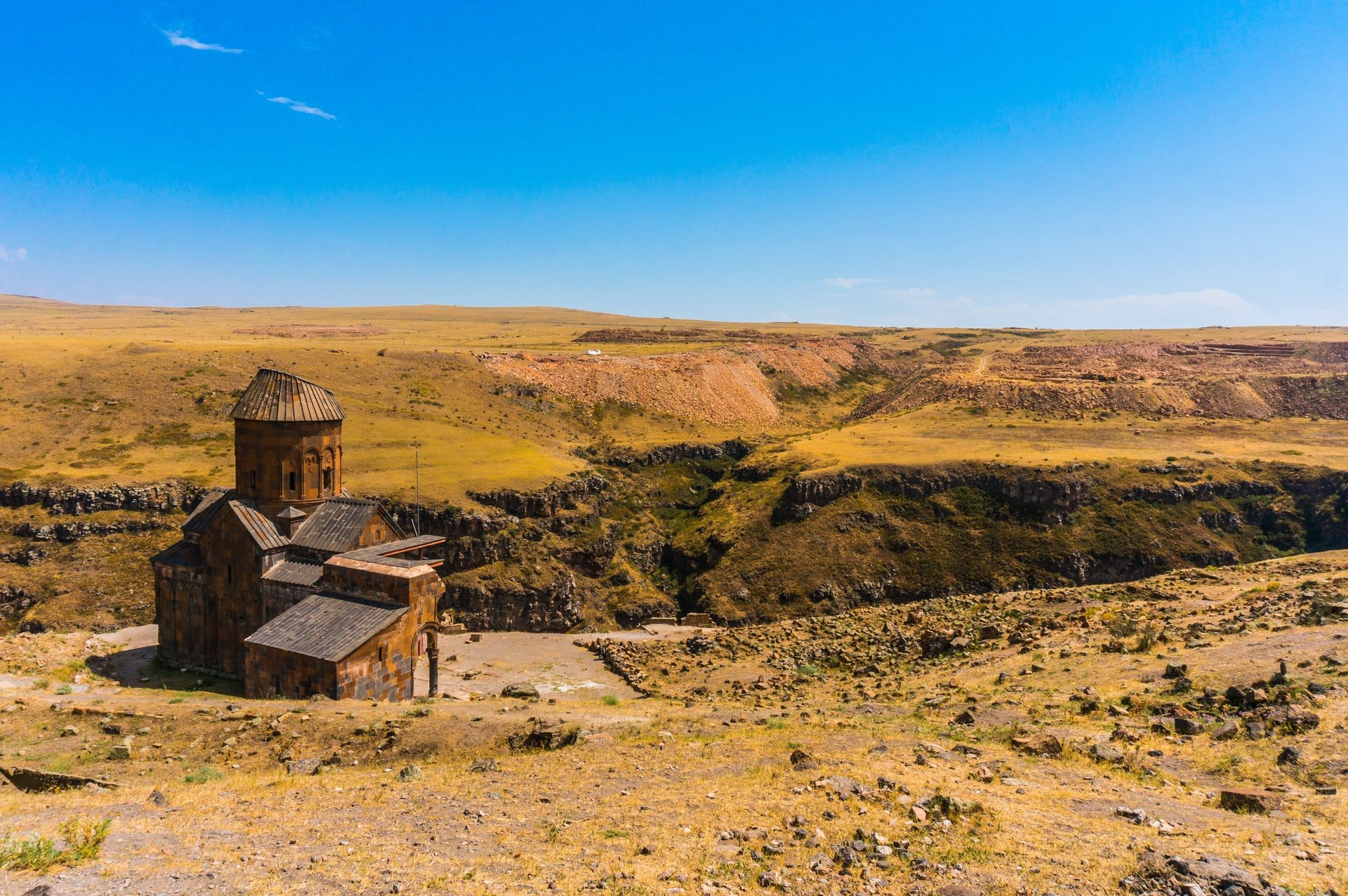 6. Olympos
An up-and-coming destination in Turkey, Antalya feels like it has something for everyone with its glistening waters, charming Old Town, and the countless Lycian ruins that dot its surroundings. One of the best historical sites in Turkey to visit on a day trip from Antalya is Ancient Olympos or Olympus.
Olympos was an ancient Lycian city. The many eras of its ruins are well-preserved near the Turkish town of Çıralı, not far from Antalya. The ruins brush right up to the beach, making this a popular spot for vacationers to experience both the coast and the history of Turkey. Most of the visible ruins are from the Hellenistic and Roman periods.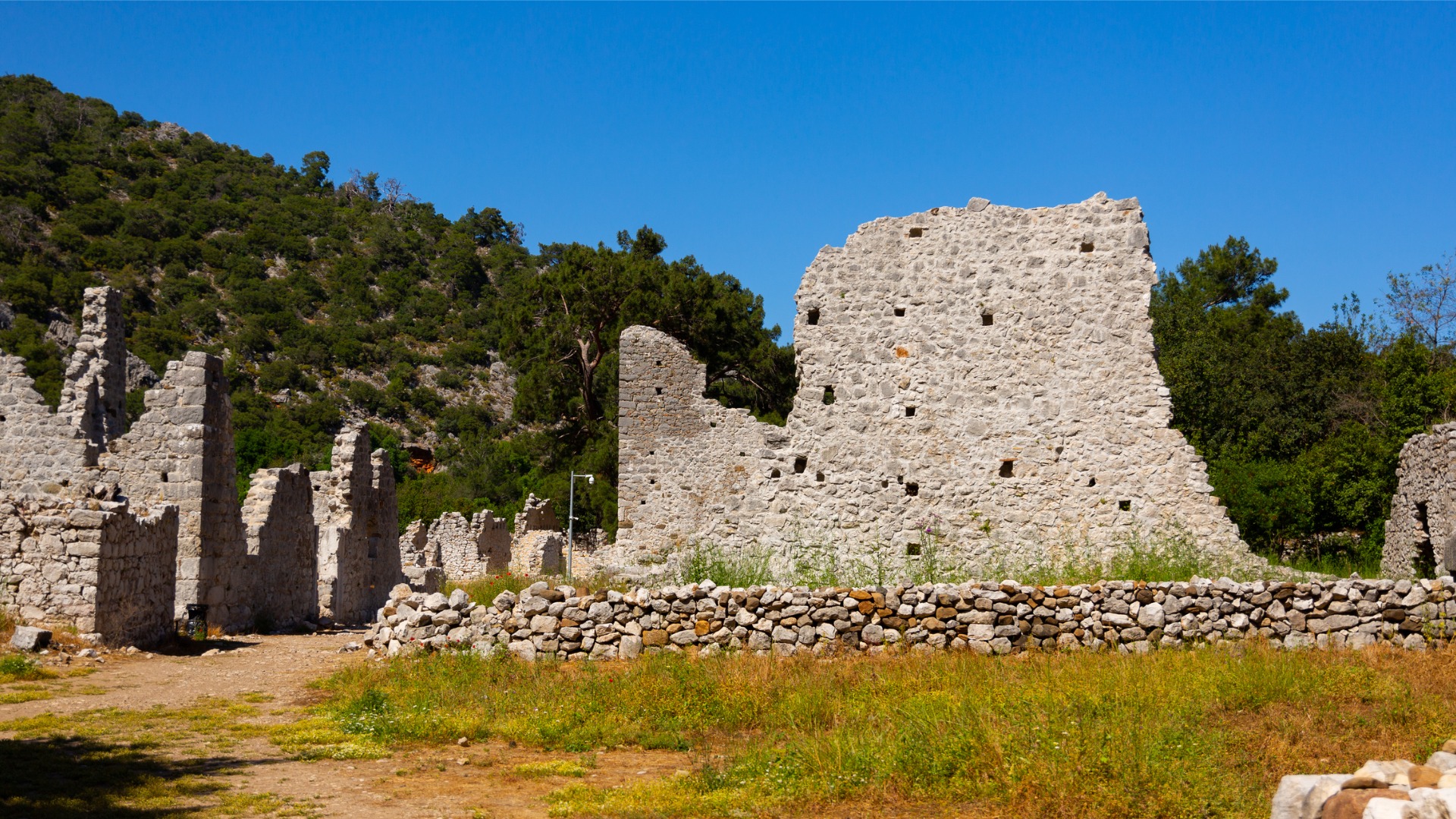 7. Hierapolis
Pamukkale, Turkey's Cotton Castle as its name translates into English, has been known for its hot springs since the 2nd century BC. During the Hellenistic times, people from all over the world flocked to Pamukkale to make use of the medicinal properties of the thermal springs. As a result, a spa town was born, the Greco-Roman Hierapolis.
Nowadays, while many come to Pamukkale for the gleaming white travertine thermal pools, it's also worth visiting just for Hierapolis. The ancient Greek city sits atop the Pamukkale pools and contains an agora, a theater, tombs, the Frontinus Gate, and much more. One of the best archaeological sites in Turkey, Hierapolis is a UNESCO World Heritage Site.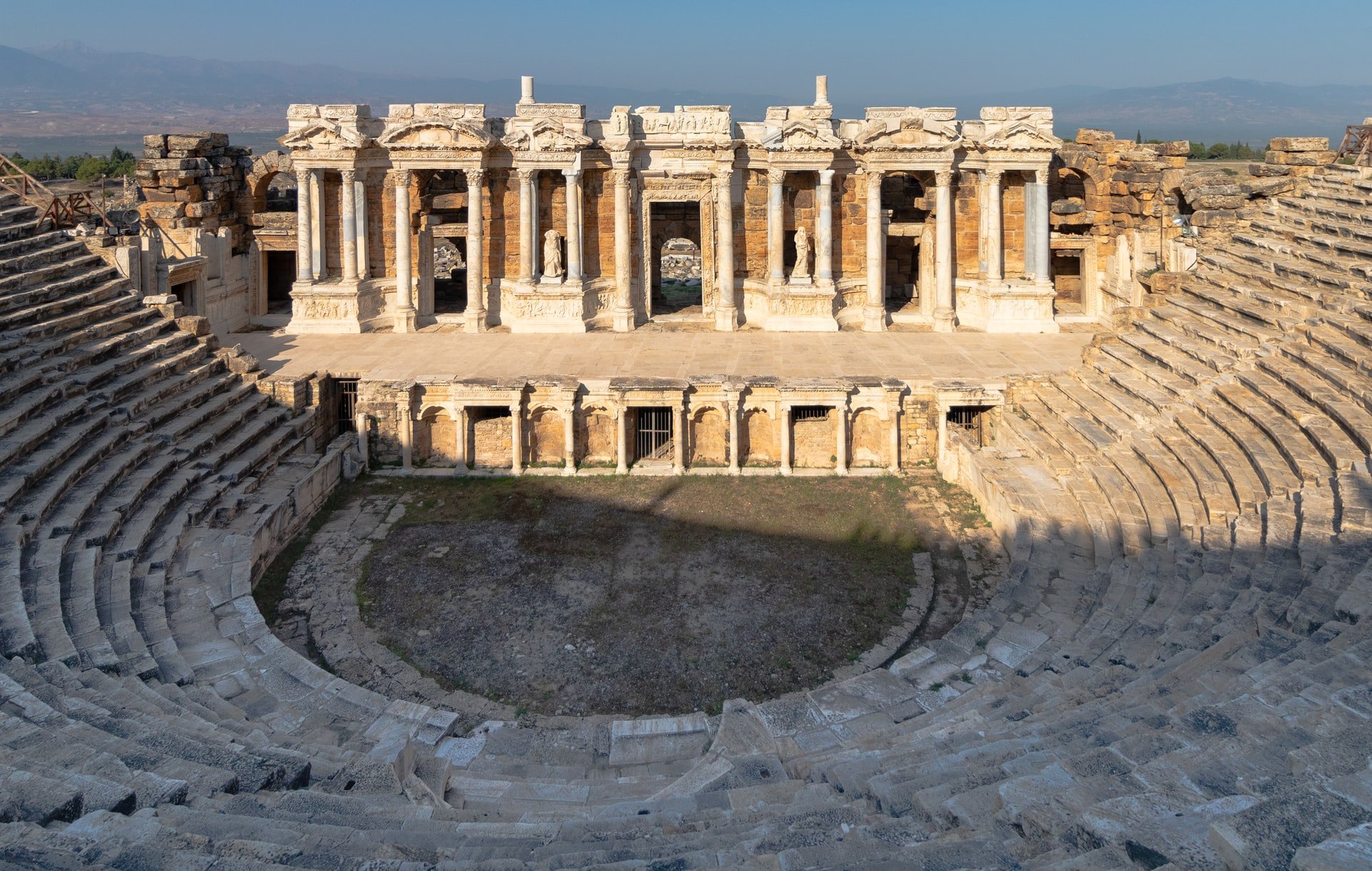 8. Göbekli Tepe
A lesser-known destination in Turkey, connected to Istanbul, Izmir, and Ankara by direct daily flights, Sanliurfa is one of the oldest inhabited regions in history. Considered the birthplace of agriculture, Sanliurfa is also home to Göbekli Tepe, one of the top historical sites in Turkey.
This neolithic archaeological site in the southeast of Turkey contains what is believed to be the world's oldest temple, predating Stonehenge by nearly 6000 years. There are still many mysteries about Göbekli Tepe, but excavations continue. There is a museum in nearby Şanlıurfa dedicated to Göbekli Tepe and the objects that have been found there.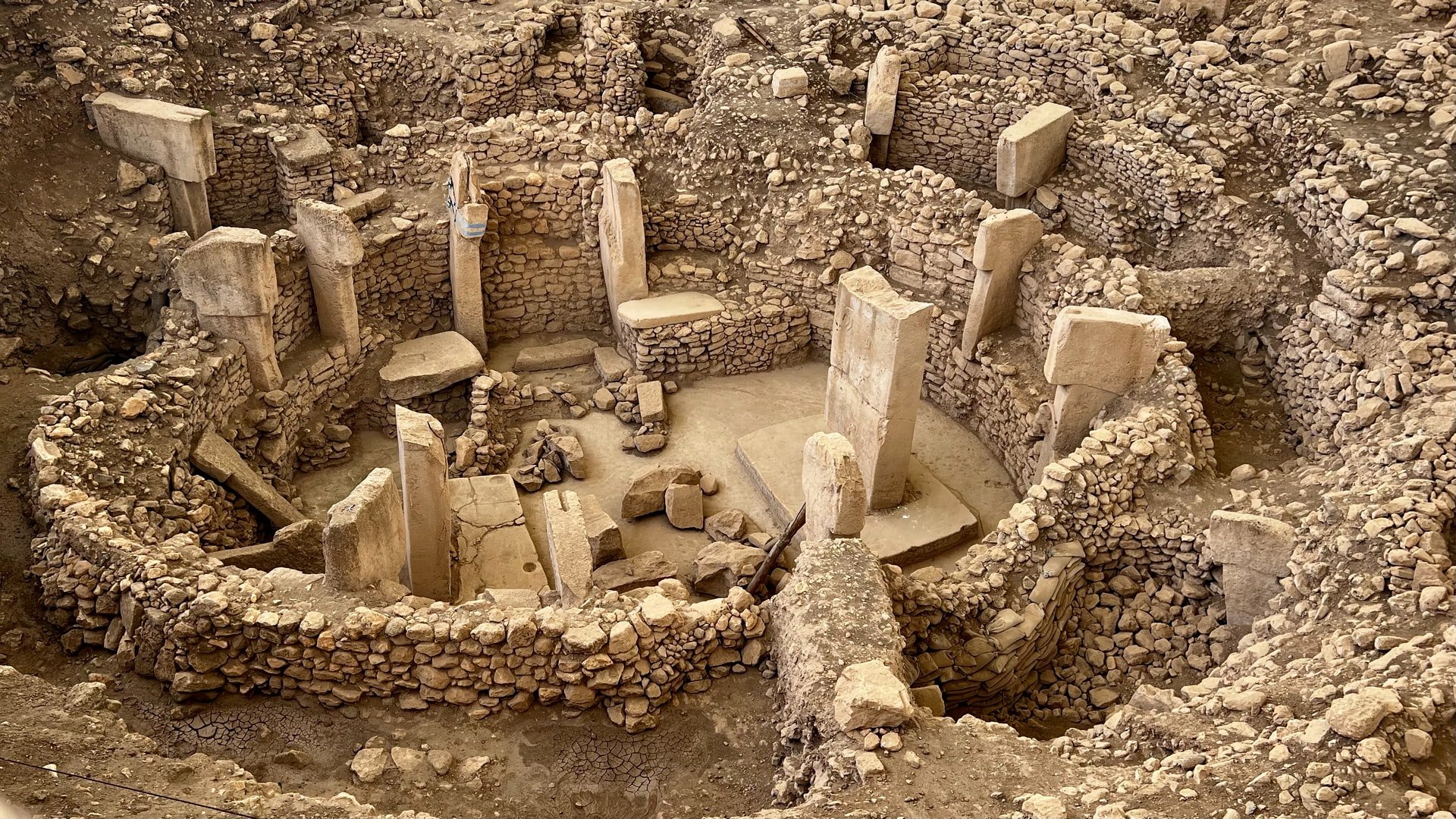 9. Aspendos
A vacation in Antalya isn't just about the stunning beaches, seaside restaurants, and evening promenade walks. Antalya is the perfect base from which to explore some of the best historic sites in Turkey, such as Aspendos.
The remains of this ancient Greco-Roman city are located just outside of Antalya. The most notable structure in Aspendos is its massive and well-preserved theater. Surrounded by mountains, it still has excellent acoustics. There is also an agora, an ornamental gate, an aqueduct, and more.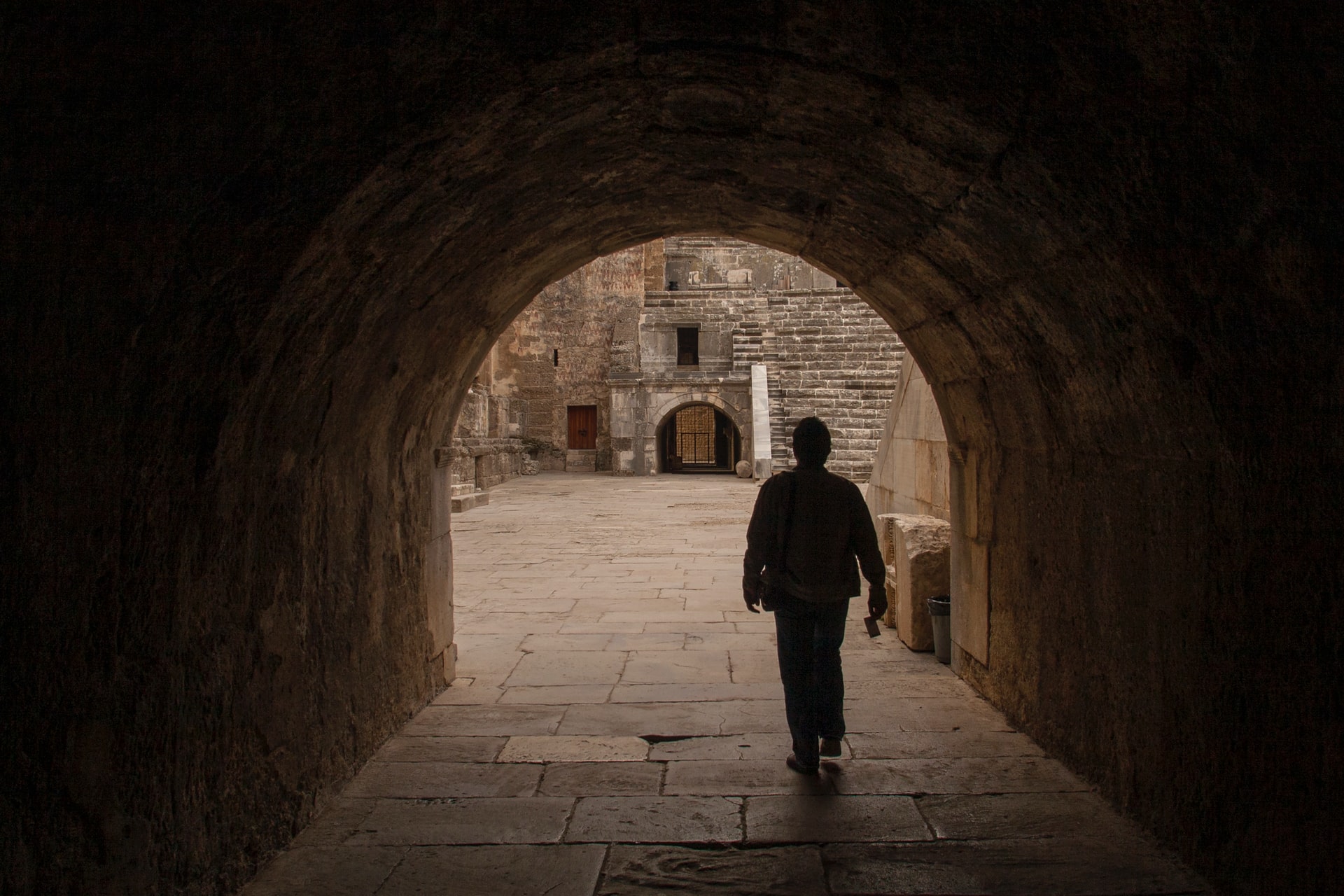 10. Goreme Open Air Museum
Set in the heart of Central Anatolia, Cappadocia is a region of wonders. With its rich culture and heritage, otherworldly rock formations, and iconic hot-air balloon rides, Cappadocia can evoke unique feelings and help you create once-in-a-lifetime memories.
When visiting Cappadocia, the Goreme Open Air Museum is one site you shouldn't miss. Though most of the notable structures in the Goreme Open Air Museum appear to be naturally formed, many are ancient churches carved into the rock. Most of the churches date to the Byzantine Era and still have well-preserved frescoes painted onto the rocks.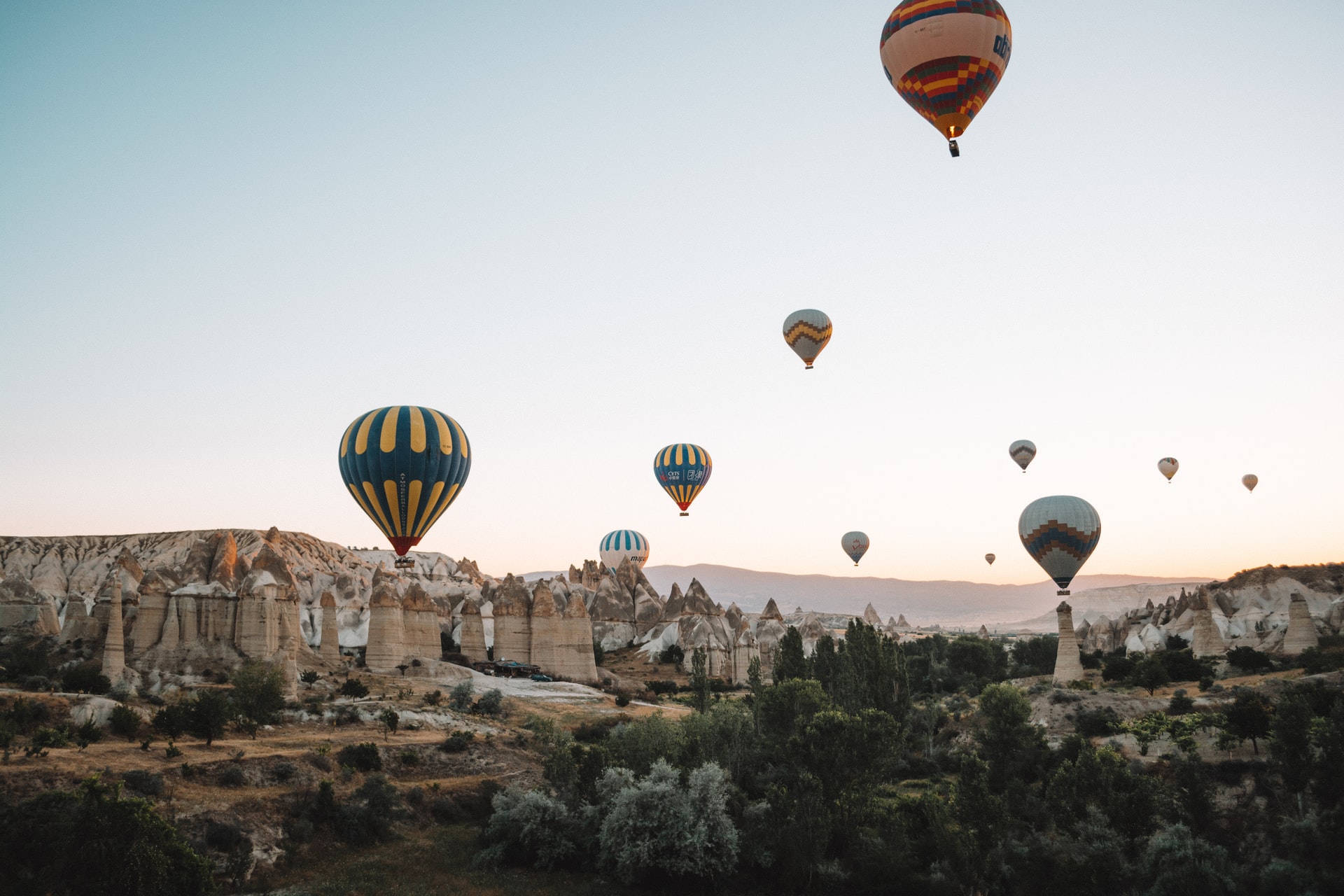 Discover The Most Exciting Historical Sites in Turkey With Us
Its vast history, rich heritage, and unique culture render Turkey one of the most fascinating countries to visit, with a lot more to enjoy than just these impressive historical sites in Turkey. If you don't know where to start, leave it to our expert hands to plan the perfect Turkey itinerary for you!
Katie is one of the foremost experts on travel in Turkey and has called Istanbul home since 2013 and blogs about life there monthly. As a widely published travel writer, you'll find Katie's work published by National Geographic, Lonely Planet, The Guardian, and the BBC.