Oktoberfest gets underway soon but you don't need to confine your indulgence to just a one month period of drinking in tents. If you are a beer lover, or even just enjoy experiencing traditional atmospheres while travelling, visiting one of Munich's many beer halls is a must. The most famous is the Hofbräuhaus and we do recommend a visit to the massive hall with its massive beers. But it is certainly not the only place serving beer in Munich. Here are three alternatives.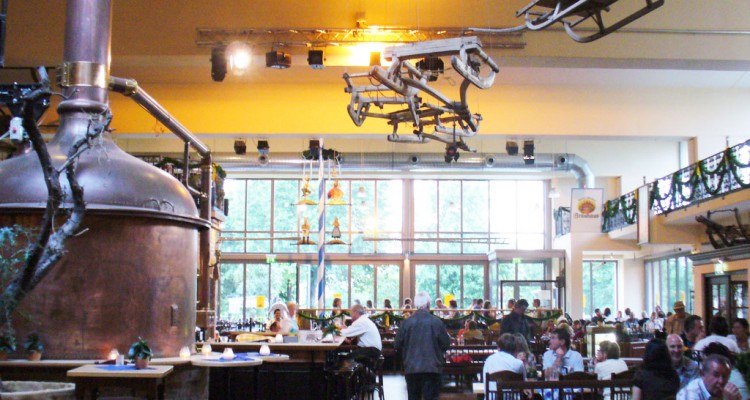 Der Pschorr
Located in Munich's popular foodie area, the Der Pschorr (pictured above) is probably one of the most upscale beer halls in town. It's soaring ceiling and second floor means it feels more roomy there than in others, and the tables are more private. They only serve half liters and their local Hacker-Pschorr Edelhell is a smooth lager, probably my favorite. They also serve wheat and dark beers plus have a great terrace for when the weather is nice.
Located right off the main square of Marienplatz, this beer hall obviously serves lots of wheat beers. Eight on tap to be precise. We tasted both the Unser Original and the Meineblonde Weisse. The Unser had a slight clove flavor, with the Meineblonde being a bit smoother. If you aren't sure how you feel about wheat beers, give this place a pass, but it does offer a nice change from the typical.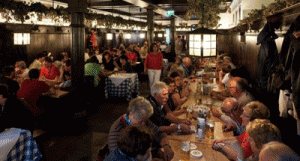 This is a dark, local place with quite a different atmosphere from the previous two. Entering there are rooms to your left and right; if you just want to drink head to the right (you can get food there too though). This was probably the least flavorful beer we had; we even wondered if it might be a little flat. The price however was also the lowest and the atmosphere was rambunctious with lots of groups of friends enjoying themselves.
Most traditional beer halls in Munich are huge. Don't be put off if it seems full when you first walk in; wind your way through the place and you might get lucky. If they have long tables, it's perfectly acceptable to share.
Planning a trip to Munich? We'd love to put together a Munich travel package just for you. Get in touch to find out more!
Images
Der Pschorr by Candy Schwartz via Creative Commons on Flickr
Augustiner Bräustuben – via Augustiner Bräustuben

Jacy is a travel journalist who likes art, culture, design and architecture. When not in Prague, she's most likely wandering the streets of other European cities, checking out their neighborhoods, their art and their coffee.