Sometimes you just want a place to lay your head after a hard day's sightseeing but there are times when you want to stay in a hotel that is an experience in itself.
We've picked our favorite five hotels that are a real treat, whether it's for views, facilities or the history of the building.
Hotel Villa Dubrovnik in Dubrovnik, Croatia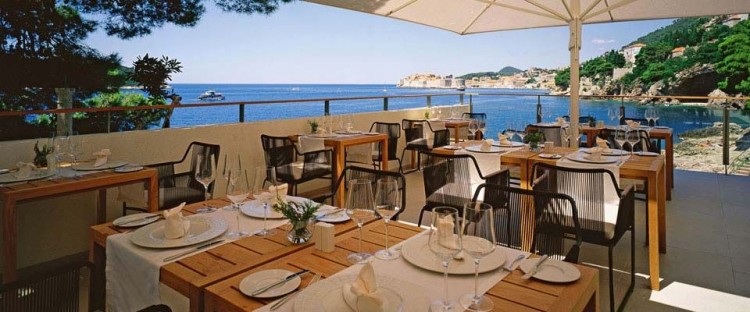 It's no surprise this 5 star hotel is often home to visitingHollywood types, from its unassuming front door (essentially just an elevator with a porchway) that whisks you down to the welcoming receptionists downstairs to the top notch spa facilities, indoor pool, private beach club and every room having an unparalleled view out onto the Adriatic and over to Dubrovnik Old Town. Being built on a cliffside gives the hotel a magical feel of seclusion almost to the point of being invisible because you can only properly see it from the sea. The Old Town is a brisk 15 minute walk away but that won't be a problem to you as Villa Dubrovnik's speedboat shuttle service will drop you directly at the old port.
Hotel Monte Mulini in Rovinj, Croatia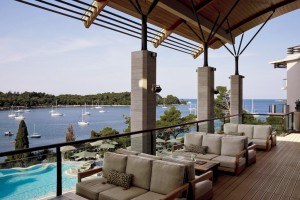 In a similar vein to above, the Monte Mulini is a 5 Star boutique hotel within walking distance of a beautiful old Croatian city. Situated on a gorgeous bay all of the Monte Mulini's rooms come with a sea view for you to savor. The hotel's construction combines natural materials and modern design to create a very appealing aesthetic. Monte Mulini's extensive spa facilities, private beach, several pools, including an infinity pool might make it hard to convince you to walk the coastal path into Rovinj's old town, especially once you've been for a meal in the Wine Vault, with over 600 wines from Croatia and around the world to choose from, with the help of the sommelier of course!
The Emblem Hotel in Prague, Czech Republic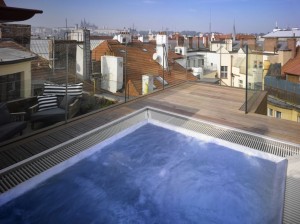 Only opened in September 2013 this unassuming 5 Star design hotel a stone's throw from Charles Bridge and Old Town Square is quickly becoming a favorite with our guests and the traveling public alike. Its onsite restaurant, George Prime Steak, regularly in the top 3 Prague restaurants list on review sites, takes up much of the ground floor but the best parts of the hotel are above and below. The top floor spa, complete with rooftop hot tub that affords views of Prague Castle competes for your attention with the private members' club feel of the basement area, open for guests and for special events, selected members of Prague's creative community are invited to contribute to the hotel's informal style. This style is typified by the check-in process; there's no traditional front desk, a host will check you in on an iPad while you take a comfortable seat in the lounge area and enjoy a coffee. The rooms are rather nice too, with various marbles used for different surfaces. Our pick is the Suite Library – a bookcase slides aside to reveal the bedroom.
Four Seasons Gresham Palace in Budapest, Hungary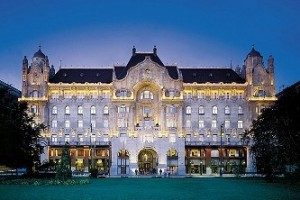 With its imposing position set back from the banks of the Danube at one end of the Chain Bridge, this is one palatial looking hotel in the style of Europe's gradest grand hotels. Originally built as the overseas headquarters, with spacious private apartments, for London's Gresham Life Assurance Company and completed in Art Nouveau style in 1906. After World War II Soviet soldiers took up residence in the crumbling but extravagant palace. Even as it decayed it was used as an apartment building during the Communist era. As democracy was restored the building was given by the government to the city of Budapest but various tussles ensued and it wasn't until 2004 and after extensive reconstruction that the Four Seasons Gresham Palace Hotel opened its doors. The period details such as stained glass windows, mosaics, ironworks and winter gardens giving an indication of the true grandeur of the place. You'll be pleased to know that the spa however is all modern, with an infinity lap pool, sauna and steam rooms.
Dome Hotel & Spa in Riga, Latvia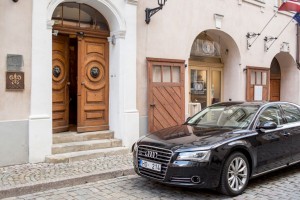 In the style of many of the world's most boutique hotels, the Dome's unassuming exterior with a subtle sign and a pair of impressive antique solid wood doors hides an oasis of 5 Star luxury. The building itself is over 400 years old but the hotel was opened just 5 years ago and has been designed with painstaking detail to create an atmosphere of comfortable elegance. The Dome is rightly proud of its spa and beauty facilities and a stay here would not be complete without trying the treatments on offer, perfect for reinvigorating or relaxing you as needed. If you're wondering about the name, it's for the dome of the cathedral that you'll have a great view of from the hotel's impressive rooftop restaurant.
Planning a trip to Europe? We'd love to put together a Europe travel package just for you. Get in touch to find out more!

Charlie is head of marketing at JayWay Travel. A long-term Prague resident, his interests are cooking, eating out, cycling, skiing and of course, travel.