Considering its size (less than half the size of the US state of the same name) Georgia has enormous potential for outdoor activities. It attracts thousands of visitors from all over the world and offers endless opportunities for any taste and preference. In this article, we would like to list some of the outdoor activities you might enjoy while traveling in Georgia, from high-energy and adrenaline to more serene pursuits.
Jump to a section of this article
Cycling & Mountain Biking
Cycling is a relatively new type of extreme tourism, which has become especially popular in Georgia. You can plan a cycling tour both in the lowlands and in the mountainous region, where it is especially dynamic and interesting. Beautiful nature and hospitable people create a special atmosphere for cycling in Georgia. Amazing mountains, villages, and trails leading to them will satisfy your mountain-biking fantasies to the end. Overcome high rocky slopes, or descend freely on green fields. The choices are infinitely large and impressive.
The territory of the country is quite small, so you can explore the biking possibilities of the whole of Georgia in just a few days. Almost on every spot, you will find fabulous landscapes of dramatically contrasting nature. You can arrange a bicycle tour in almost any part of Georgia, taking into account your tastes and capabilities.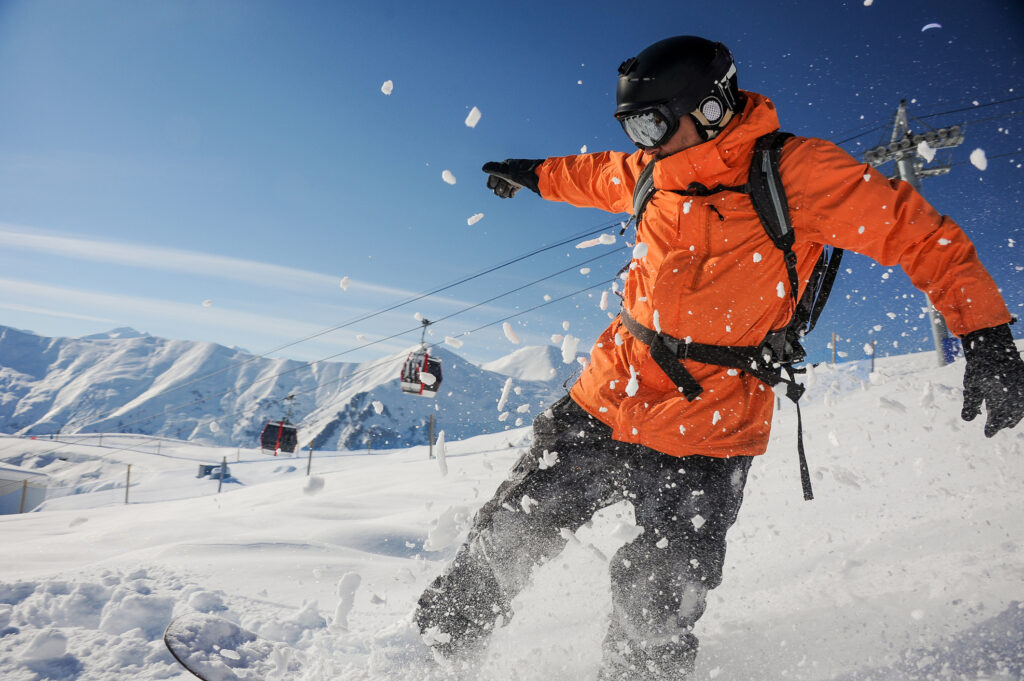 Winter Sports
Winter sports in Georgia are still in the process of development. In recent years, many tourists visited the country to step into their skis or strap on a snowboard, and therefore more time is devoted to the development of resorts. At this stage, there are four operating winter resorts in Georgia: Gudauri, Bakuriani, Mestia, and the last – Goderdzi, which joined the first three resorts in 2015 and is the newest place. 
Gudauri is an ideal place for freeriding lovers – it is located at 2,200 meters above sea level and is one of the best in Europe in terms of snow cover. The slopes of Gudauri are designed for people with any abilities, from enthusiasts to professionals.
Bakuriani is located at 2,000 meters above sea level and the snowfall lasts 4-5 months of the year. This place is best for adventure skiing lovers. There are several different difficulty routes in Bakuriani, but almost all of them are located in the forest, which makes the skiing even more impressive. In addition to skiing and snowboarding in Bakuriani, it is possible to go ice skating and horse-drawn sledding, which makes spending time in Bakuriani much more comfortable for relaxing with your family.
Mestia is located 1,500 meters above sea level in the Caucasus Mountains, in the Svaneti region. This ski resort is also distinguished from others by the fact that there is almost never a shortage of snow here – if it does not snow in other cities, or there is no suitable snow for skiing elsewhere, there is always fresh snow in Mestia during the winter. It is wilder than the others, but it also has its advantages – with its famous breathtaking views, skiing in the mountains of Mestia is much more impressive and unforgettable.
Goderdzi is the newest and for now least popular among the ski resorts of Georgia. It is located at 2,000 meters above sea level and a 2-hour drive from the seaside resort of Batumi. It snows here from November to April and due to the lack of tourists, the snow cover is almost always fresh and pleasant to ski. At this time there are two ski lifts, but the resort is developing rapidly. Therefore, ski infrastructure there will increase soon. 
Mountaineering
If you are a lover of adventure and challenges, try mountaineering in Georgia. The country offers the best opportunities for this type of activity. The endless mountains of the Caucasus and the snowy peaks along the entire length of the northern border of the country are ready to be explored by you.
With 12 beautiful peaks higher than the famous Mont Blanc, Georgia is a favorite place for mountaineers in Europe. Conquering Kazbegi or Shkhara above 5000 meters is only for those who have special courage. However, the terrain here is so varied that everyone can find a mountain of the desired height. At this stage, the most popular destinations for mountaineering are Kazbegi and Svaneti.
Birdwatching
The Black Sea coast, in particular, the outskirts of Batumi, is known as the "Eastern Black Sea Migration Corridor", where more than a million migratory birds of prey are registered every year. These places are among the leading in the world in terms of bird watching. The unique topography and climate of this region lead to the abundance of migratory birds, which attracts many lovers of birdwatching and promises unforgettable impressions.
The villages of Sakhalvasho and Chaisubani in Kobuleti Municipality are the best places for those who share information about the ecology and migration of birds of prey. There are special platforms built for bird watching and all the trails leading to the platforms are well-marked. In addition to these villages, bird watching is also possible in the Mtirala National Park. "Batumi Bird Festival" has been held in Adjara every year since September 2012. It is an important event for bird-watching enthusiasts and many foreign birdwatchers visiting the region during early autumn.
Fishing
Georgia is distinguished by many types of tourism, but the local flora and fauna allow the development of other destinations. People who love fishing travel in search of different adventures and go fishing on lakes or rivers in different countries. In this regard, Georgia also has something to offer. Currently, there are five main locations in Georgia where fishing enthusiasts can enjoy their hobby. These are:
Lake Ziari is located in eastern Georgia, on the territory of Gurjaani municipality. The reservoir is distinguished by easy access and unusual natural conditions. If you decide to try your luck in this type of tourism, be sure to consider Lake Ziari, because fishing here is much easier and it's rich with different species of fish.
Jandari Lake, quite famous among Georgian fishermen, is located in Gardabani Municipality, Eastern Georgia. It is home to more than 21 species of fish, which is a real paradise for fishing enthusiasts. This lake is also easy to reach and there are plenty of picnic and camping places around it. 
Lake Bazaleti is located just five kilometers from the town of Dusheti. Bazaleti Lake is an excellent environment for developing fishing tourism. The beautiful nature and fish-rich lake allow local and foreign tourists to fish productively. It is possible to rent accommodation and boats on the spot.
Tkibuli Reservoir is located in Tkibuli Municipality, western Georgia. There are wonderful conditions for fishing, which is an additional comfort for fishermen.
Shaori Reservoir, also known as Shaori Lake, is located in Ambrolauri Municipality, western Georgia. One of the largest reservoirs in terms of water volume and mirror area is distinguished by its nature and variety of fish. Georgian fishermen often go fishing on Lake Shaori, which indicates the authority of this place. It is also known for its variety of fish species and allows you to enjoy the beautiful scenery around.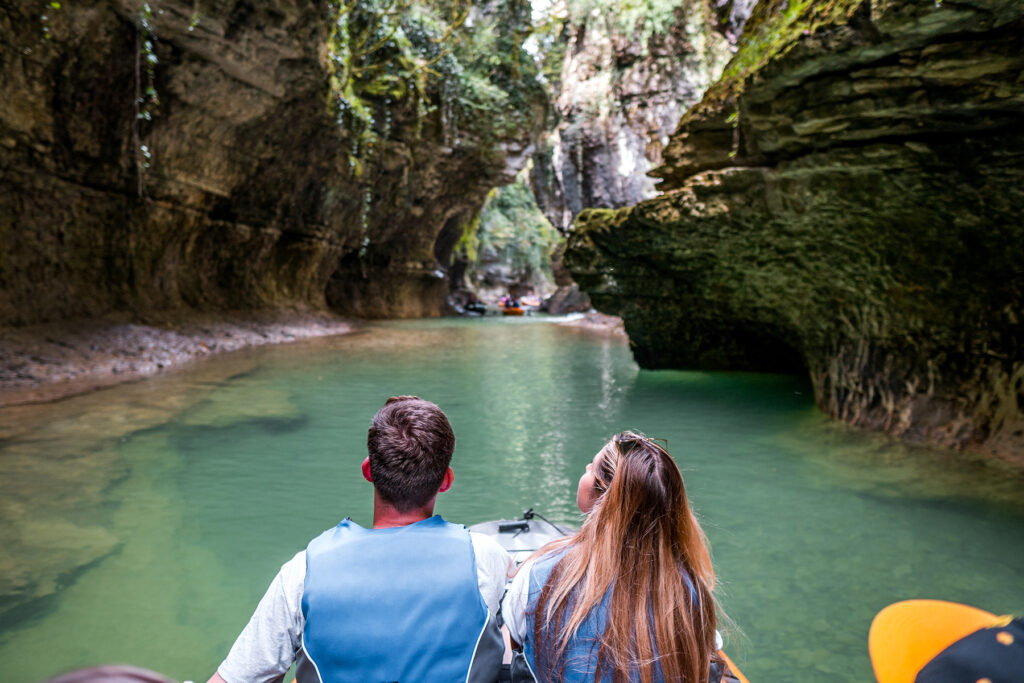 Rafting became popular in Georgia in the 60s and 70s of the last century. On the rivers of Soviet Georgia, from the beginning of May to the end of September, you would meet a lot of enthusiasts and sportsmen on the Mtkvari, Aragvi, Rioni, Tskhenistskali, Tergi, or Enguri. After the collapse of the Soviet Union, this kind of extreme sport seems to have disappeared.
However, in the last decade, Georgian rafting and kayaking lovers have become more active and today there are several camps for rafters in Georgia. Rafting tours are divided according to the difficulties of the rivers – from the 6 categories of rivers, it is the first river with calm currents, which needs almost no maneuvering and thus increases according to the levels and difficulty. The most popular places in Georgia for people interested in this direction are Borjomi, Pasanauri, Kutaisi, Mestia, and Pshavi.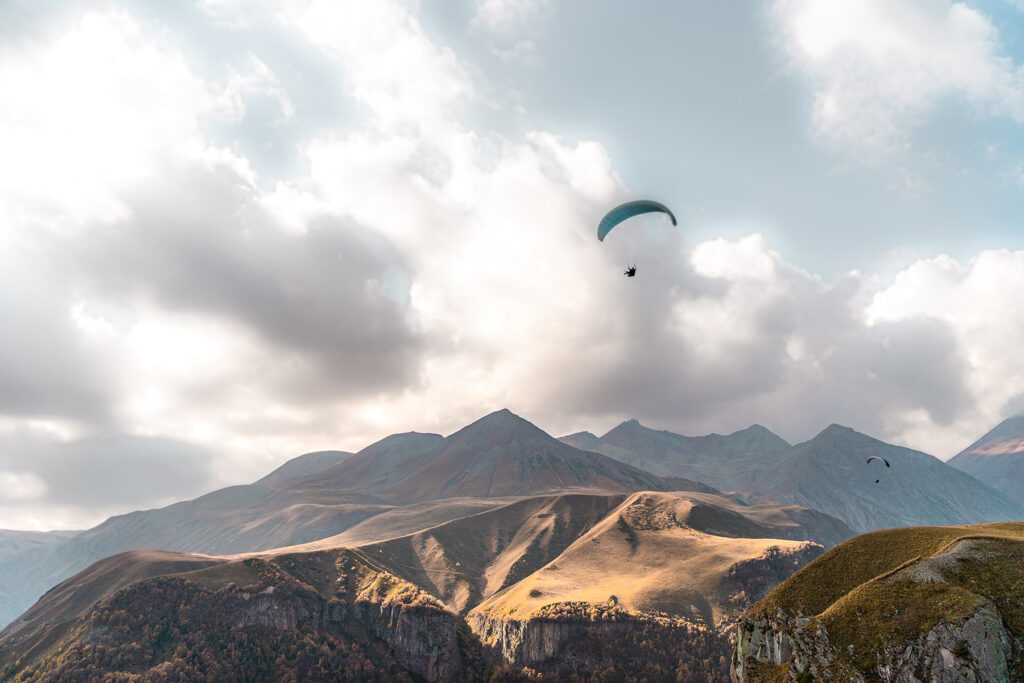 Paragliding
Do you want to feel the adrenaline rush and positive forces? This activity is more suitable for people who love extreme sports. Imagine that you are flying in the vast blue sky and you are looking at the beautiful landscapes from above. If this is fascinating and interesting for you, Georgia gives you the opportunity to try paragliding safely and enjoy unforgettable sensations.
You fly comfortably while paragliding, maneuvering, and controlling your speed. Unlike other air sports activities in this case you will not have to jump from a height. It is enough to descend from a slightly sloping slope, slowly increase the speed, and catch the flow of air, which will lift you off the ground. With massive cliffs, scorching sun, and ever-snowy peaks, Georgia is an ideal place for free flight. So get ready for new extreme impressions. Some of the most popular places to go paragliding are Sughnaghi, Gudauri, and even around the capital Tbilisi. 
Eco-tourism
Georgia's natural environment is one of the most special in the world. National parks and protected areas cover 7% of Georgia's territory. 75% of protected areas are covered by forest. There are 14 state reserves, 9 national parks, 17 sanctuaries, 14 natural monuments, and 2 protected landscapes in Georgia. The landscape of Georgia is especially good for eco-tourists because it is relatively pristine and is not visited by a large flow of tourists. Amateur botanists, zoologists, or just people interested in nature will be able to discover a real paradise here and enjoy the completely rare plants and animals.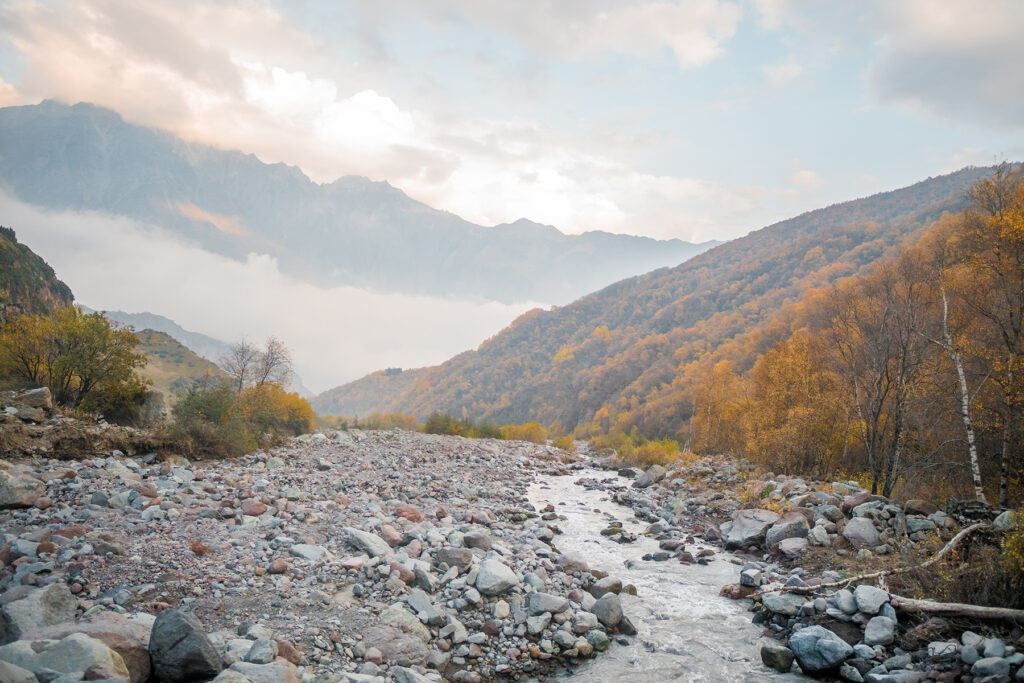 Hiking and Trekking
Georgia is one of those countries where you can easily escape your daily routine. The most pristine nature of Europe will be a real discovery for lovers of trekking and hiking. You will follow the ancient paths, walk the beautiful river valleys, pass the proudly erected towers and castles, breathe the fresh air, and feel how free you are, alone, in the bosom of this beautiful nature.
The old trails have been used by local shepherds for centuries. You can choose the difficult or easy roads that will take you to the snowy ridges and glaciers of the Caucasus that you have never heard of. The flora and fauna here are amazingly rich and diverse. Wherever you are, be hopeful, you will always be warmly welcomed by the locals, treated to their own homemade wine and food, and may even offer you an overnight stay. There are many hiking spots in Georgia: Kazbegi, Svaneti, Tusheti, Borjomi, Kakheti, etc. You still have to choose the place to hike according to your priorities – what kind of nature and places you are most interested in seeing.
One of the most famous and popular destinations for hikers is Borjomi, which is located 900 meters above sea level, in the Samtskhe-Javakheti region. It is a balneo-climatic resort, where the main treatment is mineral water, which is used for drinking and balneological procedures. Borjomi's healing factors are also climatotherapy, mud treatment, and others, but in addition to mineral waters, Borjomi is known for its rich nature.
Borjomi-Kharagauli National Park offers truly unforgettable impressions for adventure seekers. Beautiful forests, alpine meadows, diversity of flora and fauna, and amazing views leave no one indifferent. Medieval castles and temples make a great impression on the visitor as well. Borjomi National Park also has a hot sulfur pool, which rises a few kilometers above the earth and in winter or summer, swimming in it is a great pleasure.
All in all, Georgia is the ideal destination for active travelers and lovers of the great outdoors.

Gio was our man in Tbilisi, Georgia 2019-2022. Before coming to JayWay, Gio had already spent more than seven years in tourism, designing one of Tbilisi's most popular tours, and learning how to show destinations from different points of view, revealing their hidden beauty. To better serve guests, Gio is fond of hiking beyond the city, especially in the mountains, or even taking part in extreme sports.