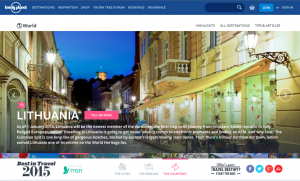 It's late October and that can only mean one thing, the release of the travel press charts.
We love seeing our destinations do well and this year is no exception.
Lonely Planet Best in Travel for 2015
Picked by the guidebook company's travel experts, the Lonely Planet Best in Travel lists are split into the top 10 cities, regions and countries in the world. On the Top 10 Cities list, the up-scale Austrian capital and frequent winner of standard-of-living comparisons Vienna comes in at number 8. For us a pleasant surprise was lovely Lithuania placing 3rd on the Top 10 Countries list, citing the UNESCO world heritage sites of the Curonian Spit on the Baltic Sea and Vilnius' Baroque Old Town. Perennial underdog Serbia makes the list at number 7 too, in equal parts for its club and festival scene as well as the great value it offers and it's nice to see the country getting some recognition.
Conde Nast Traveler Reader's Choice Awards 2014
CN Traveler's audience has a different make-up to the Lonely Planet so different aspects are prioritised and their lists look a little different.
Top Cities in the World
This year they've only released a Top 25 Cities in the World, but our destinations have put in a good showing, with Budapest at #3, Prague at #6 (ahead of Rome and Barcelona) and not too far behind and completing our classic Central Europe trifecta, Krakow narrowly misses a top ten spot and lands at #11. Vienna makes it onto the list too at #15 with another Austrian city, alpine Salzburg achieving 22nd place.
Friendliest Cities
Budapest and Salzburg both made it onto the list of friendliest cities in the world, posted in August this year, tied for 11th place. Thankfully none of our destinations featured on the naughty list of Unfriendliest Cities!
Travel + Leisure Magazine Awards
Prague and Budapest manage 6th and 7th place respectively in this magazine's rankings of the Best Cities in Europe.
Planning a trip to Central Europe? We'd love to put together a Central Europe travel package just for you. Get in touch to find out more!

Charlie is head of marketing at JayWay Travel. A long-term Prague resident, his interests are cooking, eating out, cycling, skiing and of course, travel.