If you are looking to get a deeper understanding of the Cold War while visiting Berlin, we highly recommend taking our Cold War walking tour. Much of it is centered on the Berlin Wall, and not only will you gain a more multi-layered view of this construction, you'll also learn about the political and economic situation at the time. These situations had the most impact on the reasoning behind the Wall.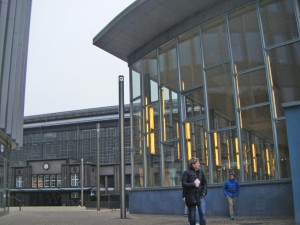 After meeting your guide, the group will head to Friedrichstrasse and make a stop in the so-called Palace of Tears. This was the waiting hall where visitors to the East, or those coming from the West, were subjected to heavy border controls. A great exhibition on border controls and cross-border loves, among other displays is now housed in the building. From there, you are off to learn about the so-called ghost stations and see another exhibition in the Nordbanhoff U-Bahn station, and then it's time to explore the Berlin Wall Memorial. Here you'll get a great insight into the lengths the East German government went to 'protect' its citizens. The tour ends at the Stasi Museum, which unfortunately was closed for reconstruction during our visit but re-opens in January 2015. Housed in the former Ministry for State Security building, you'll learn about this feared department's history as well as its operational work.
If you are lucky enough to get the energetic Maisie, she'll clear up many misconceptions about the Wall. For example, many people think it was built through Berlin, but actually it just encircled West Berlin. The tour takes four hours and the time will be packed with sights to see and information to be learned. Be sure to purchase a day trip transport ticket before joining the group – you'll take public transport a few times during the tour.
Planning a trip to Berlin? We'd love to put together a Berlin travel package just for you. Get in touch to find out more!
Photo: Friedrichstrasse S-Bahn Station and the Palace of Tears

Jacy is a travel journalist who likes art, culture, design and architecture. When not in Prague, she's most likely wandering the streets of other European cities, checking out their neighborhoods, their art and their coffee.