Pictures make ideal souvenirs, as weightless, virtually free reminders of your own personal experiences. Vilnius' historic Old Town is on the UNESCO World Heritage Sites list, so it's hard to go wrong wandering about it, but it would be a shame to miss its most photogenic site. Here are the best picturesque places in town, so make sure your camera's fully charged, and follow us to our favorite spots!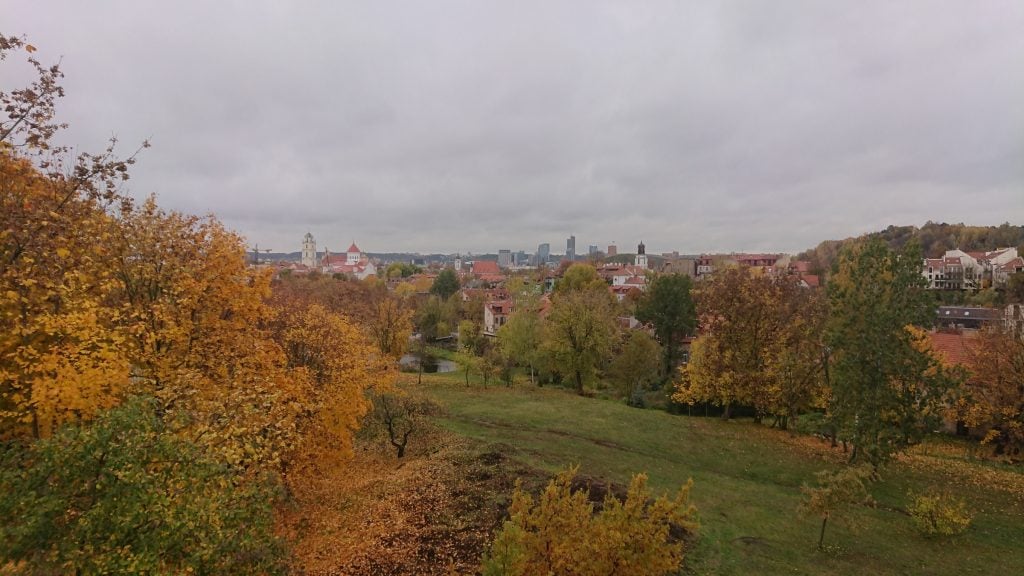 Jump to a section of this article
Viewpoints
Subačiaus Lookout
This panoramic viewpoint offers one of the best ways to see the Old Town at a glimpse. Located near the intersection of Subačius and Markučių streets, this is a popular spot among locals, as testified to by the love locks decorating the lookout's fence. During warmer months, you can enjoy a cup of coffee or tea at the neighboring outdoor cafe.
Radisson Blu Skybar
If you fancy a great drink with views 22 floors up, head to the Skybar lounge cocktail bar. We recommend reserving a window table, especially if you want to watch the sun go down.
Vilnius TV Tower
Why not seek out panoramic views from Lithuania's highest building? After the TV Tower's high-speed elevators whisk you to the top in 40 seconds, you can sit at a cafe and enjoy picturesque views of the city and its surroundings from a cafe. On clear days, you can see Belarus and Elektrėnai, a Soviet settlement named for its central electric plant.
If you visit around Christmas, you'll find the tower decorated to resemble the world's largest Christmas tree, complete with thousands of meters of lt cable and hundreds of bulbs. You can bungee jump from atop the observation deck, or visit the museum devoted to the fighting in 1991 when over 700 pro-democracy activists were injured, and 14 killed, while defending the tower from Soviet forces, shortly after Lithuania declared independence.
Amusements
Hot Air Balloon
Vilnius is one of a handful of European capitals that allows hot air balloon flights over it. If you're fond of a little adventure, we can offer a tour from above, silently floating over the Old Town's red rooftops, snapping pictures from otherwise impossible angles. We also recommend taking a hot air balloon above nearby Trakai, to get the best possible pictures of the Island Castle, isthmus town, and surrounding national park and lakes.
Dinner in the Sky
If you're in Vilnius during the summer, don't miss another unique way to enjoy the sunset, enjoying a dinner or cocktail suspended in the sky! Quite safely dangling from fairly high up, you'll enjoy breathtaking views in all directions while enjoying dishes from top chefs.
Natural Beauty
Pučkoriai Exposure
Rising 65 meters above the surrounding area, the Pučkoriai Exposure offers charming views of the Pavilniai Regional park and the Vilnia River's valley. Photogenic year-round, we especially recommend visiting in the spring and fall, to take advantage of the colorful foliage. We promise you won't need to use a filter! Located six kilometers from the city center, this ridge is easily reached by public transport.
Sakura Park
Arrive in the spring, and you can expect to find 200 sakura (cherry) trees brightly blooming. This park was founded to mark the hundredth birthday of Chiune Sugihara, the Japanese diplomat who helped 6,000 Jews escape the Holocaust by issuing them handwritten visas. The move destroyed his career, but through the efforts of those he saved, he was posthumously recognized as "Righteous Among the Nations," and the savior of 100,000 people (counting the descendants of those he directly aided). If possible, visit on a weekday, or expect to wade through weekend crowds enjoying the beautiful sight.
Bell Towers
Bell Tower of St. John's Church
Ready to climb 193 wooden steps? We promise the view from the Old Town's highest building will be well worthwhile. If the stairs give you pause, you can also ride a new elevator without paying extra!
Vilnius Cathedral Bell Tower
After snapping pictures of this 13th-century city symbol, climb to the top, and enjoy great views of the neighboring cathedral. If you don't fancy the 50-meter climb, you can take advantage of the bell tower's virtual lookout platform.
The Barbican
One of the last remaining portions of Vilnius' defenses, the 16th-century Barbican, a large bastion, offers great views of the Old Town, as well as hot air balloons taking off from a nearby field. Within the sturdy fortification, you can visit a museum on artillery, with arms from the 15th to the 19th centuries.
Short hikes
The Hill of Three Crosses
You just can't miss the Hill of Three Crosses, as it's visible from every corner of the Old Town! A symbol of Lithuanian freedom, the Three Crosses Monument is usually lit up in Lithuanian colors. After a short hike to the top, you can enjoy a magnificent view of the city, laid out before you.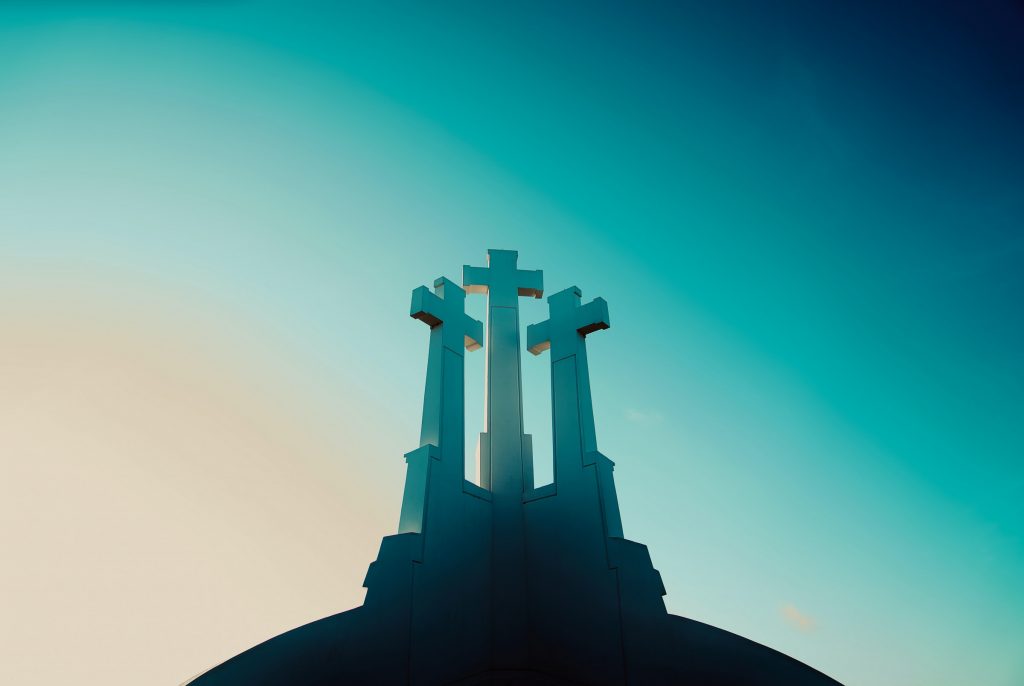 Churches and Landmarks
Gediminas' Tower
Another city symbol, Gediminas' Castle surviving red brick tower is one of the city's top landmarks. After a brief climb to the top of the hill (or an even shorter funicular ride), you can see the Cathedral and Grand Duke's Palace from above, not to mention the Old Town, and Vilnius' financial district from across the neighboring River Neris. The views from the top are rewarding and naturally improve at sunset.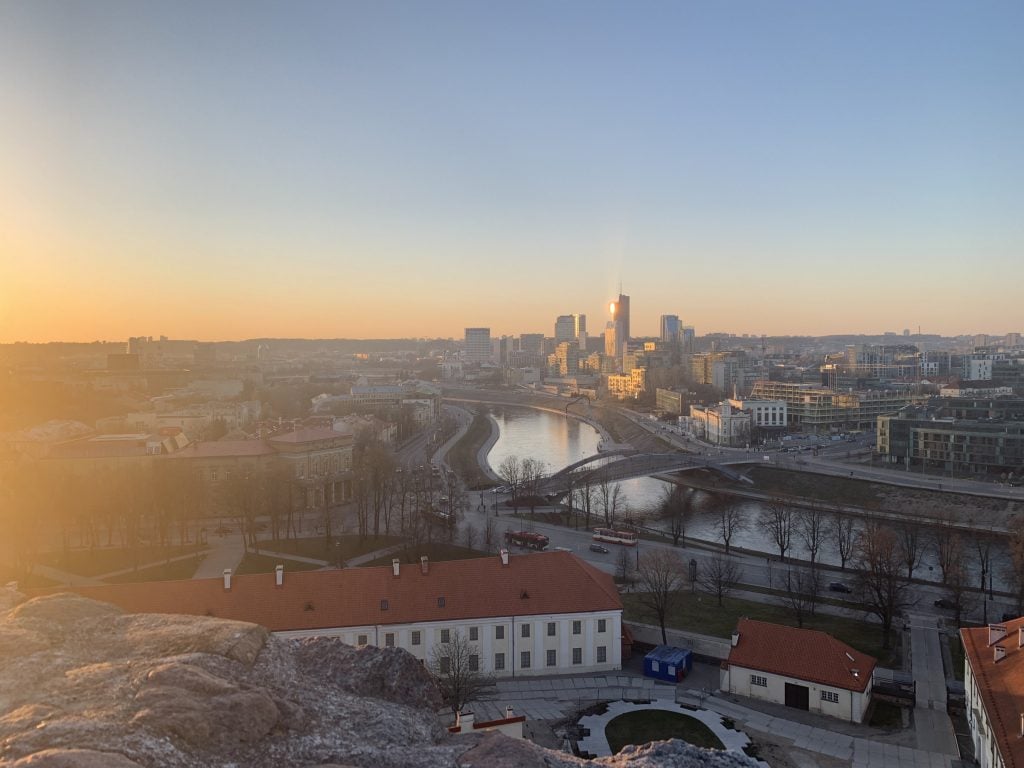 Church of St Casimir
Founded by Jesuits, the Baroque Church of St. Casimir was based on Rome's Il Gesu church but has its own unique, colorful history. Make sure to leave room for this "Pink Church" in your memory card and photo album.
Cathedral Square
A key part of Vilnius' public life, this is the Old Town's main square, and home to the country's spiritual heart, the Cathedral Basilica of St Stanislaus and St Ladislaus of Vilnius (or simply "Vilnius Cathedral.") If you're in town for the holidays, be sure to visit its Christmas market, which competes with its counterpart in Kaunas for the title of most impressive Christmas tree!
St Anne's church
Legend has it, Napoleon fell in love with this Gothic church, and wanted to relocate it to Paris. Fortunately, this lovable church has stayed put, and become one of the country's most photographed sites.
Gate of Dawn
The Gate of Dawn was the one city gate to escape destruction at the hands of a victorious Russian army in 1799 because, according to legend, they were afraid of the sacred icon at its center. Drawing Catholic and Orthodox pilgrims alike, this silver-framed 17th-century icon of the Virgin Mary is said to have miraculous abilities, healing the visitors who surround it with candles, and saving the city from various attacks. Regardless of its supernatural abilities, the atmospheric interior is certainly worth a visit.
Streets
Stiklių Street
Jews once made up 40% of Vilnius' population (making them the city's largest ethnicity), but Stiklių Street was one of the centers of this sizable community. Located near the city hall, this area has retained historic signs and statues commemorating the city's Jewish history. It also happens to have some great shopping!
Žydų Street
This tiny, winding street housed the Great Holocaust, until the Holocaust. Although it's now home to a primary school, it's still worth a few photos.
Literatų Street
This lovely street is almost like an open-air gallery. Its walls are decorated with small, colorful tributes to writers who have lived in Vilnius, made from wood, glass, and metal.
Open Gallery
For an actual open-air gallery, head to the Open Gallery, located in the courtyard of the Loftas "art factory." A long-term cultural initiative, this free area is full of creative pieces from artists, locals and from around the world.