I'm sure that when you're considering a trip you think the choice is between staying in an apartment or a hotel. But there is another option, a category in between the two if you wish, that can make you feel right at home wherever you are. Such an option is known as the aparthotel: the type of accommodation that reminds you of home and offers more than a bed to sleep in while retaining all the amenities of a proper high-tech and modern hotel that we all cherish so dearly, especially when on the road for more than just a few nights.
Jump to a section of this article
Right in the heart of Berlin
From my own travels I know that having a kitchenette is something sacred when you're on a busy schedule, as well as proper luggage space, and a laundry room on the premises. Sounds dreamy, but rare, doesn't it? Well, part of my job at JayWay is to seek out the best options for your stay and one of my favorites is the Capri by Fraser, Berlin. I'll admit that what drew me to it were mostly the good reviews and the convenient location right in the heart of Berlin's central Mitte district. It's actually on the Museum Island allowing its guests to soak up Berlin's rich cultural universe. Yet once I got there and stepped inside to inspect it, I was sure it was more than just a typical, modern lodging we've all experienced perhaps one too many times.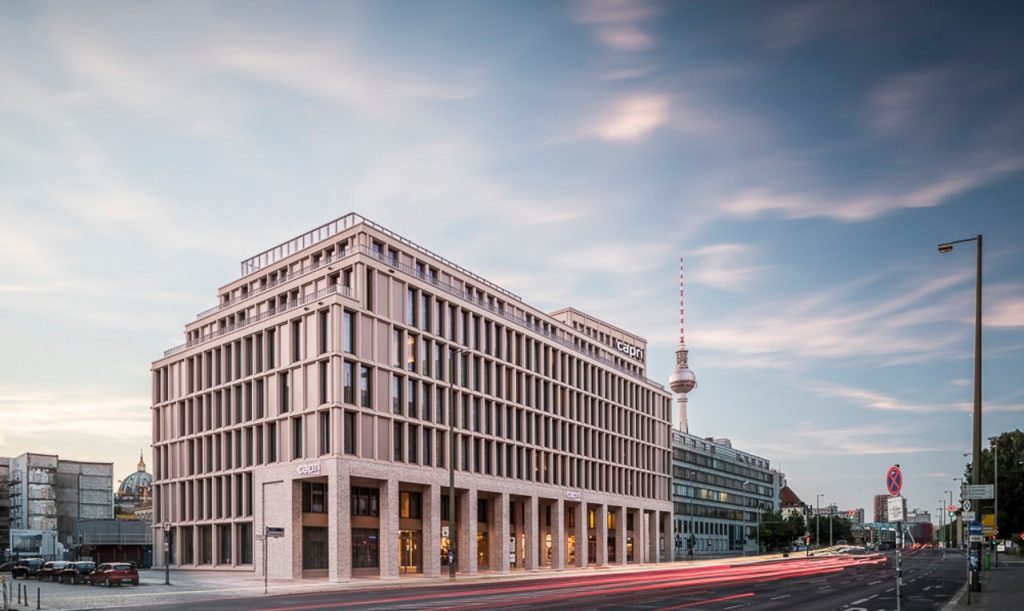 Don't judge a book by its cover
Even though its exterior seemed a bit corporate, as I was walking towards it on a very cold and windy January day, I remember thinking of the adage that one should not judge a book by its cover, confident that it had something unique that we could really use to expand our Berlin offer. The colorful interior warmed me up in no time, and the spacious lobby with memorable pieces of design furniture, full of daylight, instantly won me over. The friendly staff welcomed me and got me settled in the comfortable corner sofa offering me coffee, tea and snacks to pass the time until my appointment. As I took off my coat and gloves, a modern business corner behind the sofa caught my eye and I saw businesspeople typing and talking on their phones, nested away from the guests checking in/out and the ones enjoying a midday warm up at the Drinx lobby bar.
A medieval surprise
As I sat down and hooked up on their impressively speedy wi-fi to check my messages, my eyes rested on the glass flooring in the middle of the lobby which revealed what appeared to be ruins of a past edifice they found beneath the building. Later I learned that it is an archeological site of the medieval town of Cölln, accidentally discovered during the construction of the hotel. It was of course carefully preserved and put out on display in the hotel lobby. Based on the findings of the Berlin Museum, Capri by Fraser lies on a former medieval structure, more precisely on the remains of the former town hall of Cölln. The first opera ever to be performed in Berlin was performed in this very town hall. The history of the property is over 850 years old, so the hotel itself is a monument of Berlin's rich past and culture. It is indeed a great starting point for discovering the rest of the museums on the Museum Island, one of Berlin's not-to-be-missed attractions.
Well appointed rooms
After the short history lesson, we moved onto inspecting the amazing studios and apartments. Light and practical modern design allows for a well equipped kitchenette and more space than you'll normally come across in regular hotel rooms with storage for your luggage, a proper workstation and a king size bed for a good night's rest. Not to mention that the larger apartments have a separate bedroom in addition to the apartment-like living space and a washing machine in the kitchenette. But if you don't feel like washing your clothes in the apartment, the Spin & Play laundry room is available to you free of charge. It is specially designed to turn doing laundry into a fun activity. You can help yourself to an array of magazines, books and games to help you relax and pass the time while your laundry is done. You don't need to worry about the detergent as you can easily purchase the washing capsules at the reception, which is at your service 24/7.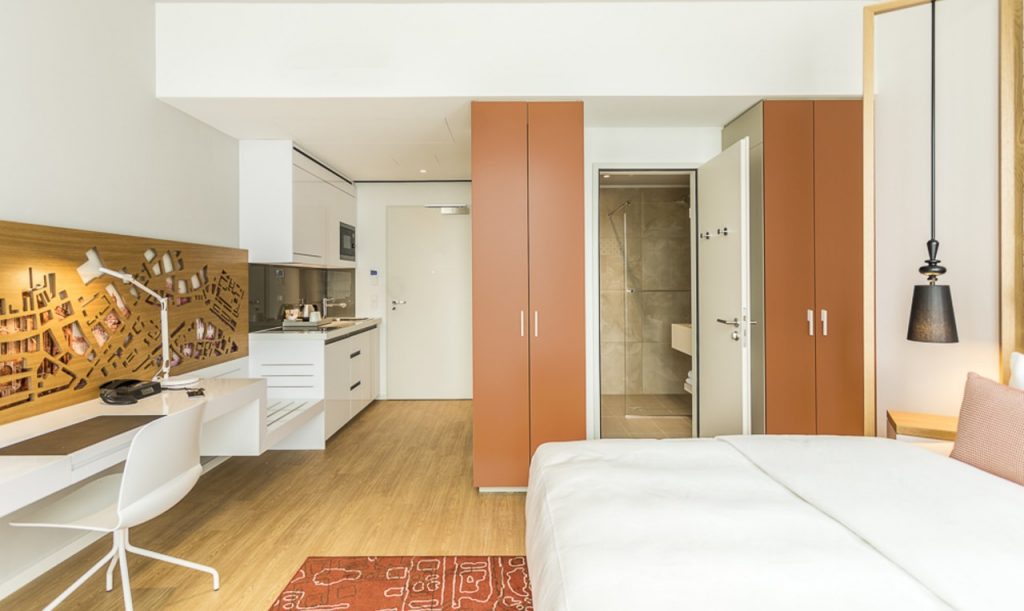 Parting is sweet
It genuinely is a home away from home where you can also use the Hot Spot business center round the clock or go to the gym in the middle of the night. You can choose to stay in and cook for yourself or order room service if you'd rather skip discovering the many wonderful dining options Berlin offers, but I'd personally recommend eating out at least for a couple of nights. I understand if you're not the outgoing type, but at least don't skip the rich and sophisticated breakfast at the lovely hotel restaurant, Kaffee Karamell. Delicious coffee and sweets I must say, but you can also have a brunch or dinner there. It was a perfect ending of the hotel tour, but they didn't let me leave empty-handed. As it turns out, the hotel rooftop is home to busy bee-hives specially looked after to produce honey for the hotel guests. This homemade honey is served at breakfast and is also a parting gift for the guests. Something sweet to remind you of your stay in Berlin. I still have the souvenir reminding me of the partnership that started quietly, then climbed quickly to the top of our list of best selling accommodations in Berlin within a year, which only proves that our guests loved it as much as I did.

Masa looks after our relationships with accommodation providers. Unlike some travel companies we cultivate close relationships with a handpicked selection of the best hotels in the city to ensure quality personal service for our guests. Born and raised in Belgrade, Serbia, Maša has traveled all around Central and Eastern Europe, visiting most of our destinations. She also lived in Hungary in her teens, and later on in Bulgaria, where she studied Journalism, Mass Communication and English at the American University. Maša lived in the USA for a while as well, and traveled a few times to Asia, getting to know cultures and lifestyles outside of Europe.