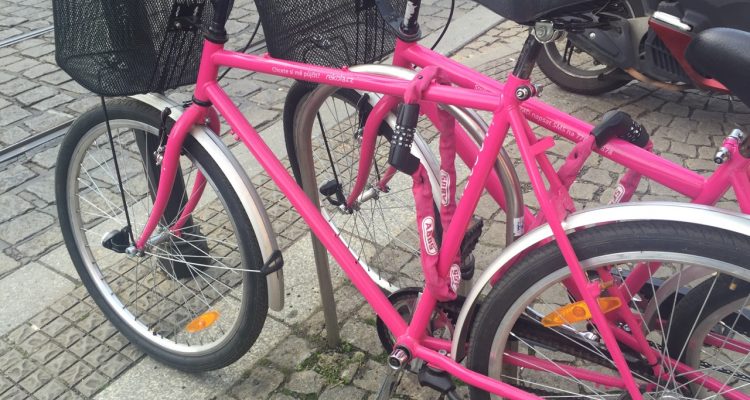 Here's a conspicuously fun way to see the Golden City: pink bikes! Rekola is a new bike-sharing service that lets you pick up a bike and cruise the city, then lock it up whenever and wherever you want. Prague bike rentals have never been so easy. It's a great way to feel like a local too.
Unlike similar programs in cities like Paris and Amsterdam, Rekola is an NGO that doesn't receive state funding. That might be one of the reasons locals love these bikes so much. Or maybe they just love the color. Rather than purchasing hundreds of new bikes, Rekola collected donations of old bikes, repaired them and painted them pink. Why pink? Partly because of safety reasons (who would steal a pink bike?), but also because pink is such a recognizable color.
Another speed bump Rekola hit was building new bike stations around the city, which would have been very costly (not to mention the bureaucratic red tape). Instead, they decided to let users lock the bikes anywhere. The result is great: each bike is original, the retro look gives them a hip style and the possibility to leave your bike basically anywhere gives you an unexpected freedom to see the city at your leisure.
How it works
Using Rekola while you're visiting Prague couldn't be easier. The fee of 150 CZK (about 6 Euro) is payable by credit card, and then you can download the app on your phone with a map to all of the bikes in the city. Find the closest bike and type its number into the app, which will give you the lock combination. Then hop on and ride! When you're tired of pedalling, just lock the bike up and send a message to the app.
The future of city cycling
Rekola is an interesting alternative to traditional Prague bike rentals. You don't have to worry about getting back to the rental company on time, you can just unlock the bike, have a nice ride along the river or wherever you want, and when you don't feel like riding anymore, get off and lock up. The freedom of using Rekola is its most valuable benefit.
You can find more information on Rekola's website.
Planning a trip to Prague? We'd love to put together a Prague travel package just for you. Get in touch to find out more!

Marek is our Prague City Host and welcomes all our guests upon arrival to Europe as well as taking care of them while they travel. A true Praguer and Czech patriot he enjoys sharing his love for his city and country with our guests.