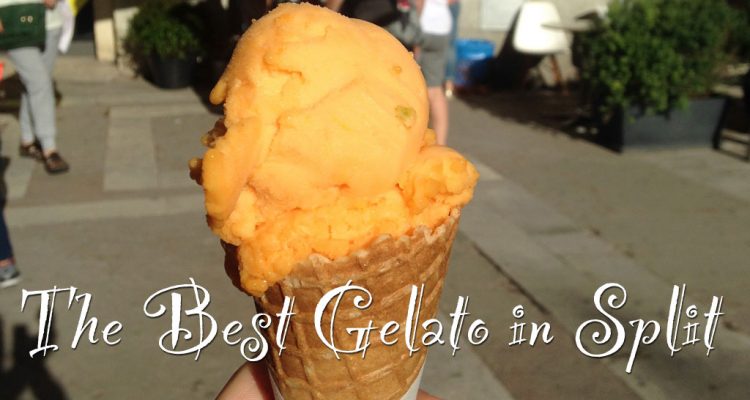 If you have a sweet tooth and you're visiting Croatia, you've come to the right place. When you're here, you'll see ice cream in just about every store, bakery and pastry shop. Everyone has an opinion about the best gelato in Split. The most common domestic brand is called Ledo. For a long time, this was the only brand available, and it still is the most beloved mass-produced ice cream in the country. If you are in a store and are in the mood for ice cream, this one is always a good choice, especially the Ledo King brand. But, while exploring the streets of Split, you'll see many local places selling their own gelato, so don't miss the chance to try those. Ledo is as good as mass-produced gets, but it can't measure up to what they make in these small shops.
Gelato stands are everywhere in Split and it can be really hard to choose one when you're craving something sweet and cold in the summer heat. So here's our guide to the best gelato in Split: 
Bobis
The oldest bakery and pastry shop franchise in Dalmatia, Bobis has a long tradition.
Bobis shops are located on the main Riva promenade, as well as on the main street Marmontova, so you will spot them easily. The sheer variety of colors and flavors will catch your eye immediately, so good luck choosing one or two. They are all delicious!
Besides gelato, Bobis offers fresh baked goods including cakes, bread, croissants, donuts and more. If you'd like to try traditional Croatian sweets, their mandulat is a great choice.
Hajduk
Hajduk is a word you will encounter very often in Split. It's the name of a local soccer club with legendary status among locals, so it's always used with great pride.
For a child growing up in Split, as I did, Hajduk is a synonym for ice cream and always has been.
A little family-owned place on Matosica street, Hajduk has all the traditional flavours: vanilla, chocolate, strawberry, and many others. In addition to the sweet treats, this is a place where you will be served by a cheerful person who will put a smile on your face every time.
Luka
Luka is the name of a Polish traveler who visited Split and decided to stay. Luka has very quickly become Split's favorite pastry shop.
With great concern for the freshness and origin of their ingredients, Luka and his team put the spirit of Dalmatia into every scoop of gelato. Authentic fragrances, spices and traditions are their inspiration and it shows in delicious flavors such as rosemary, lavender, honey, almonds, and fig. The choices vary every day depending on the seasonal fruit available.
In addition to gelato, Luka also has fresh cakes, and it's the only pastry shop in town to sell vegan gelato, as well as gluten-free and sugar-free cake options. If you're looking for boutique flavors, this is definitely the best gelato in Split. 
Planning a trip to Croatia? We'd love to put together a Croatia travel package just for you. Get in touch to find out more!

Lidija is our Split-based City Host. Born and raised there, she also enjoys spending time in Zagreb in the off-season, when the capital is a much more interesting place to be. In summer the lure of the the coast and Split's nearby islands is too strong to resist.