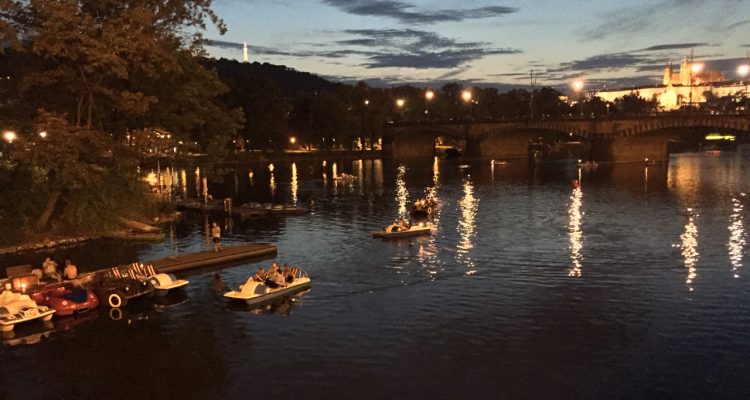 Prague has one of the most famous skylines in the world, and there's no better way to admire it than from your own personal boat. If you're visiting the Golden City during the spring or summer, renting rowboats in Prague gives you a fun chance to float peacefully along the Vltava river, seeing the city in a new way.
There are several spots where renting rowboats in Prague is possible, but the one we recommend most is Slovansky Ostrov, or Slavic Island. You'll find it just across the street from the National Theater. You can choose from several styles of boats, including rowboats and paddle boats for up to six people. It's also the perfect spot to go sailing because you'll have plenty of space to cruise on a large stretch of river, under a bridge and around the island. You'll see Prague Castle, the Charles Bridge, the Dancing House, Lesser Town, the historic waterfront of Smíchov and more. You can rent the boats for an hour or longer, with prices topping off at about 10 USD per hour.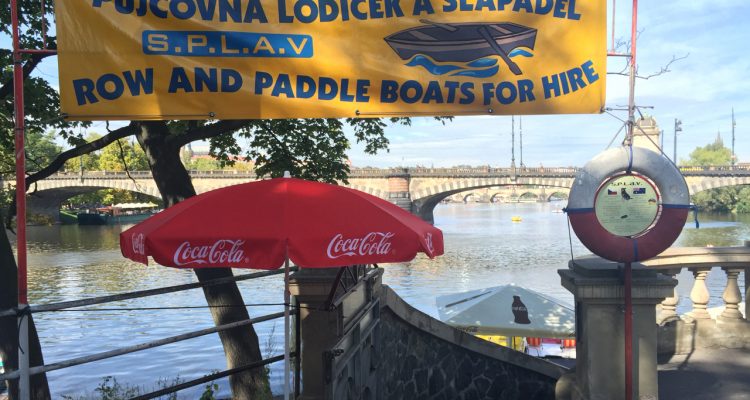 Renting rowboats in Prague is also a great opportunity for a floating picnic. Take along some food and maybe a cold Czech beer or three and paddle upriver so you can float back down with the current as you enjoy your snacks and the scenery. Pro tip: don't take the swan paddle boat – there's a lot of unnecessary plastic on that boat that make it heavy to pedal!
We're certainly not the only ones who love renting rowboats in Prague. If the weather is hot there will be a crowd of boat renters cruising along the water. That's why we recommend getting an earlier start so you won't have to wait for someone else to return a boat before you can set out. It's also possible to rent a boat with a lantern for a romantic evening cruise.
While you're on Slavic Island, take a few minutes to admire the stately Žofín Palace, a Neo-Renaissance building from 1837. Behind it you'll find Mánes, a distinct Functionalist building from 1930 which originally housed an important art gallery and is now an exhibition space, along with a nice cafe and a restaurant.
Renting rowboats in Prague is just one of the fantastic things you can do in this city. We'd love to help you plan your visit to Prague and other nearby cities. Please get in touch to create the vacation of your dreams!

Stephan Delbos is an internationally published writer and editor. Born in the US, he has lived, worked and traveled in Europe for a decade. He's fond of oysters and arid martinis.