Welcome to Tbilisi. You've probably heard about Georgia's warm hospitality, and you're going to experience the very best of Tbilisi in the following days.
Jump to a section of this article
Arrival Day: (late afternoon arrival)
The best introduction to a city is to look at it from above, it brings a map to life! We're going to take a trip to Mtatsminda Mountain via the funicular, to enjoy the best panoramic view of the city and make a quick introduction while tasting famous soviet-style donuts ponchiki paired with Georgian lemonade "Lagidze Water" at Cafe Funicular.
Afterwards we'll take the funicular back to the town and enjoy walking around bohemian Sololaki admiring its unique architecture and authentic vibe. We'll end our walk in the cozy vintage cafe Amo Rame Khinkali. Eating homemade-like khinkali is the best way to introduce someone to Georgian cuisine, isn't it?
Day 1
Morning:
We'll meet at Stamba Chocolatery & Roastery for the on-site roasted finest coffee to boost our energy for the long day and have breakfast at the Kitchen restaurant next door. Our walk starts from Rustaveli metro station and goes along the whole Rustaveli Avenue. We will talk about outstanding monuments located on the city's main boulevard and several important historical events which took place here. The first part of our journey will end on Freedom square, from where with curvy narrow streets we'll start entering the oldest part of the city. We will take the Betlemi Rise to reach cozy Betlemi Park and enjoy another panoramic view of the Capital. During this time of the day (around noon), you're most likely to be able to enjoy the panorama without crowds. From there our path lays up towards the Mother of Georgia Statue.  No, we won't use a cable car. It's too mainstream for us! Instead, we will go down from behind the fortress directly to the bath district through lovely tiny streets and yards. If we are in need of refreshment, a stop at Culinarium Khasheria is the perfect option for a quick lunch and energy refill with Georgian fusion. Our next stop is Rike Park and the famous Glass bridge. Cafe Leila a lovely vegetarian cafe with a unique design located right in front of the oldest church of the city, will be our ending point and a place for dinner. We won't miss Rezo Gabriadze's tower outside the marionette theatre as well. 
Day 2
We'll start the day with breakfast in Fabrika Tbilisi & coffee at Milk CoffeeShop (my favorite coffee in Tbilisi). Today we will be exploring the other bank of the city with its more silent and cosier streets. Plekhanov and Vorontsov districts appeared a bit later than Sololaki and were populated by the middle class. So we can see the contrast between them. We will have a small walk along New Aghmashenebeli Ave., but for a small amount of time. It's too noisy and busy to spend more than 20 minutes there. Our next stop is Dry Bridge Market. This is a must-see place for those who want to buy souvenirs, dive deep into history and even discover some treasure among the market stalls.
After wrapping up our shopping, we can go to the Freedom Square subway station and take the train to Avlabari Metro, from where we'll walk to see Sameba cathedral.
The perfect ending of the day will be the early dinner at Shavi Lomi. One of the best restaurants in Tbilisi. Amazing flavors of authentic Georgian cuisine with a modern touch. The must-try is the "gobi" plate, a mix of pkhali types (chopped and mixed veggies).
Day 3
Let's move beyond the city and spend a day outside Tbilisi. Here below I'll share the description of one of our new tours – the Kartli Private Wine Tour:
Enjoy an entertaining, educational, and delicious day break from the capital! You'll start the tour at the area's famous pagan site, the cave town of Uplistsikhe. Inhabited for over 3,000 years, this place has long been known for its wine. Here you'll visit an ancient wine cellar next to the palace where the beloved Queen Tamar (still the most popular namesake for women) was crowned, in the 12th century. After the historical sightseeing, you'll move on to an active cellar outside of town. A freshly prepared lunch, paired with local wine will make you understand why the royal court chose this region as its main wine supplier for centuries! Once your stomach is satisfied, another winery awaits. After sampling a set of tender, floral wines, you'll definitely fall in love with the area. Your day will come to a memorable end as you watch the sunset from the Jvari Monastery. This serene hilltop view of the confluence of two rivers will stay in your memories for days to come!
After a lovely sunset on Jvari we'll return to the city for your last Georgian dinner. I'll leave the choice to you though – it really depends on whether you want something delicious, interesting and low key, or something that's a little pricier, but guarantees an experience to remember.
Low Key Lagaza
We could go to have dinner at Lagaza Wine bar. They have a perfect selection of wine accompanied by freshly prepared specialties and locally made Lagaza (it's like Spanish jamon, but Georgian). This is a fascinating place to end your trip, seeing as you'll have already seen the historic, up-scale and Bohemian areas, because the bar is located in a non-tourist Soviet era born district, which shows the visitor the whole different look of the city and brings the whole different emotions. I've been here with our experienced JayWay guests and received very positive feedback from them.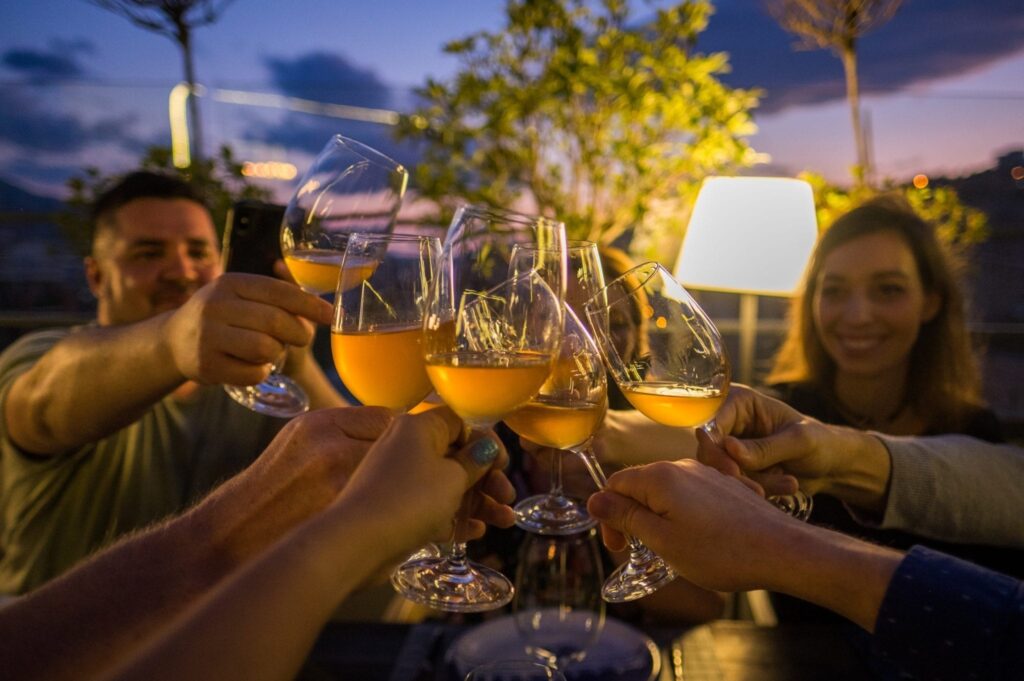 Blingy Bina 37
How does dinner on the roof of an apartment block sound? How about at a winery? At family-owned restaurant Bina 37 you can have both – they produce their own wine, with traditional clay qvevri vessels on the roof. As with Lagaze, Bina 37 is situated in a soviet era part of the city, giving you another perspective on Tbilisi.
A nice selection of fine Georgian wine, freshly prepared specialties, and homemade food that will let you forget about the long day spent on the move. Besides that, you will be able to enjoy the views of roofs and the district from the lovely terrace. Watching night fall over the city from here, the quiet hum of convivial conversation in the background, fabulous food on your plate, this is something you'll think of for years to come. And have you planning your return to Georgia.

Gio was our man in Tbilisi, Georgia 2019-2022. Before coming to JayWay, Gio had already spent more than seven years in tourism, designing one of Tbilisi's most popular tours, and learning how to show destinations from different points of view, revealing their hidden beauty. To better serve guests, Gio is fond of hiking beyond the city, especially in the mountains, or even taking part in extreme sports.