This week we continue our book blog series with the beautiful and historic city of Vienna, the capital of Austria.
The former throne of the Austro-hungarian Empire, Vienna was also something of a melting pot in the 19th and early 2th century. Back then, remarkable cultural figures from around Europe and beyond did some of their most famous work here. A short list of famous residents would include Sigmund Freud, Albert Einstein, Gustav Mahler, Robert Musil and Stefan Zweig, among many others. While culturally Vienna might be known best for its music, it is certainly no stranger to literature either.
The vibrant coffeehouse culture that Vienna is still famous for was also home to many important writers during the Austro-Hungarian Empire and after. If you're looking for literary landmarks and books that describe the city and its inimitable atmosphere, you don't have to look far.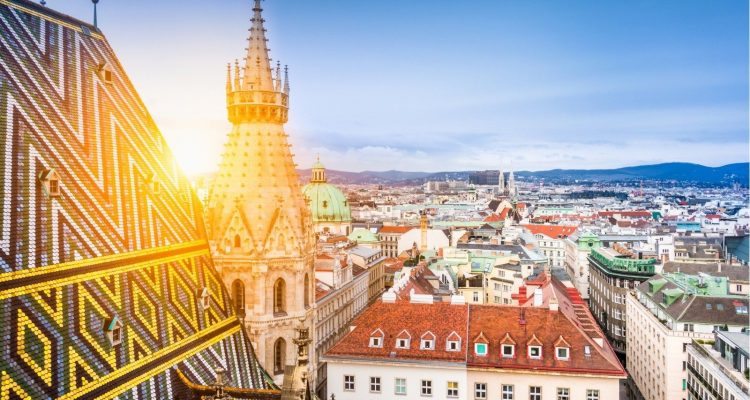 Vienna literature is a category of its own. So in this blog we're sharing some of our recommendations for books that visitors to Vienna should read, either before or after they arrive. These novels capture the inspiring ambience of Vienna, the crossroads of an empire.
The World of Yesterday by Stefan Zweig
Stefan Zweig is one of Austria's most influential literary figures. He was also a friend of fellow Austrian intellectual Sigmund Freud. His novel The World of Yesterday is considered by many literary critics and general readers to be the most important work of fiction on the Hapsburg Dynasty. Zweig was at his best when explicating and dramatizing the complexities of society and relationships. And that era was certainly full of them! This is a social novel of numerous twists and turns. It will give you an idea of what it was like to live in Vienna at the end of the 19th century.
The Reluctant Empress by Brigitte Hamann
When you visit Vienna you should definitely read books about people whose spirit still seems to inhabit the city. This is a great choice in that regard. The Reluctant Empress is a well-known biography about the famous Empress Elizabeth, also known as Sisi, written by one the greatest German-language historians. Hamann published many studies about the Austro-Hungarian Empire. She is famous for her insight into the era's most interesting characters. Sisi was considered the most beautiful queen in Europe. In her last decades she withdrew from public life and became a recluse. Even more dramatically, she was murdered in Geneva! Today you can also visit the Sisi Museum, which brings her myth to life.
The Piano Teacher by Elfreide Jelinek
This is probably the most famous book on our Vienna reading list. It is the engrossing story of a relationship between a piano teacher and a student. To get the full effect, we recommended reading it in one of the city's charming coffeehouse. Try Cafe Jelinek, which is actually named after the novel's Nobel Prize-winning author! This was his first book to be translated into English. Of course it was also made into a Hollywood film starring Adrien Brody.
The Man Without Qualities by Robert Musil
Musil was born into well-to-do family in the 19th century, meaning he understood Viennese society, with all its formalities and foibles, from the inside out. This four-volume novel is Musil's greatest work. It is long and ponderous but also funny and packed with interesting anecdotes about Viennese society before World War I. Musil is often referred to as the Austrian Proust, both because of the length of this book and because of his close attention to detail. This is a long but worthwhile read that will give you invaluable insight into the Vienna of the Empire, the one you'll see frozen in time in the architecture of the historical center.
English Book stores in Vienna:
Shakespeare and Company
An institution for Viennese expats and bibliophile tralelvers, Shakespeare and Company has been selling English-language books for some two decades. Inspired by the famous shop of the same name in Paris, the Viennese outpost is equally labyrinthine, full of piles of books that seem to stretch to the ceiling but somehow manage to keep their balance. They don't make bookstores like they used to and this one certainly is a classic.
Address: Weihburggasse 3, A, Wien, 1010
Cafe Phil
Café Phil is a great cafe and bookstore that is always expanding their selection of books in English. It's actually more of a bazaar than just a bookshop because everything you see here is for sale, including the bookshelves! As the name suggests, there's also an excellent cafe, where you can get light bites and soft drinks as well as beer and wine. This is a great place to take a load off with a good book and a refreshing drink.
Address: Gumpendorfer Str. 10,
Are you planning a trip to Vienna? We're Austria travel experts. Just get in touch to start planning a perfectly tailored holiday with all the local highlights.

Martina is our Prague city host. Her background in tourism management and wedding planning, and experience of living in Prague, all come in handy in making her the ideal person to look after our guests when they're in the magical Czech capital.