The quickest way to cover long distances in Croatia is undoubtedly by highway, but you might be missing out on some spectacular views. In this section of our Croatia Road-Tripping Guide we cover the pros and cons of each with the help of our experts, Josipa and Lidija.
Jump to a section of this article
Highways & Tolls
How much Highway does Croatia have? Is it all toll-road?
Croatia has a relatively extensive highway network extending over 800 miles. Highways numbers all start with A. Tolls are payable on most highways, other than sections that go around cities, such as Zagreb, where local traffic also uses the highway. If you're road-tripping Croatia, the most common route will take you on the A1, which runs from Zagreb to the south, in the direction of (but not all the way to) Dubrovnik.
How much are the tolls?
In general, you can expect to pay around €7/$8 per 100 km.
Lidija: The toll amount depends on the type of vehicle and point of entrance. Here are some examples of the most common routes, in a regular car (as of 2020): Zagreb – Split 200 Kunas (approx. $32), Zagreb – Rijeka (to get to Istria) 160 Kunas (approx. $25), Split – Ploce (to get to Dubrovnik) 60 Kunas (approx. $10), Istarski Ipsilon (entrance to Bina Istria) – Rovinj 74 Kunas (approx. $12).
When planning the trip, if you want to know exactly how much you'll spend on tolls, the best resource is the Croatian Automobile Club's app. You'll need to know your point of entrance and exit as well as type of vehicle, but it can come in handy: https://www.hak.hr/ As well as the toll calculator the app also has info on road conditions (including ferries as well) updated every 15 minutes, info (with navigation) about the closest gas stations, mobile parking payment options, info on gas prices (so you can compare and get the cheapest one), info on road cameras, info on the closest ATMs, Post Offices, banks, and similar useful options. Most importantly, the app has a direct connection and contact to Road Assistance, should you need it.
How do the toll gates work? Can I pay by card?
Lidija: Before you enter the highway, you'll get to the on ramp and stop at a toll booth. If there is a lane marked only ENC, do not go in that lane. You'll find out why soon… Wind down the driver's side window (left) as you pull up at the machine. There you need to push the button and take the card (please don't lose it, the fine is double the cost of the longest route possible to the toll gate you exit at.) Your rental car should have a bandon the driver's sun visor to slip the toll card behind for safekeeping. Once you take the exit, you will come to another booth, where you'll give the card to a person working there and pay the toll. You can by card or in cash with Croatian Kuna or Euros (only foreigners are allowed to pay with Euros). If you pay in Euros you will receive change in Kuna.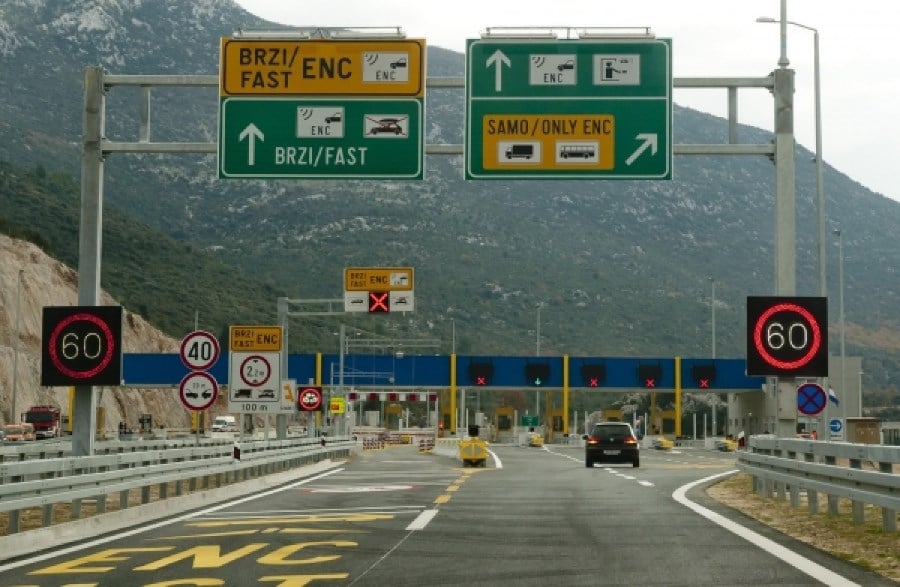 What about that ENC lane?
Lidija: Besides taking the card and paying at the exit, there is another way of payment: prepaid. This is known ENC, an automatic form of payment usually used by people who drive there often. It involves buying a piece of hardware that goes on your dashboard and is connected to an account balance. This is not as convenient for visitors, and I'm mentioning it because ENC users have their own lane when entering/exiting highway. So, don't go into the lane marked as ENC on entrance/exit, because you'll need to back up from there. If you're spending a month road-tripping up and down the countrym the discount might work out in your favor but the up-front cost makes that unlikely for most users.
Scenic Routes & Coastal Roads
As well as the highways Croatia has 'State Roads', long-distance routes which have numbers starting with D. Tolls aren't charged on these routes, so it might be tempting to take these roads to save time and enjoy the more interesting scenery than the highways offer. Our experts have more than a few words of advice on this matter!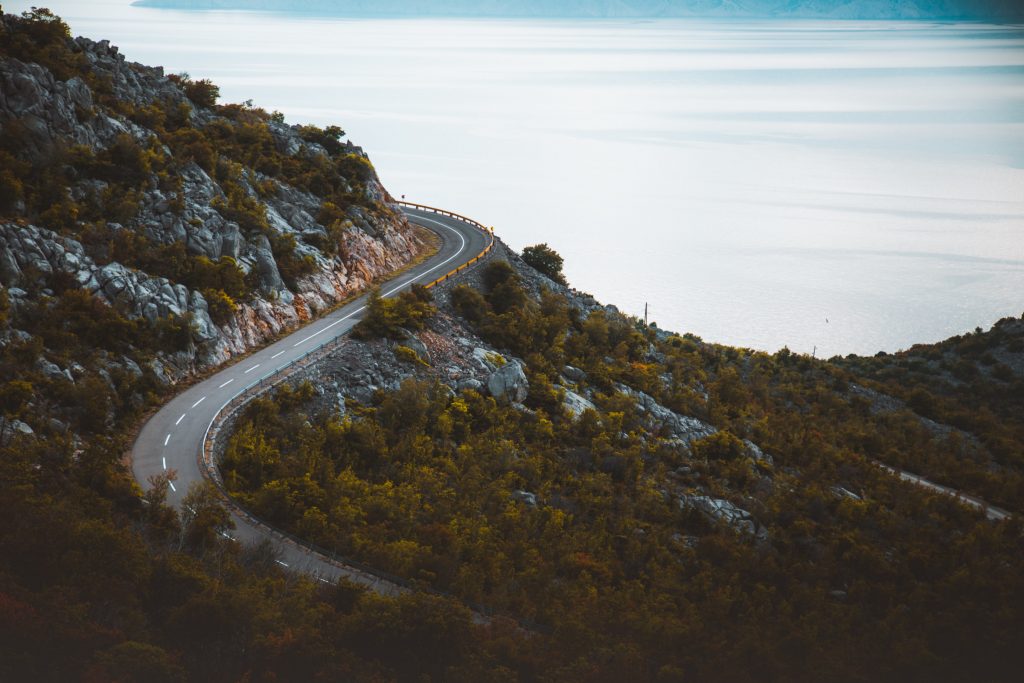 Lidija: Although coastal and in general local roads are free in Croatia. However, this can be a false economy, especially during summer. These are of course slower (although more scenic) than highways, and of course, offer a lot of nice places to stop. Having said that, between May and October, you are likely to spend 1-4 hours sitting in your car, not moving, in baking-hot temperatures. You can get lucky, that's always an option, but it happens very rarely. No matter when you leave, you'll get into a jam for sure. Exceptions are only very late night hours, like 10pm or later.
For example, I have this part of the local coastal road I drive through very often. It is approximately 100 kilometers from Split to the south. Usually it takes around 1.5 hours to arrive at my destination. During summer on the same coastal road it can take anywhere between 3 and 6 hours, and no view is worth the frustration.
Mediterranean Mad Max atmosphere beneath Velebit mountain
Lidija: We have this coastal road, the D8, going all the way from Istria to Dubrovnik, and the most popular stretches you can take it for are Rovinj to Split and Split to Dubrovnik (and vice versa). From Rovinj to Split you'll need approximately 5.5 hours on the highway or around 10 hours on the D8 coastal road. Why such a difference? This part of the coastal road goes directly beneath Velebit mountain and is very very very windy with sharp curves where you literally cannot drive faster than 40-50 km/h. The area is sparsely populated as it has this ragged wild beauty of stone scenery with naked mountains rising above, strong wind ruffling the sea and stone islands in the distance. Fun fact: the only radio you'll be able to hear on this stretch of the road is Italian heavy metal station. I drove there more than a few times, and although I enjoy the Mediterranean Mad Max atmosphere, I would really advise against it for visitors who don't and do not wish to spend the whole day driving a challenging road.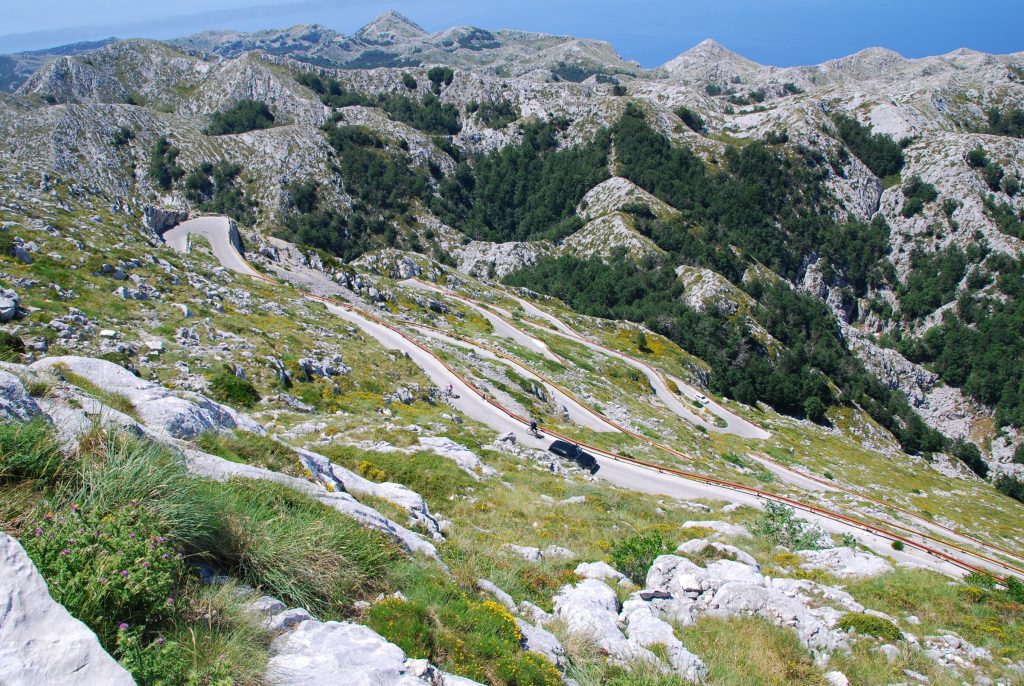 What's the road from Split to Dubrovnik like?
Lidija: The coast road from Split to Dubrovnik is not as challenging drive wise, it is curvy but not as much as this one, and some really beautiful vistas all the way (just Mediterranean, no Mad Max here). However, this is one of the most popular stretches for Croatia's European guests who usually come with a car, so the crowds are ridiculous so really, please don't do it in the summer, you'll ruin your vacation. For example, from Split to Omis (the closest town down south) there is approx. 30 kilometers and it out of season it takes 20 minutes to get there. In the season, it can take up to 2.5 hours, depending on time of day. The traffic thins out a little once you pass the Makarska Riviera, and again a little more as you reach Ploce, where people take the car ferry to Trpanj on the Peljesac peninsula.
Josipa: In case you'll be driving down to the south to visit Dubrovnik you should know that Croatia's main highway A1 connecting North and South of Croatia ends in Neretva valley, in the port town of Ploce. This means that from Ploce to Dubrovnik there is no other way but to drive on the D8, along one of the most scenic routes of Croatia's coast. Views are really beautiful overlooking the largest valley in Croatia plus neighbouring islands. Patience is welcomed since crowds are almost inevitable during summer months.
When taking this route, you'll reach a border crossing with Bosnia-Herzegovina, known as the Neum Corridor. Here a small part of the coast belongs to Bosnia so at peak times you may have a long wait on the border, in either direction.
The long awaited bridge between the mainland and the Peljesac peninsula is due to open in 2022, which will provide another way to avoid this border crossing besides the Ploce-Trpanj ferry, hopefully improving journey times and traffic load on both routes.
Lidija: Having said all of this, out of the peak season, so March, April, October and winter time, I do suggest taking the coastal road (Split – Dubrovnik one), there are no such crowds, and you'll really enjoy the views and the drive. Plenty of places to stop and enjoy, and swim if the weather is good for that:
Omiš: https://www.visitomis.hr/en/about-omis
Makarska: https://makarska-info.hr/en/welcome-to-makarska 
Skywalk Biokovo: https://pp-biokovo.hr/en/27/about-park
Neretva Valley: https://visitdubrovnik.hr/destinations/neretva/ Ston: http://www.ston.hr/?l=eng