Croatia's got a lot of islands, and spending time on at least one of them is a must for many on their Croatia vacation. But what if you're road-tripping? We asked Josipa and Lidija, two of our team in Croatia who between them have planned and managed over a thousand trips for our guests, for their advice and tips on the subject.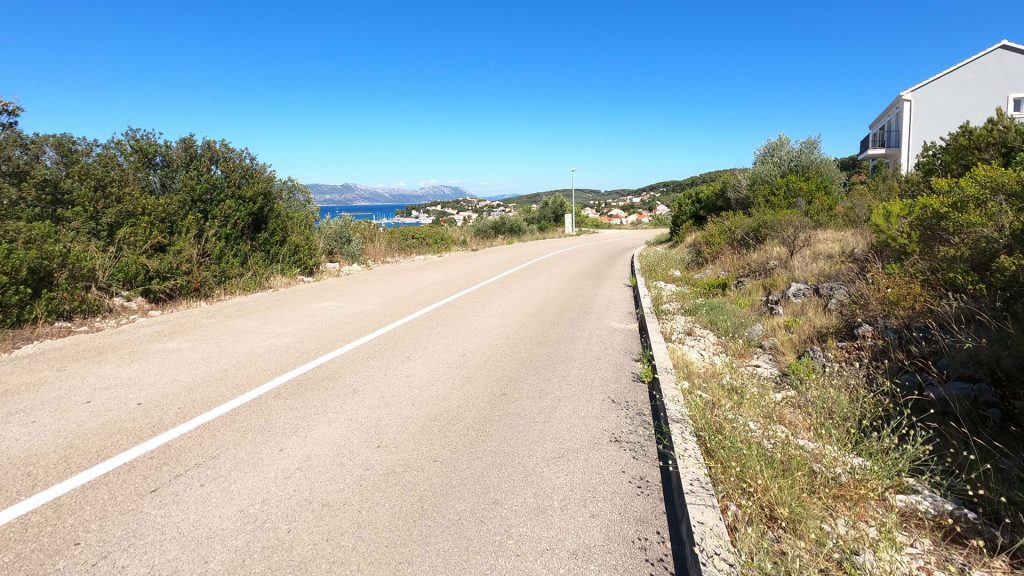 Is it a good idea to drive on islands?
Lidija: In general, I would say to skip driving on the islands, for a few reasons. First of all, it's an island, you'll want to spend some time on the beach and won't want to be in a hot car for the better part of the day. If you want to explore the island a bit, it is better to take a tour, or rent scooters or a car once on the island itself. Why? You'll pay a lot for a car ferry ticket for a car and will be using it for an hour or two altogether, and will likely have to pay for expensive parking on the islands. Leave the car in the bigger town (or return it if it's a rental) and rent something small once on the island so you don't have to worry about all these small things and wait in long lines to board the ferry.
OK, but I really want to drive around an island. Are there any islands that are easier to drive on?
Lidija: If you do decide to drive on an island, the general rule is, the smaller the island, the harder it is to drive on, and especially park. Brac, Hvar, Korcula are all quite good for driving, although these are local roads. Vis for example is a bit more tricky with steep, narrow, and very curvy roads. There are a few car-free islands in Croatia and the trend is spreading, for good reason. Brac would be the best choice if you wish to take the car to an island; it is close to Split, so it's not that expensive to take it there, and being one of the biggest islands, you shouldn't have a problem with parking. Having a car there would be quite convenient as well, since there is a lot to explore, and it can easily be connected to Dubrovnik (you can take a car ferry to Brac, spend some time there, then take a car ferry from Brac to Makarska and drive 2 and half hours south to Dubrovnik, no need to go back to Split.
What should I know about taking a car on a ferry?
Josipa: First of all, you should know the difference between the experience as a foot passenger compared to taking a car aboard. If you're traveling without a car, you can take both catamarans (high-speed ferries) and car ferries. There are a few differences between these, first we'll cover car ferries.
Taking a car ferry as a foot passenger
For this kind of ferry tickets are valid for the whole day, so if you buy a ticket for May 5th, you can board any of the departures on that route on that day. The number of passengers is not limited and you'll always be able to board. The process of boarding is quite basic. You will enter the same way cars do, via the ramp. On large car ferries used for crossings of longer than half an hour or so you should find at least one elevator, as well as staircases. The staircases are no fun with luggage! Unlike the catamarans (that accept passengers only), ferries are much larger and you can walk around since you are not "tied" to your seat which is the case with catamarans. There's usually at least one spacious enclosed passenger deck and at least one outside deck too, so you can soak up some sun and get some fresh air (and take some photos). Most ferries have one or two snack bars on board.
How is taking a car on a ferry different?
Lidija: If you're taking a car on the ferry, this can only be a car ferry of course, so the situation is a bit different. Tickets are also bought for the date and valid for all the departures on that date. However, the number of cars is limited, and IT IS NOT POSSIBLE TO MAKE A RESERVATION FOR A SPECIFIC DEPARTURE TIME. (We put that part in bold and all caps for a reason. This is very important and the potential cause of significant problems).
How do I make sure I get on the ferry I need to?
Cars enter in the order they arrived in front of the ferry and once it is full, it is done. Everybody that is left after that is moving up the queue and is waiting for the next departure. So, if you're set on a certain ferry time departure, arrive at least an hour before departure, but within reason, the earlier the better, park the car in the queue and have a coffee, a walk, or even a swim.
What's the process of boarding a car ferry with a car?
Boarding begins 15-20 minutes before departure. When it comes time to board, the staff will direct you onto the boat, and inside a member of the crew will show you which lane to park in. Once you've parked all passengers should leave the car deck and go to the passenger decks.
Taking a catamaran (high-speed ferry for foot passengers only)
The number of seats on catamarans is limited and you need to have a ticket for the specific departure (1 pm, 3 pm, etc). Seats are not allocated, you choose your own once you board. The earlier you come, the bigger choice you have. You usually board at the rear of the boat, turn into the passenger cabin where you'll find luggage racks at the back to leave large suitcases, then go and find a seat. Boarding usually starts 10-15 minutes before departure. Catamarans run at high speed and you cannot walk on the deck outside. You can leave your seat to buy something from the snack bar though. Catamarans often dock much closer to the city than car ferries.
Frequently asked questions about taking cars to Croatian islands
How do I get tickets for the ferry?
You can buy tickets online, and show proof of purchase on your phone, no need to print out the ticket. When booking your tickets you need to provide your car's license plate number. If you're renting a car and don't know that yet you can just enter RENTAL however. You need to buy tickets for each passenger as well as the car. To make things easier for our guests, we include ferry tickets in our comprehensive Croatia trip packages. You can also buy your ticket at the ticket office at the port.
Can I get a seat reservation on a ferry (of either kind)?
In general, no seat reservation is possible for either catamaran or car ferry. There is no 1st class, window seat reservation, etc… It is a first come first served situation.
I still want to road trip in Croatia but I've decided not to drive on islands, what's a good itinerary?
Josipa: The north of mainland Croatia is perfect for driving. Roads are well maintained and signposted, and drivers are generally very courteous. Road-tripping from Zagreb, to Istria, to Zadar and then Split, is a great way to see that part of the country. Once you get to Split you can return the car and hop on catamaran or ferry to any one of a number of islands, free of the worry of parking, the cost of taking the car on the ferry, and the possible risks of driving on narrow roads best navigated by locals. From there you can continue on to other islands, return to Split, or from some islands you can take a catamaran directly to Dubrovnik, a place where having a car is very unnecessary for tourists.