Road users in Croatia, whether locals or Europeans who've driven there from home, are generally very law-abiding. In our experience is it one of the safest and easiest countries to drive in. Following the rules of the road in Croatia is pretty straightforward, the signage is simple and consistent. Where necessary it's also in English as well.
Rather than cover all the rules of the road in Croatia, we'll deal here just with the situations you are more likely to encounter and common questions that come up.
Jump to a section of this article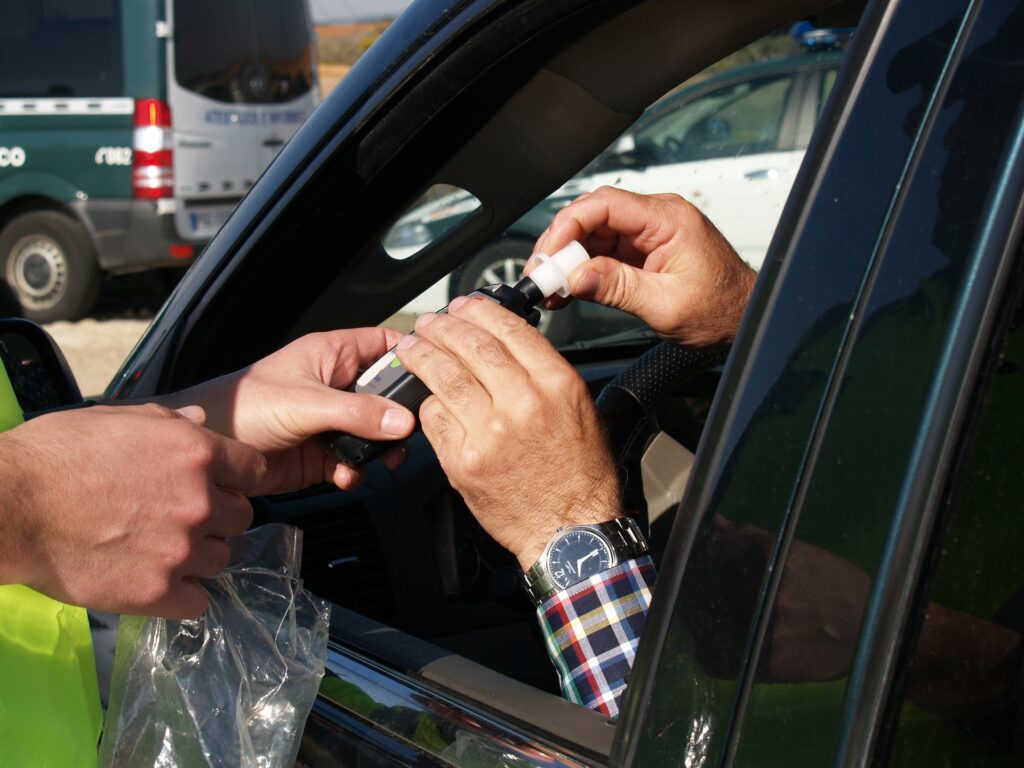 Drink-Driving Limits
Josipa: With so many wineries in the countryside it can be very tempting to have more than a sip at a tasting, but Croatia's drink driving limit is the same as most states in the US, 0.05% of Blood Alcohol Content. That means a standard drink, one 150ml glass of wine, would put you at or near the limit. For adults under 25 the limit is 0%, so no drinking at all! In case of any kind of accident, there is 0% of tolerance to blood alcohol and the driver is automatically considered responsible for the unfortunate event in the case that a blood test shows even the smallest presence of alcohol. Even for a small offence, not even an accident, there will be a fine to pay for the infraction and the car will be taken until the next day. If you have a blood alcohol level of 0.15% or more then the situation becomes far worse, with very steep fines in the thousands of Euros, and the possibility of time in jail for a driving-under-the-influence charge.
If winery visits are a big part of your motivation to visit Croatia, we suggest leaving the driving to us. We can arrange private transfers with stops, and a wide array of oenological day trips for you.
Fines for traffic violations
Josipa: If you're unlucky or unwise enough to commit a traffic violation, such as speeding, driving the wrong way on a one-way street, or entering a no-cars-allowed area, you can expect a fine starting at around 100-150 euros, with significant additional penalties for more serious offences, particularly driving more than 50 km/h over the speed limit.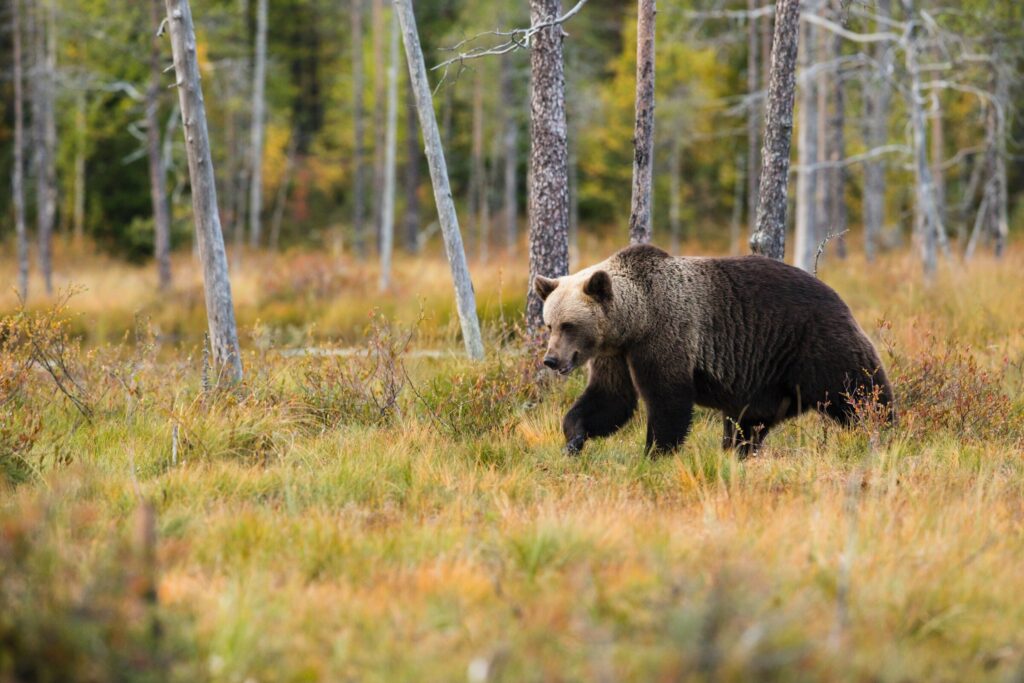 Wildlife
Josipa: Large parts of Croatia's highways run through the countryside and all sections of high animal risk are usually well marked with a triangular animal warning sign. Croatia's highway is fairly new and well protected in all areas of higher animal risk. This means you should drive a bit more carefully in designated areas, keeping an eye out on the side of the road too, however it is not common in Croatia to see wild animals walking on the highway.
In case of the unfortunate event of hitting an animal while driving, the first thing you should do is call the police, the same as in all other kinds of accidents. Thanks to our long practice of providing local phones to all our guests you can easily call the police from your local phone just by dialing 192 number. The police are obliged to send the nearest police officer to make a report and to help you with all traffic formalities. You should also contact your designated rent-a-car representative about the accident to agree to all further formalities.
Depending on which type of insurance cover you purchased, you will accordingly participate in terms of the cost of damage. Additional insurance is the best guarantee to prevent eventual financial loss in case of an accident.
Lidija: You'll often see signs for wildlife out of the highways as well, on the local roads. Most of these are signs for wild boars, but you probably won't see one, since they tend to run away from cars. The same goes for deers (you'll see these signs also). However, if you see a sign with a cow on it, this means you are in a grazing area and you might easily come across a herd of cows or sheep on the road, so try to slow down a bit.
I had an interesting moment with these herds; I went from Zagreb to Split and due to strong wind the highway was closed and the local road I usually take was closed due to construction. So, I had to take the road through the middle of nowhere. I hadn't seen another car in hours and I'm driving through this vast scenery. It's sunset, I have music playing and everything is very chilled. All of a sudden I have to stop since a large flock of sheep is blocking the road. So I'm waiting there for the sheep to pass, and there comes the shepherd. In this setting, you'd think an elderly person, maybe a teenager or a child, all folksy and such. But no. Here is a man, herding the sheep in the middle of nowhere on a hillside, 30ish, dressed from head to toe in black leather, with high biker boots and rivets all over. It's spring in the Dalmatian hinterland and it's like 28 Celsius (over 80 F). He comes over, and honestly, I'm not very comfortable at this moment, being all alone on this road with him as the dark is setting. He asks for a cigarette since he "didn't anticipate to be out all day with his little friends" (literal quote) and he goes on his way. So, apparently, our shepherds went from wool socks to Megadeth in the last century.
When on the topic of wild animals, as everywhere, they tend to run away from people, but if you're planning on spending time in nature, especially the mountains, please note that we have a lot of wild boars, bears, and deer – the chance of actually seeing one is not high, and these areas are always populated so nothing to worry about. There are lynx as well, and snakes. Most of these are benign, but there are a few venomous ones as well – they are not aggressive and usually not deadly but if you get bitten, please call 112 – this is a Croatian version of 911 number and can be used for all and any kind of emergencies.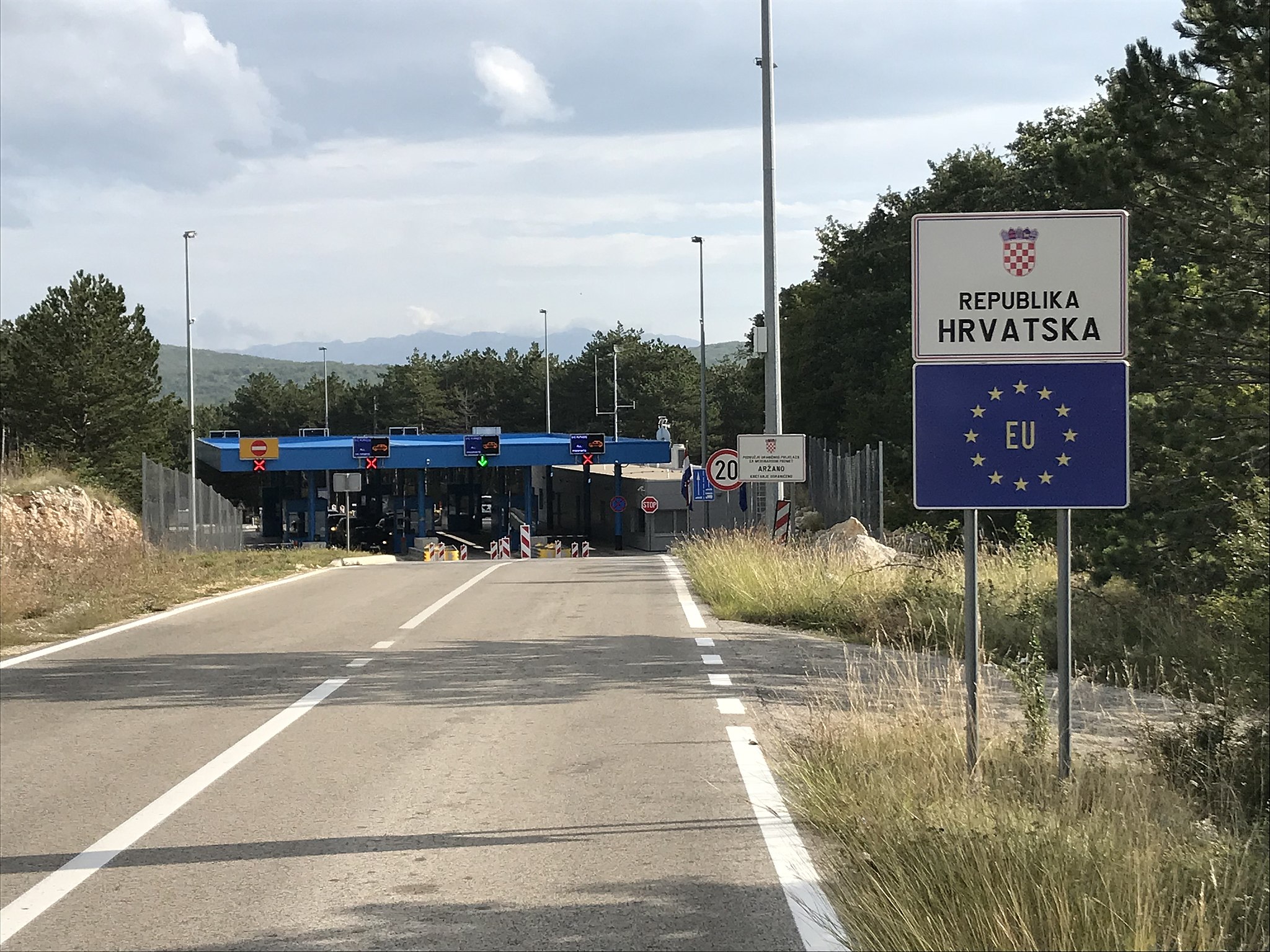 Crossing Borders
Croatia-Bosnia Border-Crossing Image by Petr Vilgus, CC BY-SA 4.0 https://creativecommons.org/licenses/by-sa/4.0, via Wikimedia Commons
Croatia borders on five other countries so the chances you'll be crossing a border of some sort are quite high. We asked our experts what you can expect.
What happens at border crossings?
Croatia to/from Hungary or Slovenia
Since January 1st, 2023, Croatia is part of the Schengen Area, a border-free area that covers much of the EU (and Switzerland). This means that barring any exceptional circumstances, you don't need to stop to have your passport (and potentially your vehicle) checked when crossing to and from Croatia and her Schengen-member neighbors, Hungary and Slovenia.
Croatia to/from Bosnia-Herzegovina, Montenegro, Serbia
Usually you'll need to show the passports of all occupants to the border guards of the country you're leaving and then roll forward a short way, or sometimes up to half a mile, to the next set of border guards for the country you're entering. It can happen that the guards of either country will ask you about your purpose of visit, to see the documentation for your rental car (so keep the rental contract and any paperwork given to you by the rental car agent handy). Border guards are also required to make random checks on vehicles, inspecting the trunk and in extreme cases, your whole luggage. In such cases, remain calm, and courteous. Say nothing more than required to answer their questions.
Are there long queues at border crossings?
Josipa: In the north, Croatia borders the EU countries of Slovenia and Hungary. Entering these countries from Croatia and vice versa is now hassle-free.
Apart from Hungary, and Slovenia, Croatia also borders with Serbia, Montenegro, and Bosnia-Herzegovina. These are all non-EU countries. Border control is obligatory before entering these countries and depending on the time of the year you can expect quite a lot of traffic. This is especially true in the summer season and some major holidays when lots of people drive from Central and Western Europe to visit their families in the Balkans. The southern borders with Bosnia and Herzegovina and Montenegro are particularly crowded during summer and your patience is welcomed. If you plan to visit some non-EU countries, you are obliged to inform the rental car representative about your plans and you may also need to pay an additional cross-border fee. The cross-border fee is your guarantee that all rental car contract formalities also apply while driving in non-EU countries.
What's the situation with crossing the small part of Bosnia that separates Dubrovnik from the rest of Croatia?
Josipa: That's the "Neum corridor," which is a small part of the coast that is part of Bosnia-Herzegovina. When crossing there you'll need to show your passport to border guards at both ends. If you're just passing through you are unlikely to be asked to show the car's documents.
Lidija: That particular crossing isn't an issue any more though. The Peljesac bridge, which opened in 2022, is the way to solve the border situation and waiting lines. Although short (10 minutes drive), there is a border crossing, and in the season it often means an hour or more waiting, long lines, etc. So, for this reason, and many others involving improving the lives of locals, Peljesac bridge was built: It connects the Croatian part of the road, connecting with the highway, and goes to Peljesac peninsula. Once on Peljesac, the road continues on the peninsula all the way to Ston, approx. an hour from Dubrovnik. Without a border crossing waiting line, this makes the journey not only shorter but also more comfortable – and it gives you an opportunity for some wine tasting/shopping stops – Peljesac is one of Croatia's best wine regions!
Tolls in other countries
While we're talking about entering other countries, what should I know about highway tolls? We've written about Croatian highway tolls, but how does it work in neighboring countries.
Lidija: While in Italy, as in Croatia, you pay the toll at a booth at the highway exit, in Hungary and Slovenia you are obliged to pay for the highway toll at the first gas station after the border crossing which will enable you a multi-day drive throughout the country with no further amounts to pay. In Hungary the sticker is virtual (and can also be bought online). Your car's license plate is entered into the system. In Slovenia you will be given a sticker to affix to the inside of the windshield. If you don't pay the toll, there is every chance that the rental company will eventually be billed for your transgression and the charge forwarded on to you, with a handling fee on top.
In Serbia there are some toll sections of the highway. To use these you take a ticket, then pay at a booth at the end of the paid section. In Bosnia and Montenegro, the highway infrastructure is fairly poor or non-existent so there will be either small or even no toll road charges.
Should I get an International Driving Permit?
Lidija: Although most probably you will not be required to show your international driving permit when driving in Croatia, we cannot guarantee you won't need it. Technically the police can request to see it. Therefore we suggest securing your international driving permit on time, particularly if you plan to drive into BiH, Montenegro, or Serbia. You can obtain an IDP through your country's automobile association. In the US, AAA charge $20 and the IDP has a validity of six months. For peace of mind, we think it's worth it.
Josipa: Croatia's speed limits are similar to those in the rest of Europe and they depend on the type of road you're on.
110km/h on roads intended exclusively for motor vehicle traffic, so-called expressways
90km/h on all other roads e.g.the Jadranska magistrala, the coastal road.
50km/h in populated areas
The penalty for exceeding the speed limit varies from 300kn for up to 10km/h more than allowed to 20000kn for more than 50km/h over what is allowed.
Penalties paid on the spot usually cut in half, meaning if your fine is 700kn and you can pay immediately you will pay 350kn.
If driving only 10km/h more than allowed that is usually tolerated. So for instance, if the speed limit is 50km/h, and you drove 70km/h, 10km/h will be waived and you will be charged for the balance of another 10km more which is 300kn usually.
On Croatian roads, we have both mobile radar units and fixed speed cameras. If you are caught by the camera and your fine is sent after you left the country, it will be reissued to your home address and you are entitled to make the payment electronically, or the rental company will pay it on your behalf and then charge you an additional handling fee. In case you are caught by the mobile radar units (you'll be flagged down by a police officer), you will either pay only half the amount of the fine immediately or you will get the full invoice once you are back home.