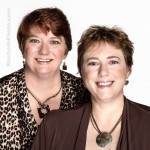 This guest post is by Cheryl MacDonald and Lisa Chavis of What Boundaries Travel, who were guests of JayWay Travel as part of the #JayWayPrague blogger project in the summer of 2015. They left behind their executive level careers and have been traveling the world since 2007. Their goal is to travel the world and inspire others to "Live Your Dream!"
The Magical & Mysterious Edward Kelley
Our Prague private walking tour with JayWayTravel introduced us to the historical Prague Old Town with amazing stops along the way. As we traveled through the city center seeing the iconic Charles Bridge and the astronomical clock on the Old Town Hall tower, our guide kept us intrigued with her many stories about the history and mystery of Prague. One story was of the mystical journey of the alchemists. This one got us hooked! The notorious Edward Kelley, in particular, piqued our interest in his discoveries. Read along as we share the legend of his ultimate creation…
What could be more desirable than the ability to turn common lead into solid gold? With a storeroom full of gold, the possibilities for power and wealth were endless!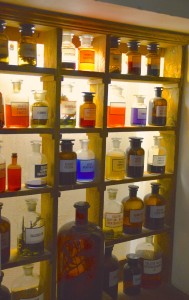 Edward Kelley appeared before Emperor Rudolf II in 1586 and told a fantastic story of successfully changing a lump of lead into a block of gold by using lapis philosophorum or the Philosopher's Stone. Those who claimed they could produce such a miracle were treated with skepticism and reverence in equal measure. The elite desired this power at all costs and were willing to house these sorcerers within their own castles to ensure the secret was kept safe. These men were the alchemists. Alchemy and medieval Bohemia go hand-in-hand, with Edward Kelley and his cohorts leading the charge to be the first to share this mythical process with the world.
The term alchemy is Arabic in origin, derived from al-kimya, which means "chemistry." In addition to turning base metals into gold, the alchemists were interested in perfecting the Elixir of Life – a potion so powerful it could prolong life and health forever. Who wouldn't want such a magician living close by?
Edward Kelley kept his mysterious laboratory high in the tower of the House of the Donkey by the Cradle in Old Prague. The house was so named for a faded wall fresco of the nativity with only a donkey and the wooden cradle still visible. Here Kelley conducted his experiments and met with other famous alchemists, like the occult philosopher John Dee. Dee was known for his direct consorts with angels through a crystal gazer he called a scryer. He also became a trusted advisor and tutor for the Queen of England, Elisabeth I.
Kelley came under the patronage of Rudolf I of Bohemia, but the emperor was extremely fickle in his treatment of Kelley. In 1589, Rudolf made Kelley Knight of Inmany while he worked on his potions and promised gold. By 1591, he was imprisoned by the emperor in Krivoklat Castle, outside of Prague. Still with no gold to show, Kelley lost Rudolf's trust – but he had a plan.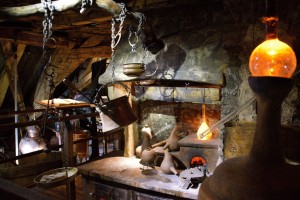 Kelley now claimed to have discovered the Philosopher's Egg, the first step toward producing the Philosopher's Stone. Made of salt, sulfur, and mercury, the Philosopher's Egg was supposedly the chemical precursor to the abundance of riches Rudolf desired. But it would take time. Just how much time, he couldn't say with certainty. Kelley was released from prison in 1592 to continue his work.
The patience of Rudolf soon wore off and he ordered Kelley imprisoned again, this time at Hnevin Castle in the city of Most. Kelly tried to escape, breaking his leg badly in the process. He is said to have died from complications of the break in 1598.
While Kelley did not appear to have left the formula for gold, he did dedicate his manuscripts to Rudolf II from prison. These were published in English in 1893 under the title of The Alchemical Writings of Edward Kelley. His legacy may not have produced pure gold, but his work did provide a strong foundation for today's study of chemistry and pharmaceuticals.
Prague was the home of many famous alchemists, including Kelley and Dee. It's possible to revisit their world in amazing detail. Today we can learn of the work of Edward Kelley and medieval alchemists by visiting either the Museum of Alchemy or the Museum of Alchemists and Magicians of Old Prague. The Alchemist's Pub located at the latter is an intriguing look into drinkable potions and elixirs – and a great place to have a beer! Take a step back in time to believe again in the infinite possibilities of magic, mysticism and chemical reactions to make one rich, healthy and forever young. Alchemists rule!
Planning a trip to Prague? We'd love to put together a Prague travel package just for you. Get in touch to find out more!