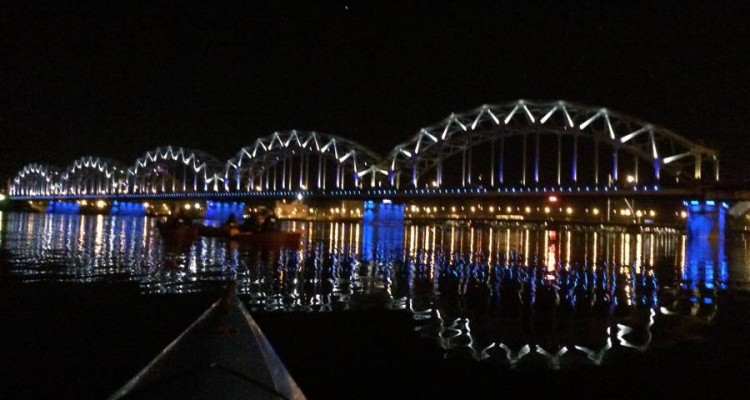 This guest post is by Dr. Cacinda Maloney of Points and Travel who joined us on a 10 Day Tour of the Baltic States as part of the #JayWayBaltics blogger project.
The meet time was 10 pm, right as it was just starting to get cold. My group piled into a couple of taxis and made our way down to an old, abandon-looking warehouse on the Daugava River.  We stood around for a while as the gear was being displayed in front of us. I wasn't quite sure how this night was going to play out.  I am not much of a kayaker and the ones they had were built for two, which means I need a partner from the group.
Looking down at the dock, I could see a few heads popping up slightly above and behind a faded wooden fence.  Occasionally water would spray out from their direction and get us wet. They seem to be having a great time, laughing and listening to loud music. Once, when trying to avoid their spray, I peeked around the corner and realized they were actually inside of a wooden built Jacuzzi right on the water's edge. No wonder they were having such a good time splashing us! They had been out on the water that night and had just got back.  Now it was our turn.
I had never really even considered doing something as crazy as night kayaking before, yet it was on my itinerary.  I had seen the city canal system during the day but this was a whole new ballgame.
The guide seemed pretty stoked to take us down there, so I figured I would play along.  Seeing a city from her river could be an exciting adventure and I was about to find out! Doing it at night adds a whole new twist!
The river is the Daugava River and the Riga City Canal channel system.  The city came alive as me and my new partner provided the power behind our kayak.  We were able to see the city at our own pace. Literally, it may have seemed to come alive during some spots within the city canal, when I saw big mammals moving in the water! They only turned out to be beavers to my relief! These playful creatures were active during the night building their homes and swimming across the river.  Unfortunately, they were to fast for me to get a good photo!
If you try it, you will enjoy the fresh air and the physical activity as you float past illuminated bridges, fountains and parks along the City's Canal.  As you paddle, you will be with a group and a tour guide who will give you some history of the city and point out the important monuments as you glide along.  You will be able to see Riga's Central Market, the National Opera House and the Freedom Monument as well.  I brought along my iPhone camera, to take a few night shots, so don't forget that, unless you are too concerned about getting it wet! (Mine did just fine, but use at your own risk!). A tip here would be to put it in a sealed plastic bag.  I kept mine in my lifejacket front pocket, so it seemed pretty secure and since I didn't fall over, it came out fine!
This trip takes about two and half hours, as you go full circle from the 'put-in' to the final stop.  I thought it ended up being harder than I thought it was going to be but I sure enjoyed the scenery in Agenskaina Bay. The night we went happened to be a holiday celebration of the end of WWII and so we were lucky, in that there were fireworks that we could view from the water.  This just added to the magic of the evening.
The Night Kayaking Tour that Cacinda took is available as part of our custom tour packages in Central & Eastern Europe.
Planning a trip to Latvia? We'd love to put together a Latvia travel package just for you. Get in touch to find out more!